Making your own shaving cream is a LOT easier than you'd think, plus think of all the money you'd be saving! Shaving creams have gotten quite expensive, and I for one, don't like wasting my hard earned money on something I can make myself! Today we'll show you how to make your own shaving cream using simple to find and all natural ingredients! This homemade shaving cream smells amazing, goes on smoothly, and will leave your skin smelling oh-so luscious!
Today we'll be sharing TWO different DIY shaving cream recipes:
One containing oil and honey, and the other containing shea butter. Now please keep in mind that these shaving creams won't be like the ones you buy at the store: they won't come out of a pressurized can in a nice, whipped motion. Rather, you'll store these in a jar or container and apply them to your skin.
But not to worry, because these homemade shaving creams are 1000 times better and healthier for your skin, and they do just as good of a job, if not better!
How to Make Your Own Shaving Cream – a Tutorial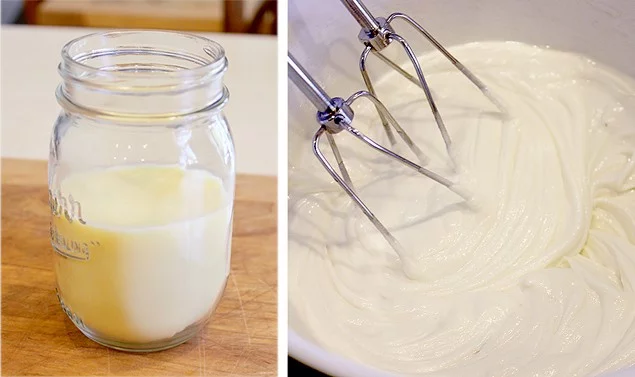 Recipe #1: Shea Butter Lotion
1/2 cup shea butter
1/3 cup coconut oil OR sweet almond oil
10 drops essential oil of your choice such as lavender, grapefruit, lemon, etc…
Add the shea butter to a mixing bowl and start mixing on medium speed.
Slowly start to add melted coconut oil OR almond oil while mixing.
Mix until stiff peaks form, and fold in your essential oils.
Store in a clean, airtight jar OR a foam pump!
Use in the shower on wet skin by applying directly to skin and voila!
Recipe #2: Oil & Honey Shaving Lotion
This shaving lotion will seriously leave your skin super silky smooth, unlike any other shave cream!
1/2 cup sweet almond oil
1/4 cup melted cocoa butter
1/4 cup castile soap
1/4 cup raw honey
3/4 cups warm water
10 drops essential oils of choice such as lavender or grapefruit!
In a double boiler, melt the cocoa butter and add in the almond oil, soap, and honey.
Pour into a 16oz foam bottle and add the water.
Shake well to mix and it's ready to use!
So now that you know how to make your own shaving cream, it's time to get to work!
Like this post? Share and Pin 🙂