One of our all time favorite things to make is a good quality whipped body butter! This whipped body butter recipe is NO exception, as it's made with all natural, quality ingredients and will hydrate dry, flaky skin in a pinch! Made with shea butter and cocoa butter, this whipped body butter will look and smell SO delish you'll seriously want to eat it (but please don't because it will taste a little funky!).
This whipped body butter recipe is actually a white chocolate body butter (umm yuummm!), and smells so unbelievably decadent you'll slather it on 24/7!
Whipped Body Butter Recipe – White Chocolate Body Butter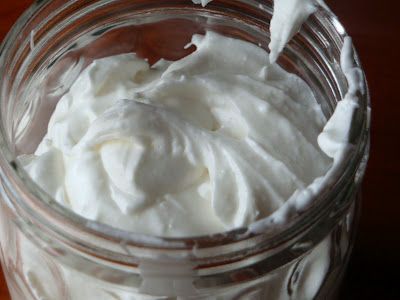 You'll Need:
1/4 cup cocoa butter
1/4 cup shea butter
1/4 cup coconut oil
1/4 cup sweet almond oil
10-20 drops of your favorite essential oil, such as peppermint or lavender
Directions:
To a double boiler, add all of the ingredients except for the essential oils.
Gently melt the mixture on low to medium heat.
Remove from heat and let harden at room temperature, or, if you're super impatient place it in the freezer for about half an hour.
Once a little set, add the essential oils and whip up using a stand mixer or a hand mixer.
Do this until your mixture forms stiff peaks.
Scoop into clean, airtight jar and use!
Important Notes:
Be sure to let the mixture harden a little bit before whipping, otherwise it will not work! If you happen to leave the mixture in the freezer for too long, simply let it thaw at room temperature to a semi-hard consistency.
For the most part, this body butter can be stored at room temperature, but if you live in a hot climate, it may melt. If that happens, simply re-whip and you're good to go!
Create any scent combination you like, OR you can completely forego the essential oils – it's totally up to you!
Like this post? Share and Pin 🙂