Did you know that onions can encourage hair growth?!? Onions add extra sulfur to the scalp and strands to encourage strong, thick hair, and also prevents hair loss and thinning! This DIY onion hair treatment promotes collagen production which is necessary for quick and healthy hair growth.
While it may not be the most pleasant smelling hair treatment, this DIY onion hair treatment does actually work wonders for those with thinning, breaking, and damaged hair. This treatment penetrates deep into the scalp to provide it with much needed sulfur (which encourages growth and thickness), which in turn promotes healthy collagen production. Collagen is needed for the production of healthy cells and hair growth.
DIY Onion Hair Treatment Recipe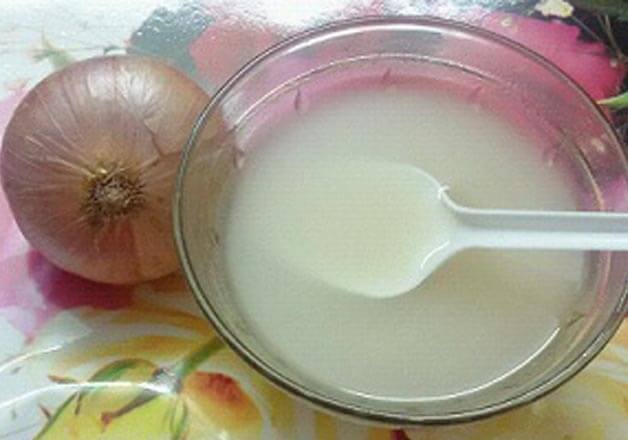 Directions:
Peel a red onion and chop it up into small pieces. Squeeze the juice out either with a juicer or by hand.
Or, you can just leave a peeled onion whole and stick it in a juicer.
Massage the juice into the scalp for 1-2 minutes, concentrating on bald spots if there are any.
Leave on for 15 minutes or more and wash out with shampoo.
Use as often as you possibly can. If you're not leaving the house, go ahead and massage the onion juice into the scalp twice a day.
While the scent may be unpleasant, the juice in the onion really does work wonders in promoting quick and healthy hair growth!
You can also add the juice to your shampoo or conditioner!
Results:
You should start seeing results within one month of regular use of the treatment.
Alongside this treatment, you should also have a healthy diet that's rich in Omega 3s and fatty acids such as fatty fish, leafy greens, and avocados which all promote healthy cell production.
After you start seeing growth, keep using the treatment as often as you'd like to promote even more growth and thickness.
Please do not use if you have any open wounds as the onion juice will seriously sting!
Like this post? Share and Pin 🙂