Today we're gonna take a look at the 2012 spring trends! I don't know about all of you, but in my neck of the woods, winter was never really present (no problem here!), so I think it's fairly appropriate to start looking and buying some of 2012's hottest spring trends. Here's what's on my list for this spring!
2012 Spring Trends
COLOR BLOCKING
Sophie Theallet, Marc by Marc Jacobs, Tommy Hilfiger
Although this trend can be a little tricky to pull off, don't be afraid to experiment. Color blocking is comprised of mixing 2 or more solid colors together, giving off a bright, cheery vibe that'll put you right in the spring mood!
Style Tip for Color Blocking: If you're new at this, stick to mixing 3 colors or less.
FLOWERY PATTERNS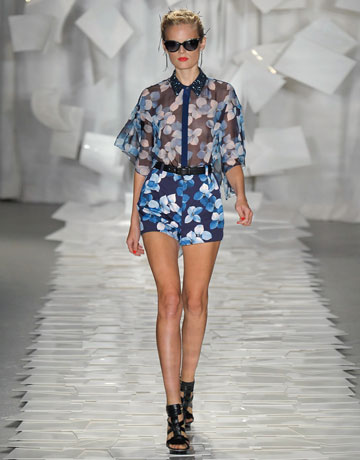 Flower patterns are so chic and feminine, so I'm glad they've made a comeback since last spring. Pair of flower print dress, skirt, or top with a solid hue bag.
PEPLUM SKIRTS AND TOPS
An old school style was revisited on the 2012 spring runways with peplum skirts, tops, and dresses. This style is very flattering since the ruffle sits right at your waist. So where would you wear a peplum top for example? Anywhere really, but I like this style for Sunday brunches or drinks with friends.
SAFARI FUN
The safari trend has been steadily around for a few seasons now, but this year we're looking at a more wild, primal version which I'm sure you will all love! To get inspired, pick up wooden, colorful accessories like bangles and don't be afraid to incorporate fringes and wild patterns.
PRETTY PASTELS
Pastels can be very flattering to your complexion if you choose the right shade. So try on a few different pastel hues to see which color best suits you.