Today we're gonna take a look at Revlon New Complexion-One Step Compact Review. I've never really been a fan of compact foundations, especially since my skin is a little on the oily side, but the counter girl at my local beauty store recommended Revlon's New Complexion One Step Compact and I thought why not?
Revlon New Complexion-One Step Compact Review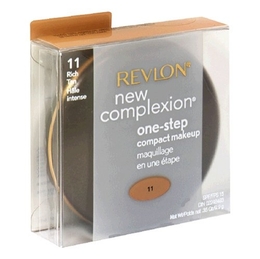 For the price ($19 CDN), this foundation is actually pretty good. Like I said, I have oily skin, so I was reluctant to slather this creamy substance on my face, but I must say, it did not make my face any oilier.
The coverage is very good for a compact and it concealed all my scars, redness, and any pimples I had. The compact goes on smooth and creamy and also seems to last a full day without having to reapply. Mind you, I do use a primer as well as a setting powder, so that might help a little too!
The compact comes with a thin, rounded sponge, but you'll get a more natural look using a foundation brush. Either way, you can still use the sponge…it does the job!
What I really liked most about this compact foundation thought was the fact that it looked so natural. It did not look cakey, fake, or like I even had anything on – it matched my skin perfectly.
Although I do have a negative comment to make about this product…they simply do not have enough shades! If you're lighter skinned, you might have trouble finding your right shade. But let's just hope that they'll churn out more shades in the future.
All in all, the Revlon New Complexion Compact is a really good buy for the price. It goes on smooth, looks natural, stays on all day, and best of all, it's fairly priced!