Love Prada? Here's a preview of Prada's spring show! We're all sick and tired of the snow by now, but fear not, spring is just around the corner, and that means more shopping! There are some hot looks we'll see this year that will definitely turn some heads, but I  just want to comment on this adorable little dress that was shown as a preview for Prada's spring fashion show.
A Preview of Prada's Spring Show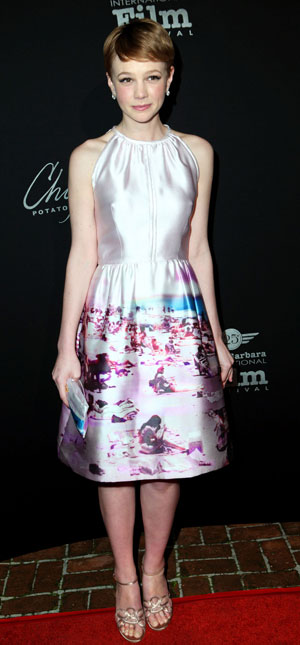 This photographic print dress is from Miuccia Prada's spring show, and although the obvious print hasn't yet caught on in Hollywood, Carey Mulligan managed to pull this dress off at the Santa Barbara International Film Festival.
I don't care what anyone says, I think this dress is adorable. Would I wear it? In the right circumstances, sure, why not? Although some might say the bottom of the dress is too busy, I think it offsets perfectly with the shiny top part of the dress, and it's just beautifully made. What do you think??
If you liked this post, don't forget to share 🙂