I must admit that I'm not a big fan of Lady Gaga's, even though I find myself singing along to her songs from time to time (they are catchy after all). But one thing I do admire her for is her fashion forward attitude. She's not afraid to step out of the box and wear something completely unconventional and out of this world. Recently, Lady Gaga wore a futuristic-inspired white ruffle dress at the Z100 Jingle Ball last December and I just had to bring it up!
Lady Gaga's Futuristic Inspired Look – Fashion Forward or Fashion Victim?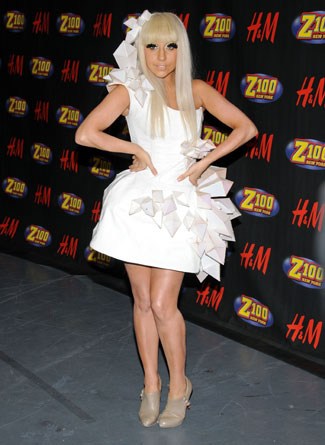 When I saw this dress it reminded me of a white flower bed as well as something out of dreams and fantasies…but definitely not something I would see on the street. The entire look itself it very fairy-tale like and it just brought me back to my childhood days. I must admit that I really do like the dress, and it also looks gorgeous on her.
Of course I would never be fashion forward enough to pull something like this off, but for Lady Gaga, it's a perfect fit! The ruffles on the dress is simply beautiful and she almost looks angelic with her blonde locks against the crisp white fabric. The only thing I might have done differently is the shoes, but all in all, I give this a thumbs up!