At the Hollywood premiere of the hit movie "Monsters vs. Aliens", actress Reese Witherspoon graced the red carpet with a very futuristic-inspired minidress. Although not a conventional look, Reese managed to pull the look off by keeping everything else clean and simple. What do you think of Reese's futuristic minidress?
Love it or Hate it: Reese Witherspoon's Minidress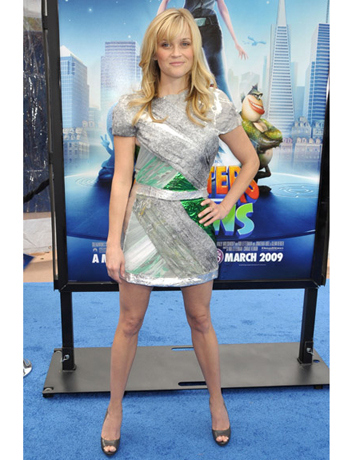 For starters, Reese looks good in almost anything so it's only natural that this minidress also does her justice. But of course, I do think she could have gone with something different – maybe something a little more earthy? Either way, she pulls it off brilliantly due to the fact that she kept everything else simple.
This type of dress should be worn with minimal jewelry and simple shoes, such as Reese's. The minidress also gives Reese an edge, making her look much younger than she actually is. All in all, I give Reese an 8 out of 10 style points.
If you like this post, don't forget to share!