I love trying out new beauty products and comparing them to see which one does the job better. Well I decided to do that with a few lip plumpers because I wasn't convinced that they actually work. I mean I know they're not supposed to give me Angelina Jolie lips, but still, aren't I supposed to feel at least a little bit of a difference? And if so, are lip plumpers actually worth buying or completely useless?
Battle of the Lip Plumpers: Who Will Win?
Test Subject #1: Lise Watier Plumpissimo La Base and Le Gloss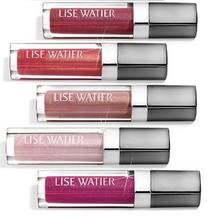 This lipgloss duo comes with a base gloss and a plumping gloss. I bought this on inxtinct, not really knowing if this was good or not, and that was probably a bad choice considering I paid around $20. I like the base since it gives your lips a nice finish and the plumping gloss was a nice color as well, I just don't know about the plumping part. Didn't see any difference with this plumping duo then I would have with my regular gloss. Colors looked nice, gloss wasn't messy, but plumping abilities sucked.
Test Subject #2: Soap & Glory Sexy Mother Pucker Lip Plumper
As stupid as it may sound, the only reason I bought this lip plumper was because of the cute packaging it was in. Also, it was only $9.99, so that wasn't too bad either. The Sexy Mother Pucker Lip Plumper collection comes in a few different colors ( I chose peach). The one thing I didn't like about it was that it was a little sticky, but I found that its staying power wasn't too bad. Also, it smelled very good, kind of like chocolate actually. As for the plumping part, I felt a very powerful tingle on my lips for about the first 10 minutes after applying it and I did notice a little bit of a difference – nothing crazy, but it was there. It made my lips look almost swollen, which I guess is what you would want so your lips look a little bigger. Overall, not too bad of a lip plumper, but it could have been better.
Test Subject #3: Jessica Simpson Dessert Treats Plumping Lip Candy
This is the only plumping gloss that I couldn't really find online anymore. But either way, this plumping gloss is seriously the best out of the other two. First off, it wasn't sticky or oily, it was actually very light and it smelled heavenly! Secondly, the gloss looked amazing on since it gave the "just kissed" lips look. Lastly, the plumping gloss worked. The second I put it on I could feel the tingle and my lips swelled up, making them look very pouty.
To see more posts like this, check out our Product Review blog!
If you like this post, please share 🙂