Mary-Kate Olsen is known wide and far for her fashion statements. She is either dressed in very loose (bag lady) clothing, or she sometimes pulls something off that astonishes us all…like this outfit here!
Mary-Kate Olsen's Style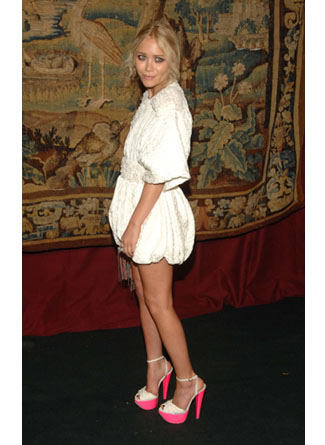 I must say I absolutely love her white bubble dress. Usually, bubble dresses don't really have a waistline, and just fall loosely (making you use your amazing shape of course!).
But this bubble dress is just perfect. It's got a little bit of a waist line and the wide sleeves are beautiful. Now of course I must comment on the shoes.
Although these tall babies aren't necessarily practical (I mean who could stand up with those for a long time?), they're fabulous! It brings out just the right amount of pow! and color to the white outfit, and it gets her noticed!
So what do you think of Mary-Kate Olsen and her style?