Time to re-vamp your wardrobe? If you're one of those people who are absolutely in love with jeans and wear them 24/7 anywhere and everywhere, then we've got a problem. I admit, I tend to wear jeans a lot more than I should because they're easy to pair, they're comfortable, and well…I like to stick within my comfort zone.
Re-Vamp Your Wardrobe!
Problem with that is the fact that I'm a little too old to be wearing jeans all the time, and should probably diversify my wardrobe with different items such as dresses, high-waisted pants, dress pants, and skirts. Unfortunately, not everyone feels comfortable switching from their everyday attire to something completely different. But trust me, it makes the world of difference.
Most of us are so dependent on our jeans that we tend to forget there are other options out there that can not only make us look better, but more sophisticated as well. Not that it's all about image, but it's good to mix it up sometimes and try new things.
So get ready to re-vamp your wardrobe, kick the jean habit and start a whole new you! Start by looking through magazines, different stores, and even online shops to see which style you like best. You could even choose a collection from a favorite designer and then go from there. Scour different stores and boutiques, rummage through vintage shops and see what you can find that is unique, stylish, looks good on you, and that you obviously like.
What's YOUR Style?
It's very important to know what kind of styles you like and to have a particular collection or a designer that you like. This will inspire you to find similar styles and fashions (in cheaper stores of course!) without spending designer dollars. Even if it's not the exact same top, it's almost guaranteed that you can find that similar top somewhere else.
High-Waisted Pants
If you haven't already purchased a pair of high-waisted pants, now is the time to do it. A lot of people have trouble adjusting to this new style, but don't forget that it's very important to know how to wear high-waisted pants. Not only are they super comfortable (since they won't cut at the stomach), but they're very versatile and stylish. Wear them with a bubble top (preferably tucked into the pants, put a short cardigan over, and don't forget the most important thing: your high-heels. High-waisted pants are nothing without a little support from our high-heeled friends!
Pick a color that you normally wouldn't go for. If you're someone that likes to wear neutral colors, try a purple dress that you can wear during the day as well as during the night. Wear a jacket or cardigan over it while at the office, and when night time hits, take it off! Even though you might not be used to this style, try it once and you'll see the difference. You'll feel that much more confident and empowered!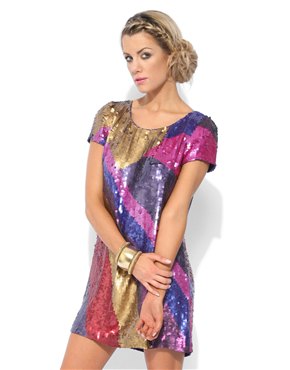 During your day-to-day activities, you tend to stick to your regular comfort clothes. Sophisticated clothes are not only for the weekends. Shake it up by wearing a sophisticated dress (not a long one- a little above the knees is just perfect). If the dress is a dark, neutral color, wear a colorful jacket over it and pair it up with either boots, heels, or even flats (whatever your day calls for!). Top that off with an over-sized bag and you're ready to venture into the world like a true fashionista!
For more fashion posts, check out our Fashion Blog!
If you like this post, please share 🙂