Today we're going to show you exactly how you should dress for the office! If you just entered the office world, or even if you've already been a part of it for a while, you probably know that you are expected to wear a professional attire. Even though you can look professional, you might not look stylish. Of course, looking stylish is not nearly as important as your career, but your look does say a lot about you and in some instances can get you very far. So here are some tips that you can apply to your everyday office attire!
How to Dress for the Office
HOW TO DRESS FOR THE OFFICE IN THE SPRING OR SUMMER
Spring and summer office attire is very different from fall and winter attire. You are able to dress more freely (due in part to the weather). You can also pull off colors that you wouldn't be able to during the cold weather such as white. Navy and white are the superior colors when it comes to office ensembles. Navy and white give off a strong statement about yourself, while still making you look professional, friendly, and approachable to anyone.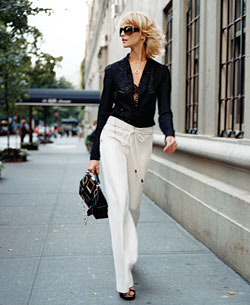 Look the part with a navy colored pencil skirt, a pair of black pumps and a white button-up shirt. Don't accessorize too much for the office- keep it simple! You can wear a simple gold or silver chain, no more than two rings on your fingers at a time, and a thin, feminine bracelet. Big, bold, colorful accessories are not for the office so stay away from that!
During the warm weather, you can pull off a pair of white sailor pants (which give anyone an amazing silhouette!) with a navy top, and a big black bag. You can even convert this look for nighttime by adding some sparkly accessories!
Wearing black to work all the time, can make you look a little too serious. Since bright colors and florals are in this season, don't be afraid to experiment! Wear a black pair of dress pants or a pencil skirt and pair it up with a bright top. For a more professional look, pick out a colored ruffled top and you can even put a tailored blazer over to complete the look.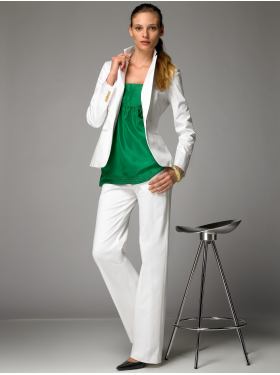 Also, don't be afraid to wear patterns. As long as it's simple and tasteful, it's a very relaxed but still professional look. A floral patterned skirt will look great with a simple top. Look like a total professional by wearing a graphic print tent dress with a complimentary cardigan and a belt over it. This will give you a nice silhouette, while make your look more professional. When you're done, you can just slip off the cardigan, and go about your daily business!
HOW TO DRESS FOR THE OFFICE IN THE FALL OR WINTER
During the colder months, office attire is kept a little conservative. We all know not to wear white pants about Labor Day, so that leaves you with little choice! Winter colors are a little darker, as opposed to summer colors, so you'll need to improvise a bit.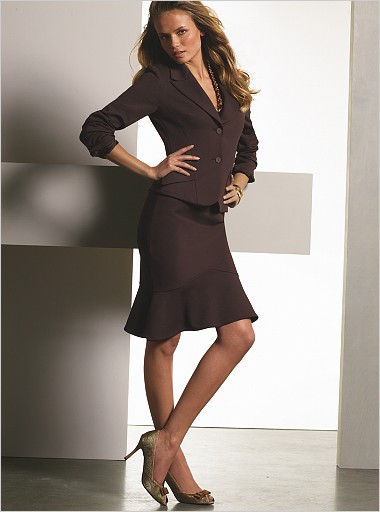 Wear a pair of black stripped pants with a silk purple top and a blazer or tailored jacket over it. It'll make you look completely professional, while also giving you a little break from the all-black attire.
You can pull off the same look with a pencil skirt. Navy is still a good color in the winter, so don't be afraid to wear it. Other colors you can wear in the winter include dark greens, cranberry reds, royal blues, and light purples.
As for the shoes, stick to a black boot for the most part. Since you'll be getting them wet with snow and dirt anyways, they won't be such a big staple during the winter time. Ankle boots are also a good way to go and they'll look great with any pant of skirt.
For more fashion posts, check out our Fashion Blog!
If you like this post, please share 🙂