What's in and what's out in summer 2009? Keep reading to find out! Fashion seems to be kicking our butts lately, as everything is changing faster than you can say summer. But fear not, even though styles are changing and new things are always appearing, you have to remember that if you find something that looks good on you and advantages your body type, you should definitely stick to it! Also, keep in mind your personal styles…as fitting in with the crowd isn't always a good thing. With that in a mind, you should also stay away from a few things that have overstayed their welcome. But of course, if you love it and it looks good on you, I say wear it!
Summer 2009: What's in and What's Out
Out: Balloon Dresses
Why? They're unflattering to the body and unless you're stick thin, will have no advantage for you whatsoever.
In: Waist-Accentuating Dresses

Instead, go for dresses that accent the waist and give your body a nice, natural line.  Show off your curves instead of hiding them.
In: Rompers or Jumpsuits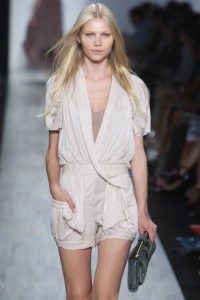 Forget the leggings and the cut-off jeans, switch to something a little more modern; rompers/jumpsuits are all the rage this season. Just make sure you pick some that fit your figure. If you're a little fuller, stay away from the very tight, and go with something a little looser. If you're very thin, go for tight to bring out your curves.
Out: The Boho Maxi Dress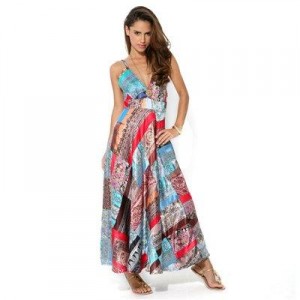 But not to worry, the maxi dress is still very popular, just in a more sophisticated way! Look for a more shiny fabric with fun, flattering prints and pair the dress with wedges or platforms for a long lean look. If you have a small frame, be careful what you choose as large prints can engulf you.
In: Embellished Tops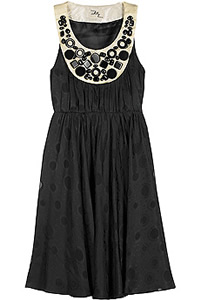 You can never go wrong with embellished tops, weather it's on a simple top or a dress. Embellishments draw the eyes upwards and deemphasizes the other areas you don't want to be noticed.
If you like this post, please share 🙂