The Neon trend has made a comeback this year, as we've seen in on plenty of runways, and fortunately, it doesn't remind us of the 80s too much. When I think of neon, it definitely brings me back to the 80s and early 90s…and I can't say I loved the style. But this year, neon is a little different as designers are bringing it back with a touch of flare.
The Neon Trend: Would You Wear It?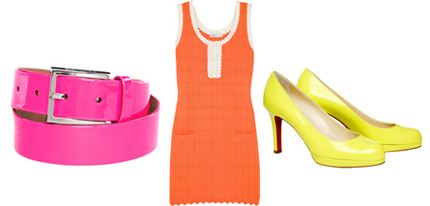 So how can you incorporate neon into your wardrobe? Simple. Just wear one neon item at a time, and do it with good taste too. Start off nice and slow with a neon colored accessory such as a scarf, belt, or bag. Wear it with dark and/or neutral colors to offset the bright neon shade and you're good to go!
If you're bold enough, you can go for a bright neon dress, such as the one in the picture. Pair it with some sexy neutral pumps and a neutral colored bag and you're good to go. As for the neon shoes, I don't think that would be something I would wear, but if you think you can pull it off, more power to ya!
If you liked this post, don't forget to share 🙂