You've no doubt been wearing leggings and skinny jeans for the past few years, but what about jeggings? While they may seem and look intimidating at first, we'll show you how to wear jeggings in this easy to follow style guide!
What Are Jeggings?
So what are jeggings, exactly? The answer lies somewhere between leggings and skinny jeans…a cross between leggings and jeans! The word jeggings is actually a cross between jeans and leggings. Unlike regular jeans, jeggings are made of a different fabric (more of a legging material), as opposed to denim fabric.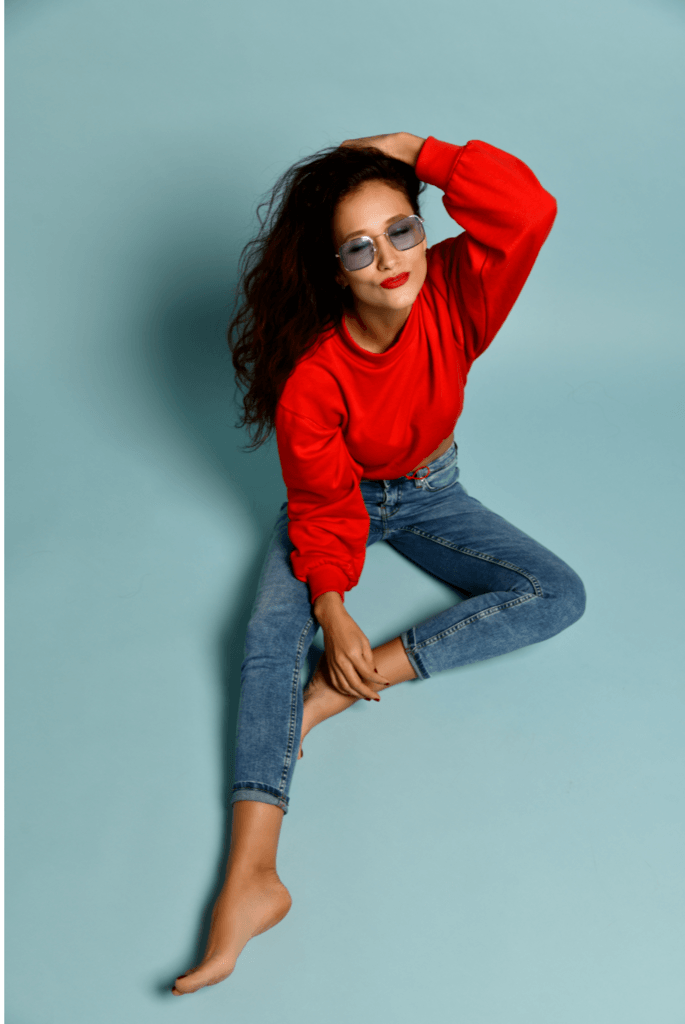 Think of leggings as a hybrid between the two! They have the soft, stretchy material of leggings, and the look of skinny jeans! Oh, and they also don't have zippers or belt loops for the most part…they're sort of like pull-ups! Because of their elastic waistband, jeggings are extremely comfortable and are flattering to most body types.
Sometimes you may see someone wearing a really fitted pair of jeans, but they could actually just be wearing denim jeggings! Some jeggings even have pockets and belt hoops, making them very hard to tell apart from regular jeans. In any case, knowing how to wear jeggings the right way is definitely something you should know, especially if you plan on wearing this fashion trend.
How to Wear Jeggings The Right Way
When it comes to wearing jeggings, there are a few thumb rules you need to follow:
#1. Finding the Right Fit
There are jeggings for all body types, and finding the right pair for YOUR body is absolutely crucial! If you're 5'4 and under, make sure you check out the petite section as regular sized jeggings may be too long in the leg. The best thing you can do is just to try on a few different pairs and see which one fits!
#2. Choosing a Wash
Although jeggins can be super comfortable, they can also be very unforgiving. Because they contour your body, they can also showcase some areas that you may not want showcased. If that's the case, we recommend you choose a darker color which will slim you down and also go with everything from a plain white tee to an oversized sweater!
So What Exactly Can You Wear Jeggings With?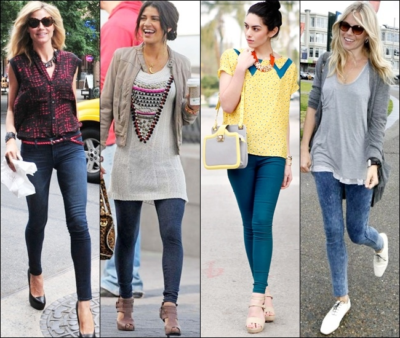 Jeggings are actually quite versatile, and I feel they do a better job than skinny jeans or leggings would. Because they're still (a very soft and stretchy) denim material, they don't necessarily have to cover your bum. Some jeggings in fact, can lift the bum up and accentuate the right curves (this is where choosing the right fit comes in!).
#1. T-Shirts
Looking to pair leggings with a cute tee? Choose a longer t-shirt and do a French tuck (where you tuck a small part of your shirt into the front of your pants). Or, if your body type permits, a crop top would also work well with jeggings. But either way, a pair of jeggings paired up with a tee is a great casual weekend look that's comfortable and stylish!
#2. Sweaters
Because they're pretty much like jeans, sweaters are their ultimate companions. Oversized/slouchy sweaters, sweater dresses, turtlenecks, or cardigans can all be worn with a pair of jeggings.
#3. Blazers
A great way to dress up a pair of jeggings is with a blazer! A blazer can instantly add a little bit of sophistication to any outfit, and jeggings are no exception.
#4. Button-Ups
Another really simple way to dress up jeggings is with a cute button-up top. To really pull the look together, tuck the front end of your shirt into the front of your jeggings (the French tuck).
But the best way to know how to wear jeggings and what to wear them with, is just to try on different combos. Grab a pair of jeggings and go through your closet – you may be surprised to find some pretty amazing combinations!
How to Wear Jeggings If You're Plus Size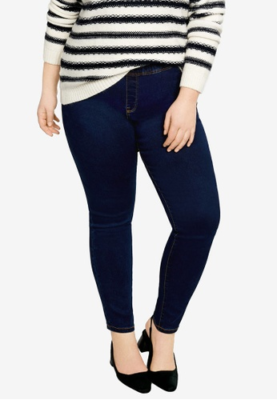 You may think that wearing jeggings if you're plus size is a no-no, but I'm here to tell you that's not the case! Jeggings can be extremely flattering for all body types, including plus size, as long as you know how to style them!
#1. Find Your Perfect Fit and Color
First off, you'll need to find the right fitting pair. This may take some searching, but once you've found the right pair…you'll know! Be sure to try before you buy, and by that we mean bending over, sitting down, squatting, etc. The perfect pair of jeggings will make you feel comfortable and not restricted.
Then, it's all about styling that perfect pair of jeggings for your body proportions.
A darker wash, such as indigo, can actually slim you down and it's the perfect color to dress up or down. You can instantly go from casual to dressed-up with a dark indigo wash – a must have in any woman's clauset!
Choose a mid-rise jegging if you're trying to cover up a belly. Low rise can make you spill over, while high rise can be too constricting and not very flattering when you're bending over.
#2. Pair With Flattering Tops
Choose a trapeze or boxy style top to balance the tight fitting bottoms. This will give the illusion of a slimmer waist and longer legs. A billowy blouse as well as a loose/slouchy tunic also works great for plus sizes. Here are some more style ideas:
To accentuate the waist for an hourglass figure, wear a thin, colorful belt over a long tunic top with your jeggings.
Pair jeggings with a long, button-up top and a tailored blazor to create that hourglass figure and balance proportions.
A peplum top is also a great choice to wear with jeggings as it will hide a belly and elongate the torso.
Wear jeggings with a long cardigan and top it off with a belt at the waist for a flattering figure-enhancing effect.
Check out Maurice's and Torrid for some amazing plus size jeggings!
Choosing the Right Shoes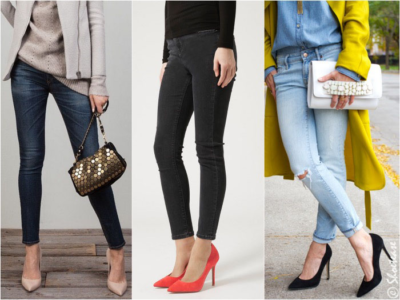 When it comes to shoes and jeggings, the possibilities are endless and all depend on the occasion!
#1. Heels
For a more put-together, professional look, pair jeggings with a pair of nude-colored heels. Preferably, you should stick to pointed toe style heels as they will help give a slimming effect.
Because jeggings already lengthen the legs, pairing them with nude heels will give the illusion of even longer legs! Top that off with a tunic or a tee and tailored blazer for an office look.
#2. Pointed Toe Style
For the most flattering effect, always choose a pointed toe style when wearing jeggings, leggings, or skinny jeans for that matter. This will help to create the most slimming visual effect for the legs.
#4. Boots
Boots and jeggings go together like peanut butter and jelly! Wear jeggings with ankle boots, riding boots, high heel boots, and almost any type of boot you can think of…the sky is the limit here!
#5. Flats
If you're going to wear flats, choose a pointed toe style in a color that will match the color of the jeggings. This will give the illusion of continuity, and therefore lengthen the legs.
Lastly, avoid pairing jeggings with running shoes and flip flops as these can shorten the legs.
Like this post? Share, Pin, and Comment Below 🙂