These 25+ nail designs for short nails are classy, cute, and fairly easy to pull off! This season we're seeing a lot of matte, classic white, and 3D designs. All of these are easily doable as long as you have the right polishes and accessories! Gone are the days of the French manicure – these brightly colored shorter nail designs are the way to go!
Check out your local drug store department or beauty department to find super cute 3D nail accessories, stickers, and much more. Always make sure to have a matte top coat to achieve some of the matte looks and you're good to go! These nail designs are specifically for short nails so check to see which one you like and try to replicate them! Happy painting!
25+ Nail Designs for Short Nails You Can Replicate Right Now!
#1. Rose Gold Nails
These rose gold nail designs make short nails look even longer because of their light color! Beautiful, matte colors, also make this short nail design look clean and sophisticated. Try your own unique twist on these nails by playing with different rhinestones, and changing the color combination.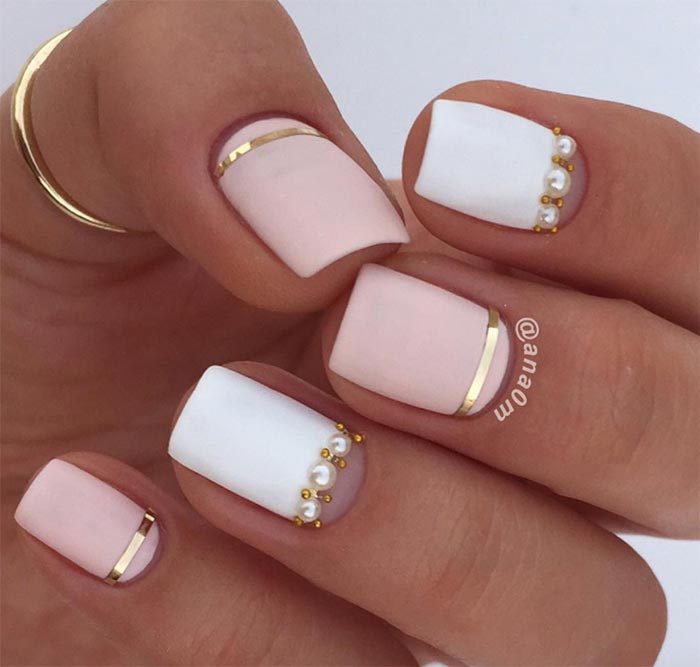 #2. Wine and White Nails
Perfect for the winter months, these wine and white nails are easy to replicate and look amazing on clean, short nails! Best suited for the colder months, wine nails are all the rage this season!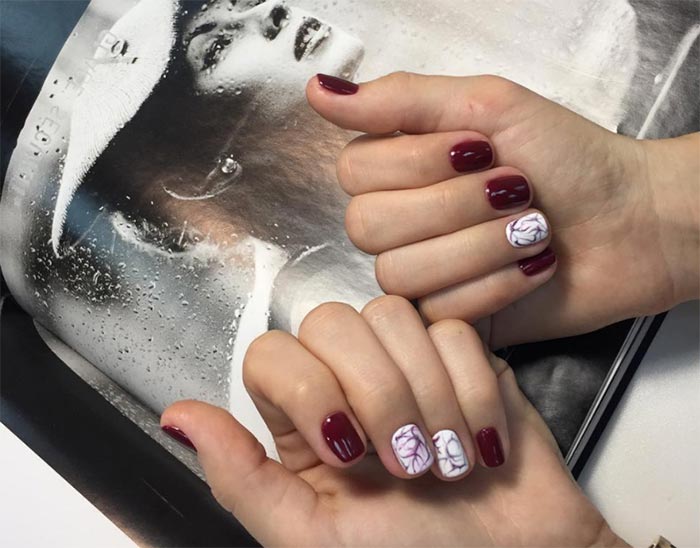 #3. Beauty Icons Nails
You'll need a steady hand for this eye catching nail design, but it's oh-so worth it! If you don't have a steady hand though, there are plenty of nail stickers, stamps, or head on to your local nail salon so they can replicate it for you! For a more subdued design, try a nude nail!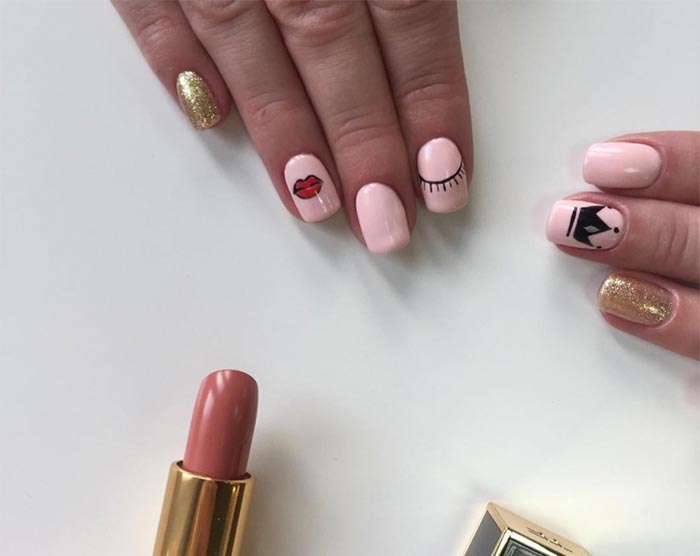 #4. Gold and White Nails
These gold and white nails make short nails look super pretty, and the accent nails on the middle and ring finger really pop! Use a mirrored/chrome gold nail polish for the accent fingers.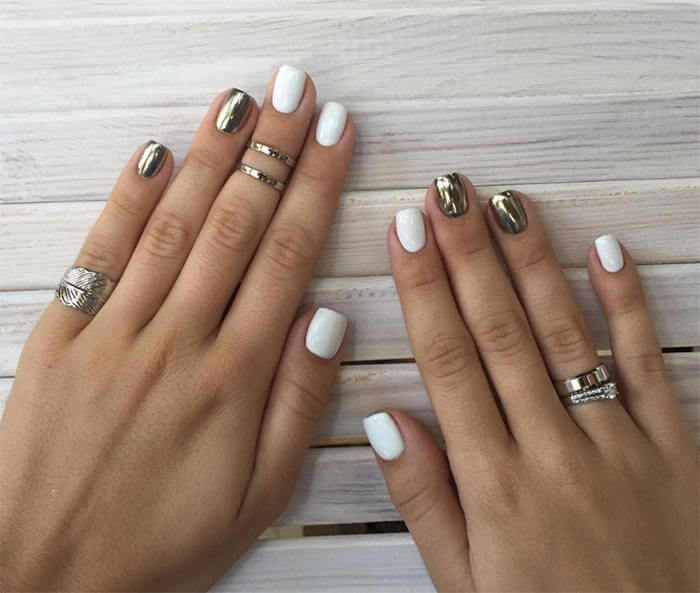 #5. White and Mint Nails
It may be hard to see with the naked eye (and also depending on your screen's resolution), but these super feminine and simplistic designs for short nails are actually white and mint, with a little chevron accented nail! Can you say wedding ready??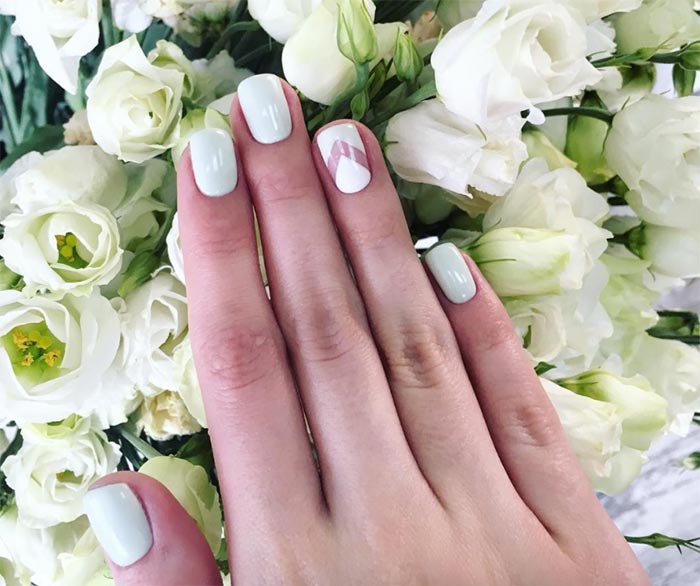 #6. Playing Cards Nails
You don't need long nails to pull off this intricate nail art design, but you may need a steady hand! If not, have a friend come over and try to replicate it for you! It's a fun project to do and will give you some much needed girl bonding time!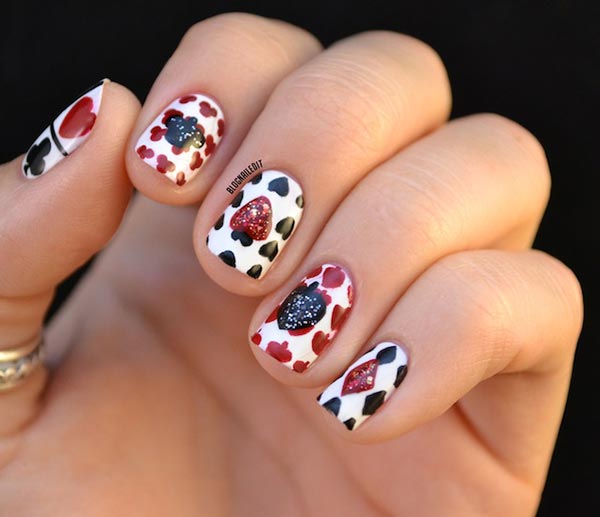 #7. Tribal Nail Design For Short Nails
We love everything tribal, and this short nail art is NO exception! Bright, bold colors on top of a clean, white top coat is what takes this design over the top!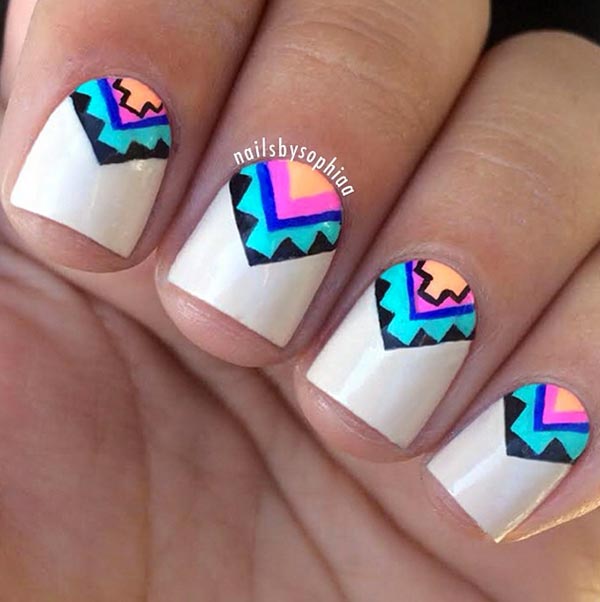 #8. Floral Nails
A great option for spring and summer, this floral nail design is as pretty as can be! Get creative with this look and come up with your own color scheme!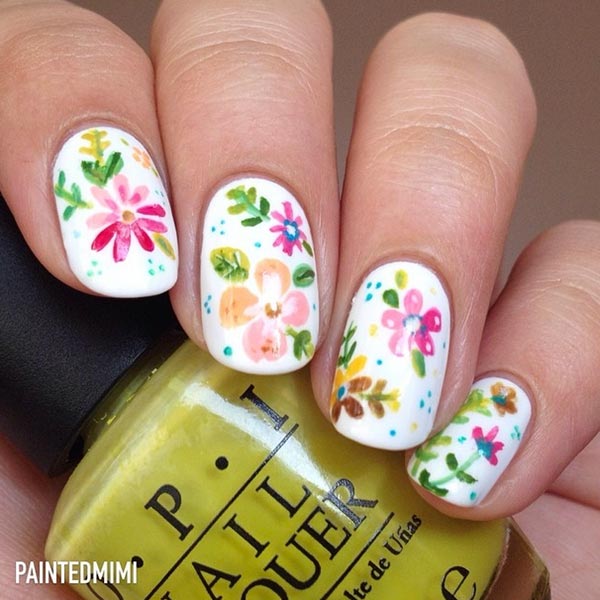 #9. Football Season Nails
If you're a sports fan or just wanna impress your bae, these football (soccer) nails are right up your alley! The accent nail design is not hard to do at all – you just need a nail polish pen to pull it off!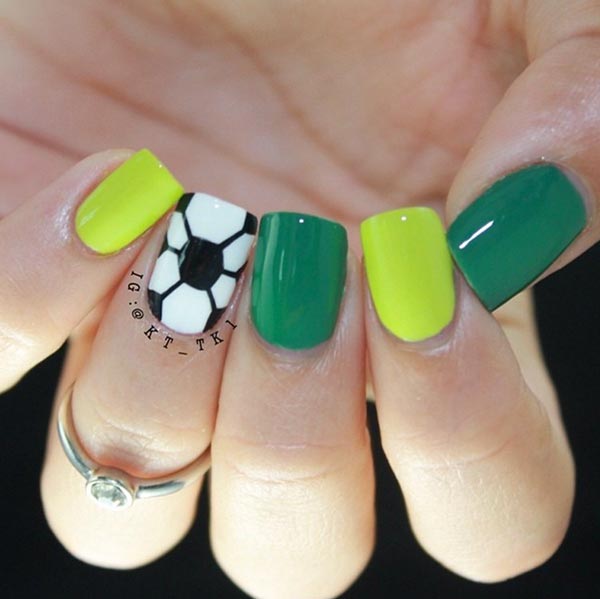 #10. Pink Leopard Nails
Bring out your inner animal with this pink leopard print nail design that's one of our favorite nail designs for short nails! If you look closely, you'll notice just how easy it is to recreate this nail art! Simply grab a nail polish pen and draw little imperfect semi-circles. Then, fill them in with a glitter polish! Don't forget to add a top coat to seal everything in!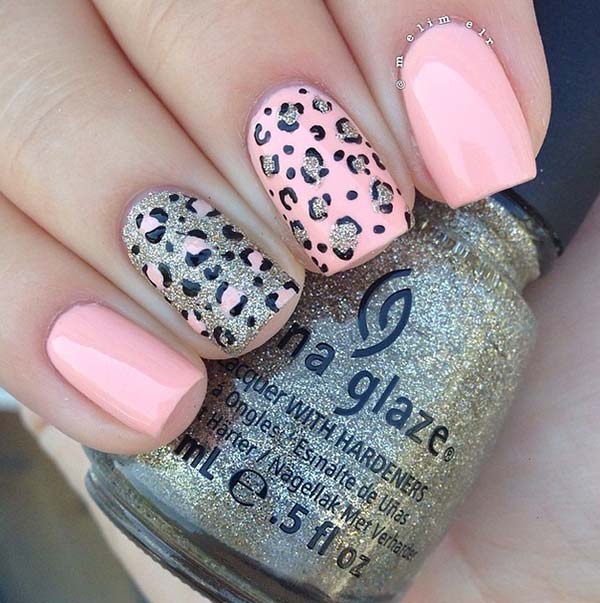 #11. Yin Yang Nail Design
Bring about some calm and serenity with this black and white yin yang nail design! It's a fun nail look to recreate and looks great on short nails! You can also do a black nail as an accent to make this design pop even more!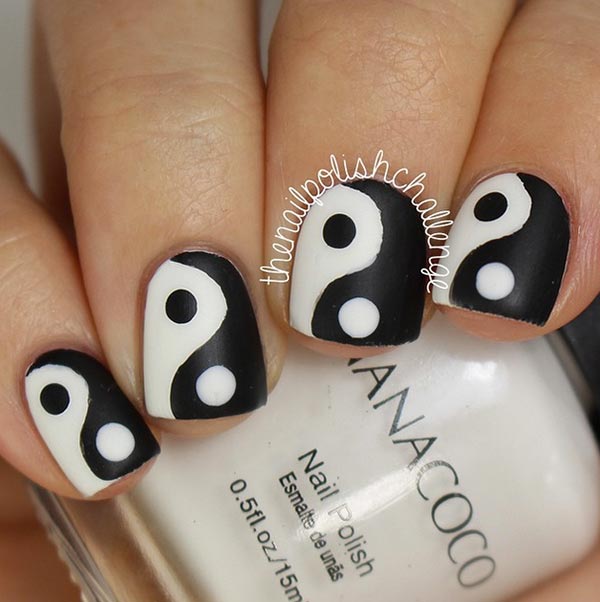 #12. Pink and Gold Nails
This classy pink and gold nail look will really turn some heads! Use thin strips of tape to achieve the accent nails for this look and play around with different colors! Change it up by using silver glitter instead of gold!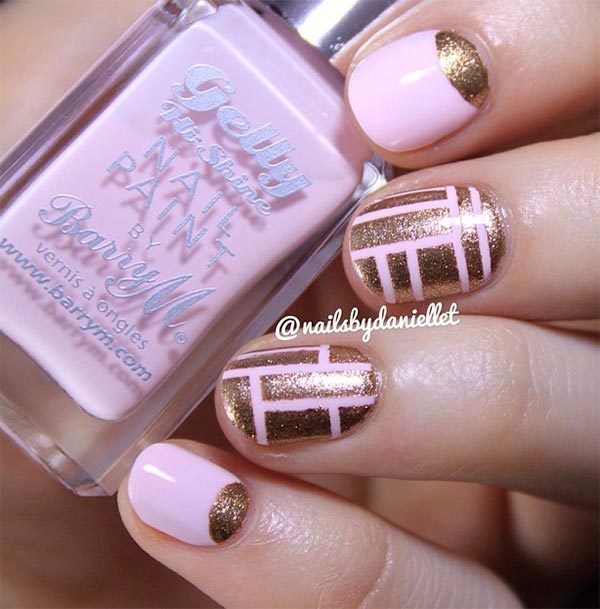 #13. Watermelons Nail Design
We love our watermelon nail designs here, and this matte nail design is no exception. Have a friend replicate this for you, or just it your best shot! This short nail design is perfect for the summer!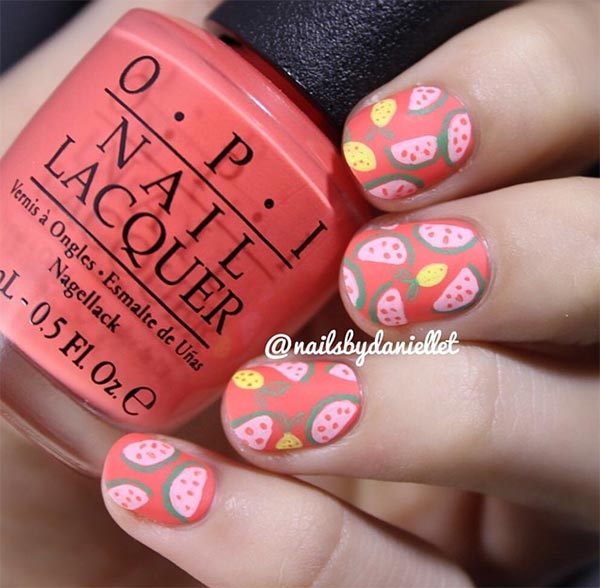 #14. Sweet Cherries Nails
While we're on the subject of fruit nail art, this cherry nail design is sweet as can be! Perfect for short nails and easy to replicate, this design is the definition of girly!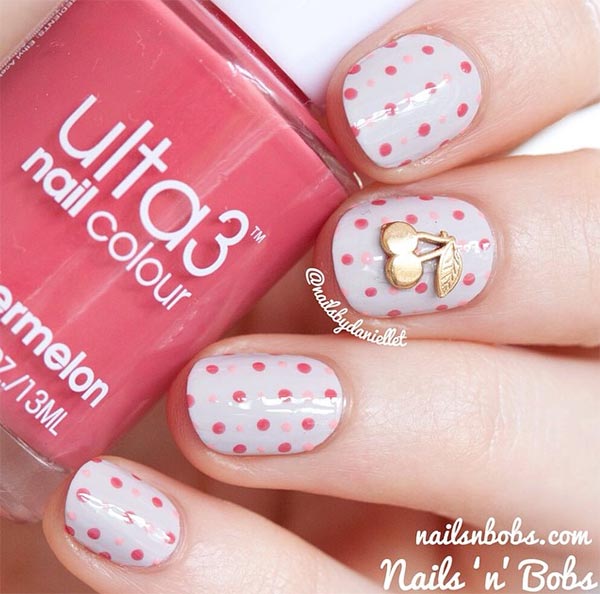 #15. Diamonds and Pearls Nails
Bring out your inner diva with this diamonds and pearls nail design for short nails! It's eye catching, sophisticated, and easy to pull off. All you need are some sparkles and glitter and you're on your way to a diamond studded night!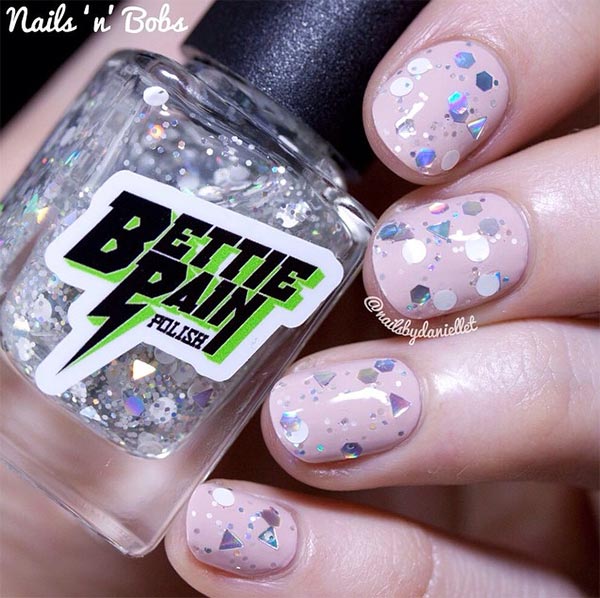 #16. Hippie Matte Nail Design
Craving something a little more different? This hippie nail design may be just what you need. Each nail is a little different than the other, and this will give you room to play around a bit and come up with your own unique ideas!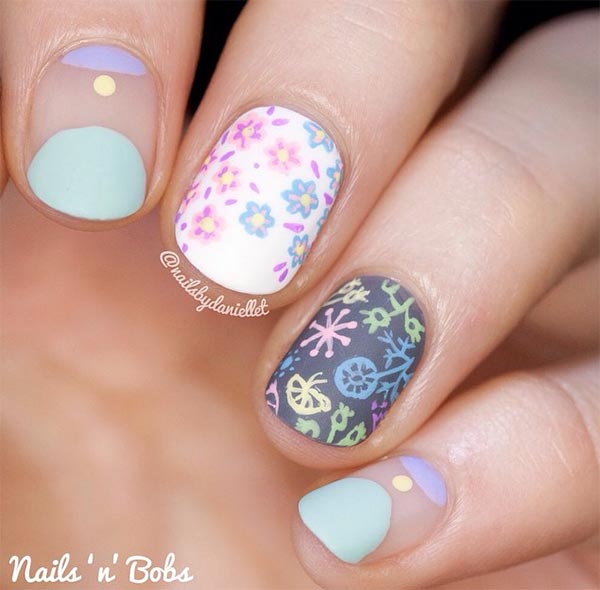 #17. Blue Polka Dots Nails
This polka dot nail design is for the experienced nail artists, but don't fret – if you can't replicate, simply show this picture to your nail girl and she'll be more than happy to oblige!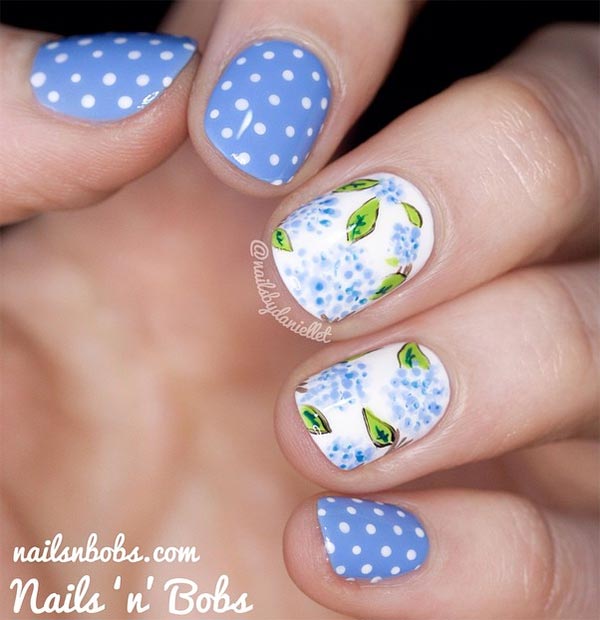 #18. Sunflowers Nails
Sunflower nails scream of spring and summer, and this beautiful nail design for short nails is easier to replicate than you'd think! Simply paint round black dots, followed by brown rings around the dots, and jut out some yellow petals! Don't forget that top coat to seal everything in and help the mani last longer!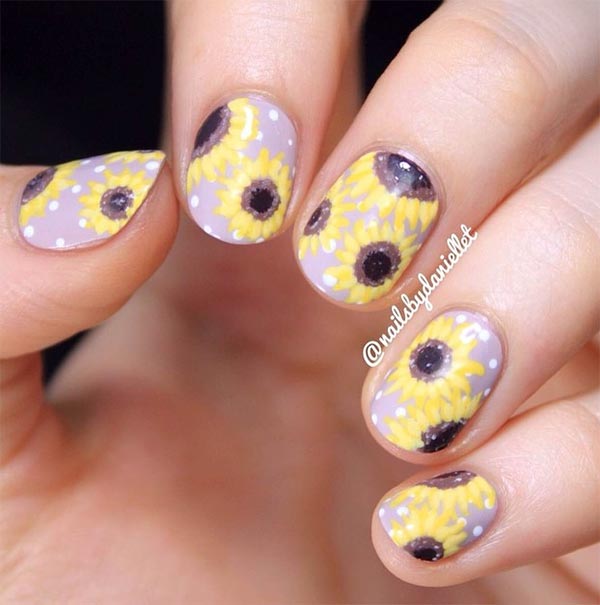 #19. Pretty Spring Nail Design
Pretty in spring! This short nail design has a bit of a vintage vibe, and it's super feminine! Polka dots, vintage flowers, and a beautiful blue hue put this nail art design over the top!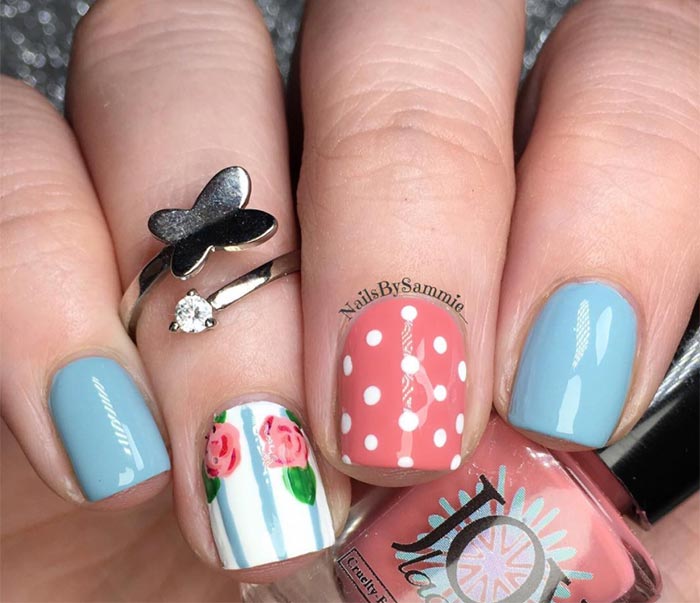 #20. Pale Blue Nails
Simply yet sophisticated, these pale blue nails don't need much, and the triangle at the bottom actually give the illusion of longer nails. Use thin tape to re-create the triangle!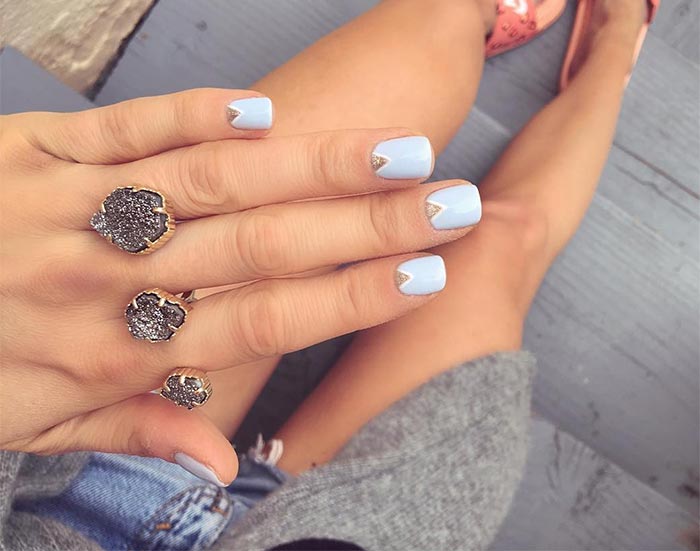 #21. Sparkly Pink Nails
Sparkles and pink go hand in hand and this sparkly nail look is the perfect accouterments to a night out on the town! Take this look over the top with chunky rhinestones and you'll be turning heads in no time!

#22. Matte Green Nails
These matte green nails are perfect for fall and winter, as well as for an office setting. The small, delicate rhinestones give this mani something to talk about and also help to elongate nails.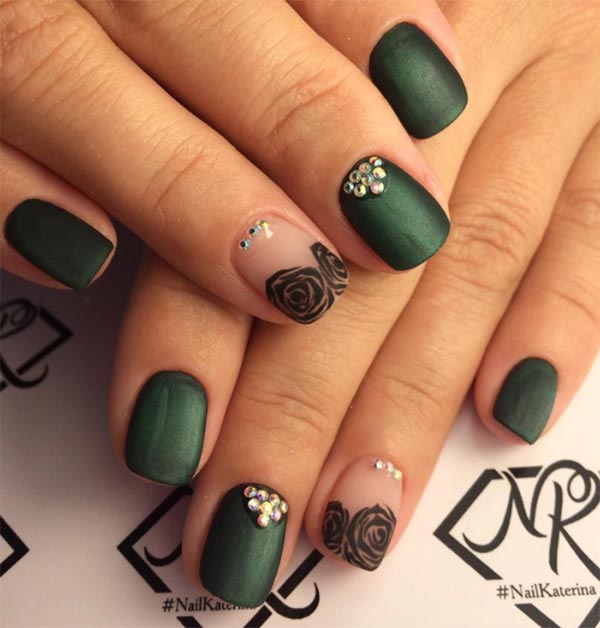 #23. Geometric Pink Nails
Head to your local nail salon to replicate this delicate accent nail (they'll use air brushing), or use a nail stamp! Top it off with sparkly stones and this look is complete!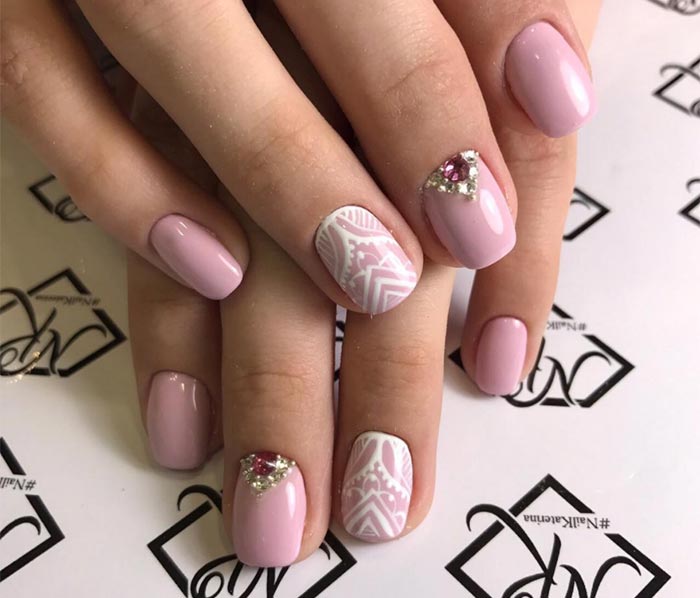 #24. 3D White Nail Design
Looking for something even MORE spectacular? How about a 3D nail design? Head on over to your local nail salon to see if they can replicate this amazing (perfect for a wedding) nail art!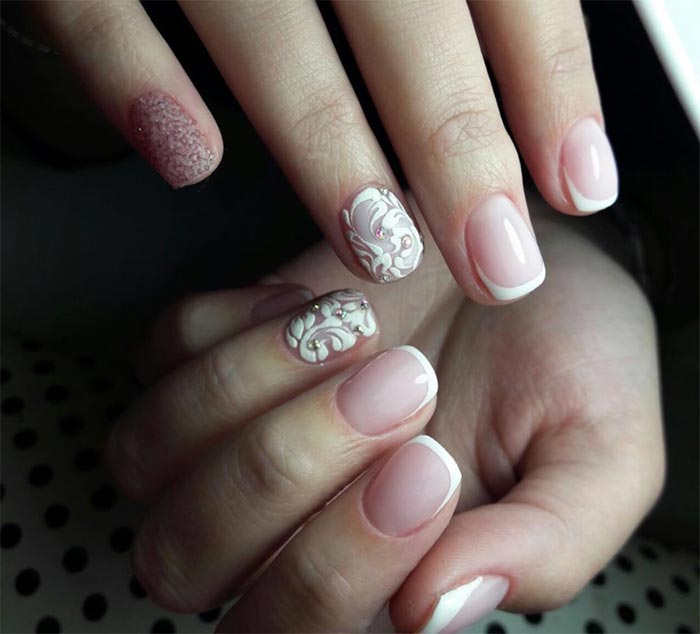 #25. Pink Hearts Nails
Fall in love with this pink heart nail design that will look oh-so sweet on short nails! This nail design for short nails looks absolutely gorgeous and if you have a nail stamp, super easy to replicate!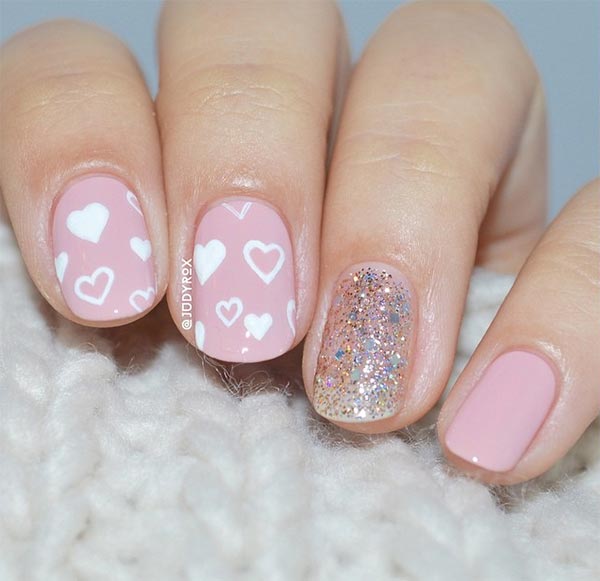 #26. The Blues Nail Design
Although dark colors can make your short nails look even shorter, this dark blue nail design somehow does not! Maybe it's the accent nails, but either way we're totally swooning over these blues!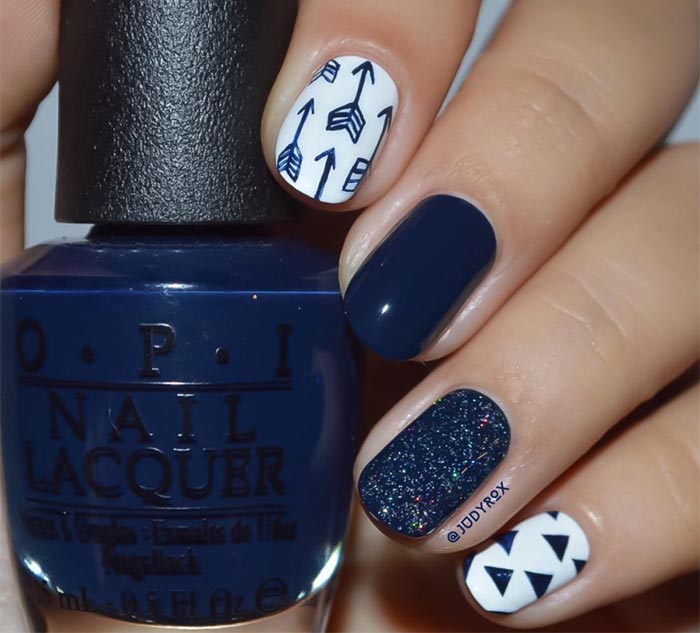 Images Source: Fashionisers
Looking for more nail designs for short nails?
Nail Art Tutorials to Rock This Summer
30 Summer Nail Designs You Can Copy
14 Gorgeous Spring Nail Colors
Like this post? Share, Pin, and Comment Below 🙂