Show off your nails this summer with these adorable summer nail designs you can copy right now! Think of bright, clean designs that are reminiscent of sun, fun, and sand! We're absolutely in love with the bright, fruit designs we're seeing all over Instagram and Twitter, and want you to to try and copy that same look!
And hey, if your hand isn't that steady, choose one of your faves from below and take it to your local nail salon. They'll be more than happy to replicate whichever design you want! Choose from 30 summer nail ideas and put your best hand forward this season with these cute summer nail designs!
30 Summer Nail Designs
#1. Pastel Chevron Nails
Pastel nail polish looks amazing on all nail shapes and this look is especially easy to replicate! Use two small pieces of tape to copy the accent nail and get creative with different pastel colors!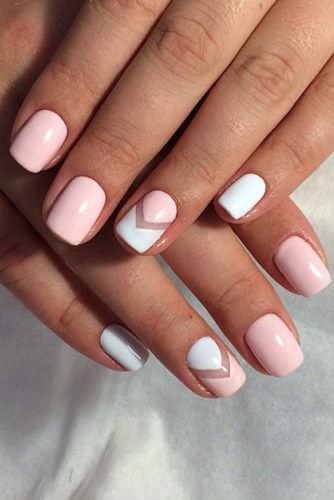 #2. Spring Flower Nails
Spring is a time of renewal and that means glowers galore! Have a friend help you with this summer nail design, or head to your local nail salon and have them replicate the look!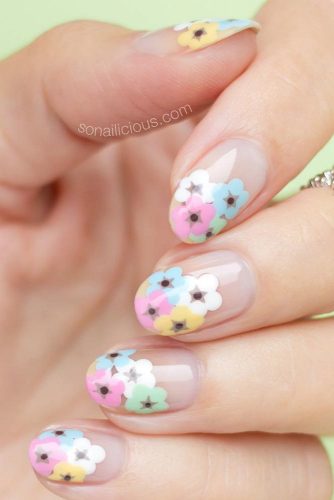 #3. Artsy Nails
Bring out the artist in you with these artsy nails! Think stripes, color blocking and Picasso-reminiscent designs!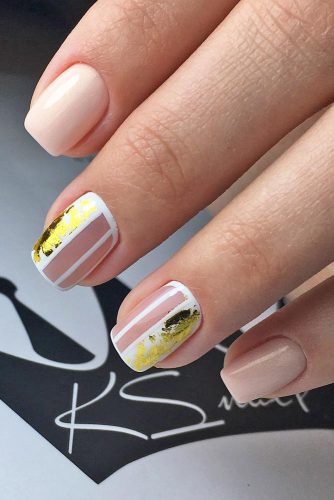 #4. Sunny Floral Nails
Yellow is such a bold color and you'll definitely be making a statement with this yellow nail design! Get creative and so stripes, chevron patterns, polka dots, and more!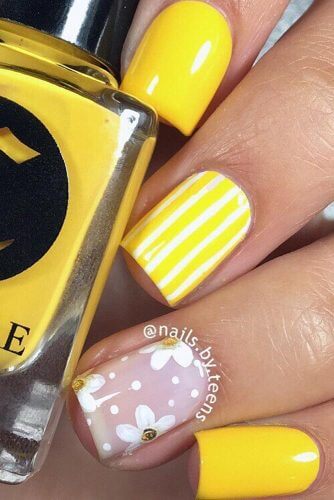 #5. Neon Gradient Nails
These neon gradient nail design is a super fun summer nail idea that just screams concerts and festivals! While it may be a little hard to do at home, your local nail salon will be more than happy to replicate it!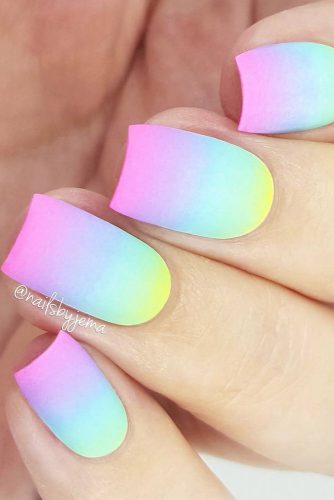 #6. Glitter Tips
These glitter tip nails remind us of Cadbury mini eggs due to their bright, pastel colors! Paint each nail a different pastel color and finish off with glitter on the tips.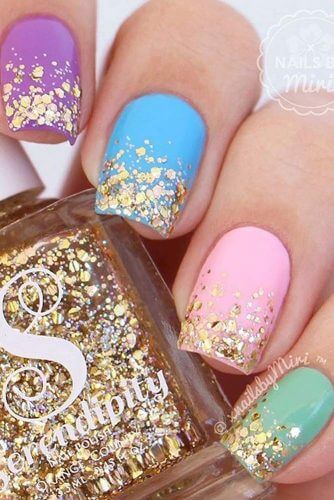 #7. Cool Flamingos
If you have an artistic hand, these flamingo inspired nails would be pretty easy to pull off! See how the flamingo's legs are actually the numbers 4? Perfect for a trip to Miami!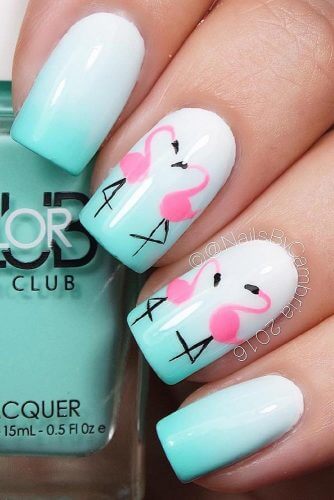 #8. Bright Butterflies
Summer is all about bright colors and this butterfly nail design is the epitome of summer. Replicate this look using very fine nail brushes, decals, and/or nail stamps.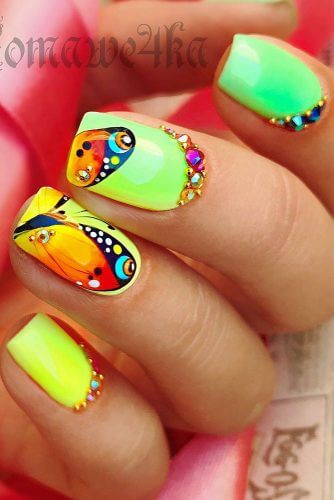 #9. Simple but Sweet
This simple yet sweet summer nail design is pure class and sophistication! The pinkie accent nail is just perfect!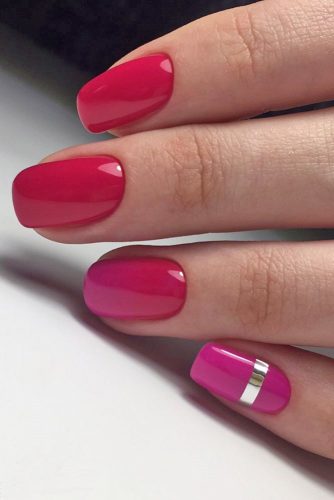 #10. Mermaid Nails
Channel your inner mermaid with this mermaid inspired nail design. Think lots of glitter to replicate the scales, sea shells, and little rhinestones to complete the look.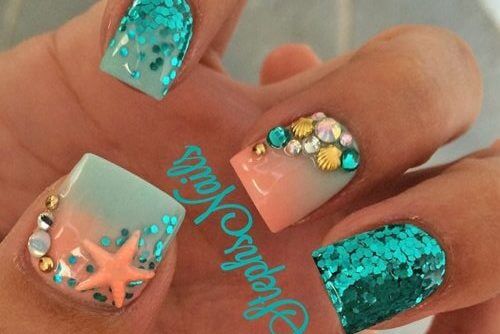 #11. Strawberry Nails
Fruit nail designs are all the rage this season, and believe it or not, this strawberry nail design is actually easy to replicate! Paint your nails with a matte red, wait for it to dry, and use a bright green polish to add the leaves at the bottom (it doesn't have to be perfect!). Top off with the white "seeds" and you're all set!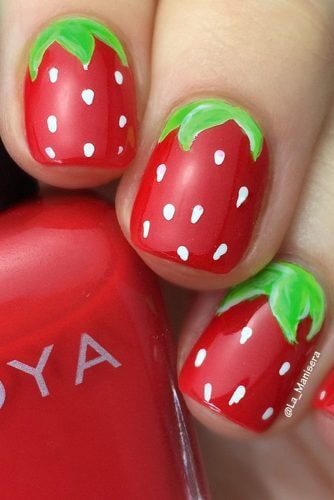 #12. Coral Gradient
These gradient nails look beautiful for the summer, but you can easily get creative and try different color schemes. Try blues, greens, and even nudes!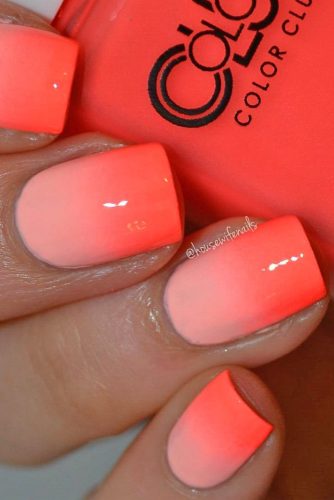 #13. Pink and Black
This pink and black nail design works really well for this nail shape, but regardless of the shape of your nails, you can totally pull this off! Use nail stickers or stamps to recreate the polka dots and accentuate with rhinestones.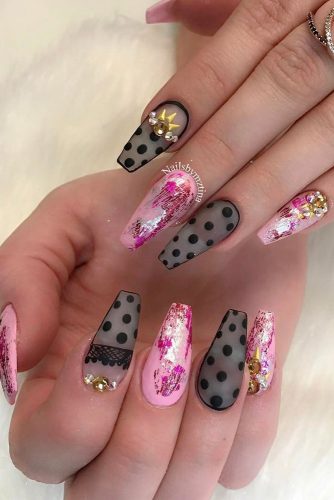 #14. Classy Hearts
This heart nail design is simple until you take a look at the intricate rhinestone heart design! If you've got an artistic hand, try this look, and if not, head to your nail girl so she can replicate this nail look!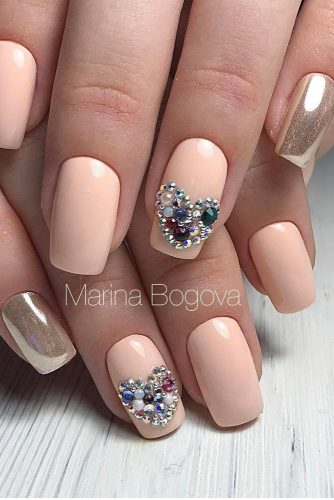 #15. Strawberry Accent
Another strawberry nail idea, this one reminds us of a strawberry mousse! Soft, pastel pinks combined with a strawberry accent nail makes for the perfect summer nail design!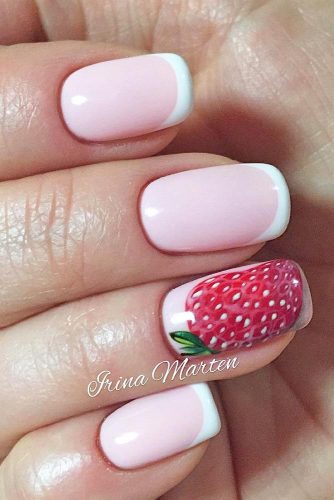 #16. Pale Yellow Floral
This custardy yellow nail color is super feminine and classy, and is the perfect brunch nail look! This nail design will definitely turn some heads!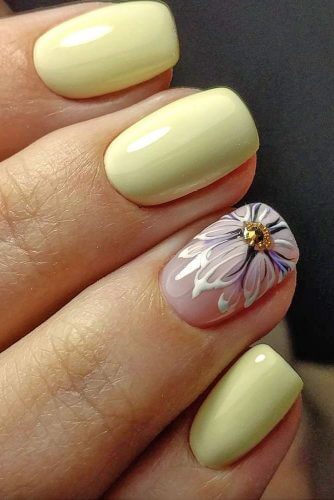 #17. Subtle Black Tips
Subtle but sophisticated, this color block nail design requires some tape and a black nail polish pen. Make sure to leave a small space at the tip of the nail!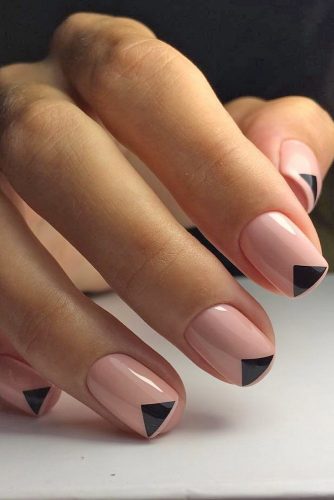 #18. Soft Lilac
Not all nail designs have to be intricate! A clean, perfect manicure combined with a beautiful soft lilac polish like this one is all you need!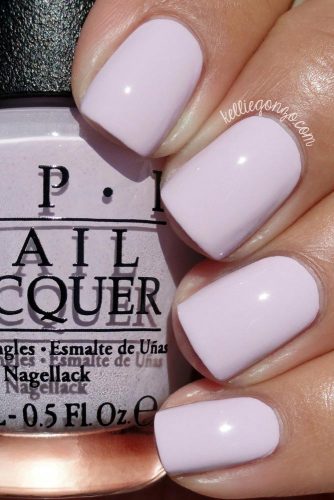 #19. Bling Nails
These blinged out nails are perfect for a night out with your girlfriends or something as awesome as a Rihanna concert! Stock up on glitter nail polish and rhinestones and pull this look off!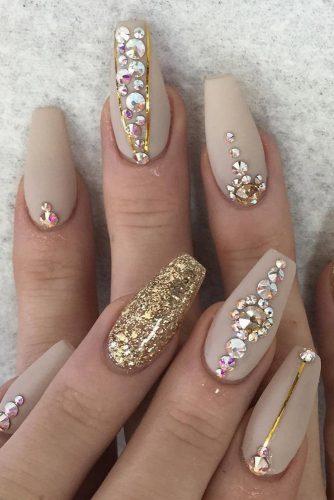 #20. White Lace
This white lace nail design is the definition of class and femininity, and this particular design would be great for a bride or wedding. Head to your local nail salon for this air brushed design.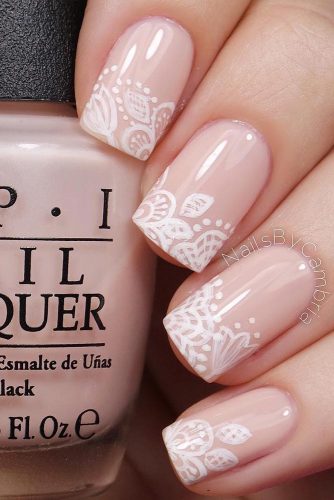 #21. Watermelon Nail Design
Strawberries aren't the only fruits making their way into the nail design world! Watermelon nail designs are super fun to replicate and look amazing on all nail shapes!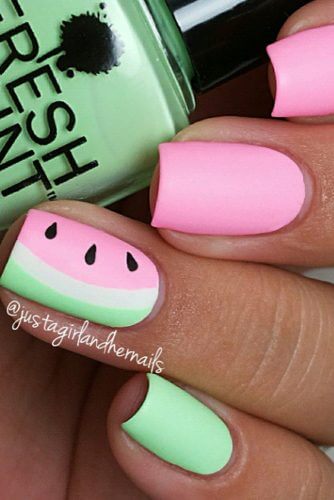 #22. White & Peach Nail Accent
This simple nail look is easy to replicate and is perfect for anyone who's looking for a low maintenance nail idea!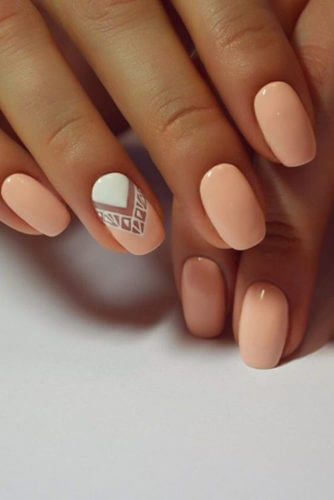 #23. Red Gradient
This Snow White-esque nail design is a great look for a night out and is fairly simple to copy! Choose dark red matte nail polishes to pull this nail design off!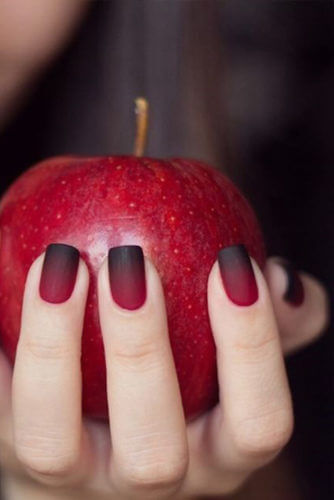 #24. Soft Glitter
Another great option for a wedding nail design, this soft and glittery look is feminine and sophisticated. Easy to pull off and low maintenance!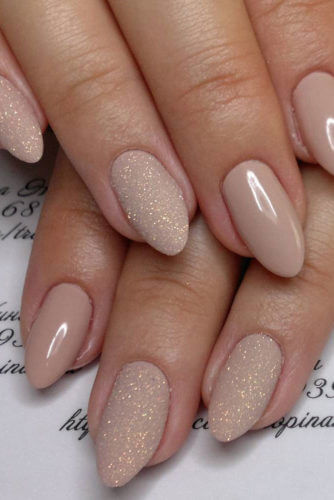 #25. Citrus Nails
Take a bite out of life with these citrus inspired nails! Bright, neon colors make this look, and even if you don't have an artistic hand, you can still get creative!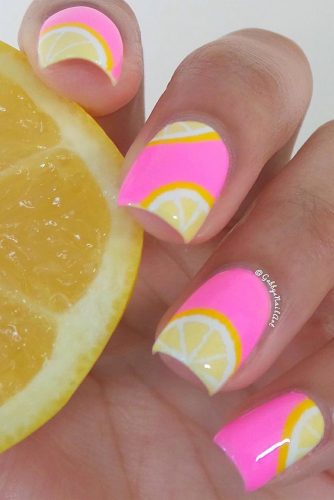 #26. Bright Stripes
This tribal inspired striped design is super fun to replicate as it'll have you bringing out your entire nail polish collection! Or, head to your local nail salon!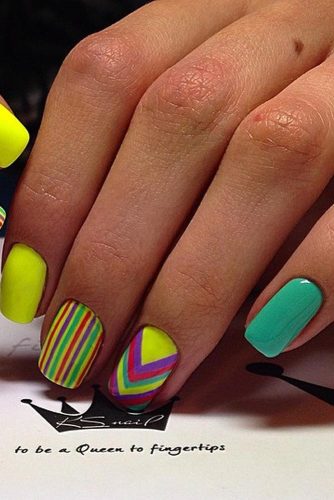 #27. Pink Floral Nails
Pink, floral nails are sweet and feminine, and this look is no exception. Rhinestones, glitter, and flowers put this flower nail design over the top!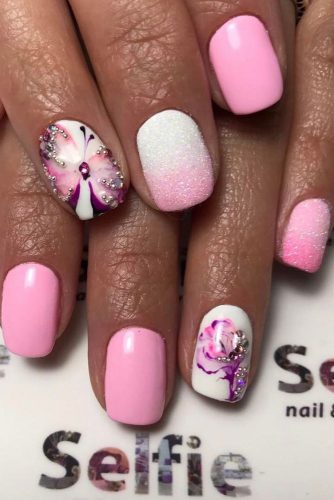 #28. Blue Accents
These blue nails definitely won't give you the blues, but they will make everyone look on with envy! Choose different shades of blue and add beautiful blue-hued rhinestones.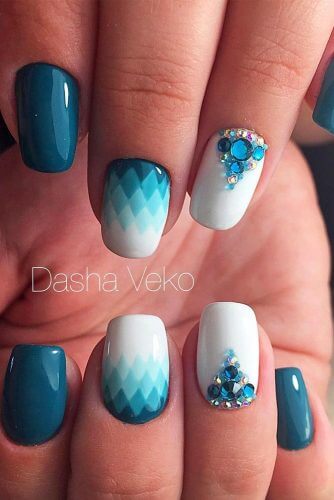 #29. Pastel Pretty
Pastles, chevron, and glitter make this summer nail design stand out from the crowd! Use thin nail tape to replicate this amazing look!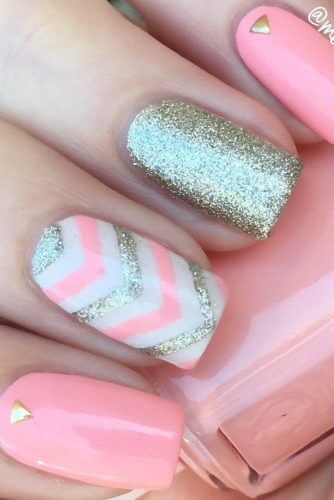 #30. Black, White and Gold
Black and gold aren't just for the winter months! This polished nail design is sophisticated and unique!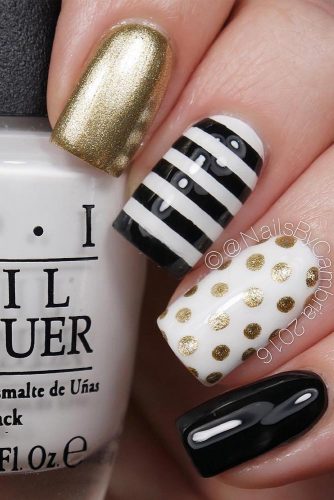 Images Via: Glaminati
Have fun and get creative with these 30 summer nail designs!
Like this post? Share, Pin, and Comment Below 🙂