Wanna know how to get the perfect manicure? If there's one thing I hate is spending my money at the nail salon, sitting there for hours and then having them chip within a few days. I say if you can do it yourself, save your money and use it on something better! Here is a step-by-step manicure that you can do at home and that'll get your nails to look more than perfect.
Get the Perfect Manicure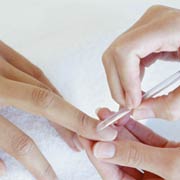 Invest in a Good Buffer
If you don't already have a 4-sided buffer, I suggest you invest in one – it'll be your ultimate tool in getting gorgeous nails. Four-sided nail buffers have numbers on the side that let you know which part to use for what. Buff your nails to ensure a smooth and high-gloss finish on your nails.
Use a Cuticle Remover
Take good care of your nails with a cuticle remover. Simply apply the remover on your cuticles (anywhere your nails meets your skin) and push them down with a orange stick or cuticle pusher. To remove the cuticles, push the stick back 2-3 times and wipe your nails with a cotton ball. Use a cuticle nipper to remove the hang nails after pushing them back.
Moisturize
Once you've buffed, trimmed and filed your nails, use a cuticle oil to massage the cuticles. Follow with a moisturizing hand cream for your hands.  At this point, your nails will look smooth, glossy and perfect. You don't even need a nail polish, just apply a clear coat and voila, you've got the perfect manicure!
To see more nail related posts, check out our Nail Care Blog!
If you like this post, don't forget to share 🙂