For those of us with fine, thin hair, tangled hair is a constant struggle that seems to never end! When hair gets tangled, it tends to break and thin out, leaving it lackluster, weak, and damaged. Thankfully, there IS a solution in the form of this DIY hair detangling spray! Made with only 3 ingredients, this hair detangling spray will gently de-tangle, condition, nourish, hydrate, and add shine!
DIY Hair Detangling Spray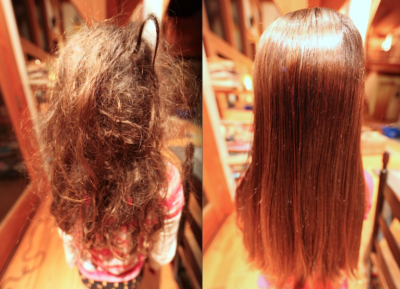 Ingredients:
Directions:
To a small spray bottle, add 2-3 tablespoons of your favorite conditioner. We recommend using a conditioner that doesn't contain sulphites which can dry out the hair.
Fill up the spray bottle with warm water and add a few drops of your favorite essential oil.
We like to use lavender essential oil for its scent as well as for its hair strengthening properties!
Shake bottle well and spray onto damp or wet hair.
Comb through using a wide-tooth comb.
Always comb starting at the bottom (ends) and working your way to the top.
Gentle enough to use after every shower, this homemade hair detangler can also be used on dry hair to tame flyaways!
Like this post? Share and Pin 🙂