Last Updated on
Fermented rice water for hair is the "newest" hair care technique that's actually been around for thousands of years! Fermented rice water can be used for a number of things, but it can do some pretty amazing things for hair and skin! Our favorite use for rice water though is to make the hair grow faster – plain and simple!
If you scour the Internet for hair growth treatments, you'll come upon hundreds, if not thousands of different recipes and techniques. Some may work really well, while others may not, but one thing we do know for sure is that fermented rice water DOES actually work!
While the word fermented might conjure up some pretty gross thoughts, rest assured that it's really not as bad as you think! Fermented rice water for hair growth has been used for centuries in China, specifically in ancient Chinese cultures. Long hair was always a sign of good health and fertility, and women would use this technique weekly to encourage growth, strength, and shine.
According to a 2010 study from the International Journal of Cosmetic Science,
Japanese women from the Heian period (794-1185 AD), whose beautiful long hair, called suberakashi, reached to the floor, were said to have combed their hair each day using Yu?Su?Ru (rinse water obtained from the washing of rice) . Rice is considered to be the most important food in the Japanese diet, and the historical fact that rice was used for hair care is very interesting. We therefore focused our attention on the Yu?Su?Ru hair care practice in the Heian Period, and examined its effects on hair. As a result, we found that Yu?Su?Ru exhibited hair care effects, such as reducing surface friction and increasing hair elasticity.

Abstracts of papers published in Journal of Cosmetic Chemists (SCCJ), Volume 44, No. 1, 2010

All that is needed for this recipe is rice and water – plain and simple! This treatment works because of the minerals that around found in fermented rice water and therefore strengthens the hair follicles and promotes quick growth. This is because starchy water helps to close the cuticle down and therefore creates a smooth and shiny surface.
Fermented Rice Water for Hair Growth Recipe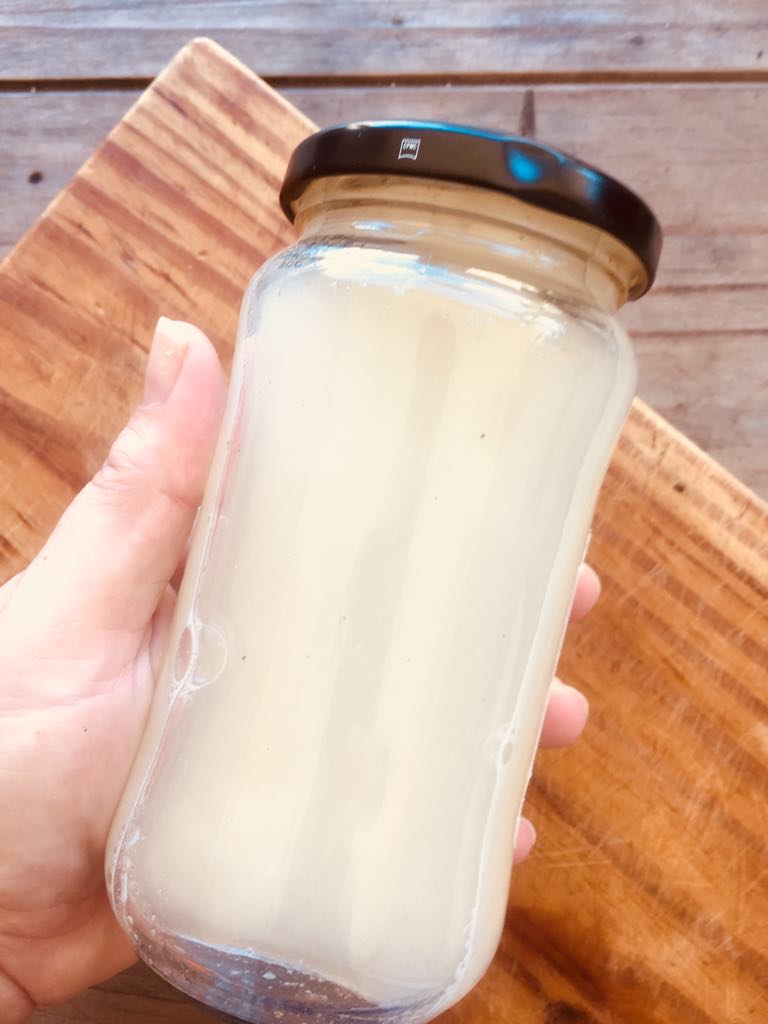 Benefits of Fermented Rice Water For Hair:
Rice water contains a ton of healthy vitamins and minerals which can aid in hair growth and strength. Selenium, magnesium, vitamins B1, B2, B3, B4, B5, and B6, as well as folic acids, vitamin K, and niacins. All of these vitamins and minerals are crucial for healthy hair growth.
Helps hair grow faster
Strengthens hair follicles
Hydrates the hair and scalp
Prevents bacteria and other scalp diseases
Prevents dandruff
Moisturizes dry, itchy scalp
Adds shine and vitality to dull hair
Heals damaged hair
Because fermented rice water is so rich in vitamins and minerals, this method will work especially well on natural hair, but ALL hair types and styles can benefit from this method. The growth and strength you'll notice will really blow your mind!
You'll Need:
1/2 cup raw, long grain uncooked white rice (brown rice is too rich and contains way too much protein, while white long grain rice is just perfect for this!)
2 cups water
mason jar
Directions:
Add 1/2 cup of uncooked rice and 2 cups of water into the mason jar. Shake the jar well and let sit for a couple of hours.
Strain the liquid and pour it back into the jar. You can discard the rice or use it for cooking!
Leave the rice water to sit at room temperature for a day or two or until it develops a sour smell (this is the fermentation process!).
Once fermentation occurs, add 2 more cups of water to the jar and store in the refrigerator for another day.
Your rice water will then be ready to use!
How to Use Rice Water For Hair Growth:
There are several ways you can use the rice water to strengthen and encourage growth:
Pour the rice water into a spray bottle and spray directly onto hair. Make sure to saturate entire head and leave on for 45 minutes. Wash out and shampoo and condition as usual. Repeat twice a week.
Add the rice water to any hair mask. Simply substitute the liquid in the mask recipe for the rice water. If the recipe doesn't call for any liquid, simply add in about 1 tbsp of the rice water.
Rinse hair with rice water. After shampooing, rinse your hair with the rice water and follow up with a conditioner.
Be sure to use the rice water consistently for best results! I like to use my rice water at least twice a week!
Like this post? Share, Pin, and Comment Below 🙂