If you recently dyed your hair and want to maintain that beautiful color for a long time, this post is for you! We have collected a few tricks and tips on how to keep your hair color looking healthy!
After you color your hair, there are a few step you have to follow in order to keep your hair looking healthy. Hair dyes penetrate the cuticle which is the hair's protection barrier, in order to remove your natural color and set the new one. After all of this processing, your hair gets weak and if you dye it too often, it can result in breakage. Knowing how to keep your hair color looking healthy so you don't have to color too often, is crucial!
10 Tricks and Tips To Keep Your Hair Color Looking Healthy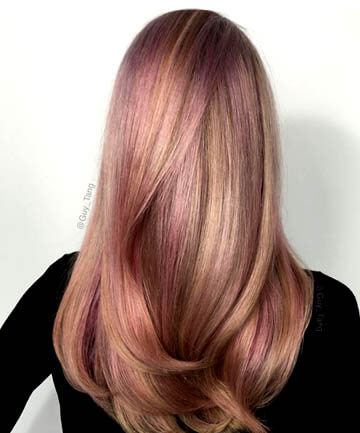 Weather you dye your hair at home or you go to a salon, the following tips are excellent when it comes to keep your hair color looking healthy and shiny.
Tip #1: Change your Shampoo and Conditioner
Just like you use skincare products for your specific skin type, when you color your hair you will have to get hair products for newly dyed locks.
Lots of cheap shampoos and conditioners contain detergents, salts and sulfates. These ingredients tent to strip hair color out which will help fade out your hair color even faster. Instead, look for products that are for dyed hair and alcohol and sulfate-free. These types of shampoos and conditioners will help your hair hold onto its color.
Tip #2. Wash Less
If you wash your hair daily, stop this. As you wash your hair, your color also washes out. Try to wash your hair 2-3 times a week. This will help you preserve natural oils that help nourish your hair and make and color last.
As an alternative, you can use dry shampoo during the week to keep your hair clean. Purchase a good dry shampoo according to your hair color or make your own dry shampoo at home.
Tip #3. Rinse with Cold Water
Everyone loves a long hot shower, specially now during winter, but washing your hair with hot water is so bad for your newly colored hair. Hot water makes your dye hair fade out faster, stripping the color.
Tip #4. Stop Using Clarifying Shampoo
If you use clarifying shampoos, that's another thing you need to stop. Clarifying shampoos contain a high level of detergent that strip your hair of its color. Avoid using this type of shampoo after you have dyed your hair.
Tip #5. Nourish your Hair with Natural Proteins
After coloring your hair, the proteins that help protect your hair, disappear. If your hair starts to snap off, gets brittle and dry, this means it's lacking protein.
We are all about natural products here and when it comes to protein, eggs and mayonnaise are the ultimate ingredients. Mayonnaise smooths hair out, while eggs are full of protein that nourish your hair. These two ingredients together will help repair protein damage, leaving your hair healthy. Check out the DIY hair mask recipe below and give your hair the boost of protein it needs.
Ingredients:
Directions:
Mix the ingredients together in a small bowl until smooth.
Gently start applying the mixture to your hair concentrating on the tips.
After your whole hair is saturated, cover with a shower cap and leave on for 40 minutes.
After 40 minutes, wash off with cold water and a sulfate and alcohol-free shampoo.
Use this DIY hair mask once a week.
Tip #6. Purchase a Good Leave-in Conditioner
Purchase a good leave-in conditioner with silicones which will form a protective layer over the hair shaft, and therefore protect your hair from sun damage. A leave-in conditioning treatment can also help you protect your hair from heating tools.
Tip #7. Lower the Use of Heat
Using heat styling tools regularly can damage even the healthiest hair. Now imagine what it can do to your sensitive, newly colored hair. After coloring, try not to use heat tools that often.
Letting your hair air dry and trying different hairstyles that don't require heat tools is the best option. If you have no choice but to use a heat tool, first apply a heat protectant and use your hairdryer on the cool setting, keeping the dryer at least 15cm away from the hair.
Tip #8. Apply a Hot Oil Treatment

Hot oil treatments are a must to keep your hair nourished and moisturized. Oils protect your hair from sun and heat damage by forming a protective layer over your hair. Follow this easy to make homemade recipe below!
Ingredients:
2-3 tbsp of coconut oil (olive oil and jojoba oil are also good choices)
Directions:
In a small bowl, warm-up the oil. Make sure it's only warm and not hot.
Massage the warm oil into your hair starting from your scalp and down to the tips. Massage a little more in the tips since most of the damage is there.
Cover your hair with a shower cap and leave it on for 30-45 minutes, or overnight.
After 30-45 minutes, wash off with cold water and a sulfate and alcohol-free shampoo.
Use this homemade hot oil treatment 2-3 a week.
Tip #9. Trim Regularly
Trim your hair at least every 6-8 weeks. After coloring, your hair is more prone to damage, and regular trims will help maintain hair health, prevent breakage, split ends and damage spread.
Tip #10. Keep your Hair Hydrated
Until you decide to dye your hair again or change color, keep your hair well hydrated. Dyed hair tends to dry out and lose moisture, to fix this apply a good DIY hydrating mask. The following hydrating hair mask contains ingredients full of properties that will repair damaged hair, retain moisture all while deeply conditioning your hair.
Ingredients:
1 tbsp olive oil
1 ripe banana
1/2 ripe avocado
Directions:
Mash the banana and the avocado in a small bowl until a paste is formed. Add the olive oil and mix well.
Gently apply the mask to your hair making sure to saturate well.
Cover your hair with a shower cap and leave on for an hour.
After an hour, wash off with cold water and a sulfate and alcohol-free shampoo.
Use this DIY hydrating mask once a week.
Like this post? Pin, share and comment below ?