Love straight hair? Good, because it's back in action! Ever since flat irons came around,we just haven't been able to put them down, much less do anything to our hair without them. It's not wonder then that the sleek, poker-straight hair style is still around after all these years and it's going to make a huge splash in the fall. So take out your blowdryer and your flatiron and start the straightening process!
Straight Hair Makes a Comeback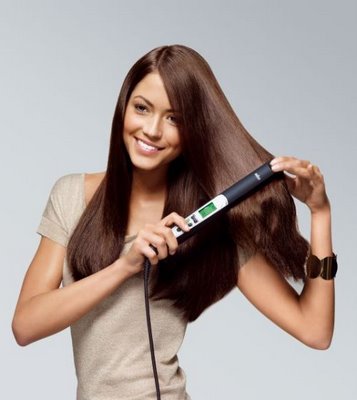 Now I know this news sucks for those of you with thick, curly hair as it takes hours to blowdry and straighten, but if you've got the time, go for it! Just remember to apply a straightening balm to wet strands before blowdrying to prevent friziness and help with the straightening process.
For those with straight or wavy hair, straightening is pretty straight-forward. Start off by applying a serum to wet hair, running your fingers through your hair about mid-way all the way to the ends. Make sure you don't apply any product directly to the roots or right at the front since this can weigh your hair down and make it look flat and limp.
When trying to blowdry your hair straight, start off with a flat brush and divide each hair into sections. Run the flat brush from inside and start off about mid-length going all the way down while holding the blowdryer nozzle downwards to prevent friziness. Once you hair is about 60% dry, take a round brush and do the same thing, starting mid-length and pulling down.
Once your hair has dried, divide your hair into sections again and start ironing. Finish off with a very light hairspray to make sure the hair stays in place or use an anti-humidity spray for those hot, humid days.
If you like this post, please share 🙂