Want to get rid of a little flab, or just feeling bloated? We've discovered the perfect fat burning tea recipe that not only burns fat, de-bloats, and makes you feel ah-maazing, but also tastes good! This mint & lime fat burning tea is super easy to make and contains fat burning ingredients which tell your body to speed up its metabolic system and in turn reduce belly swelling!
Fat Burning Tea Recipe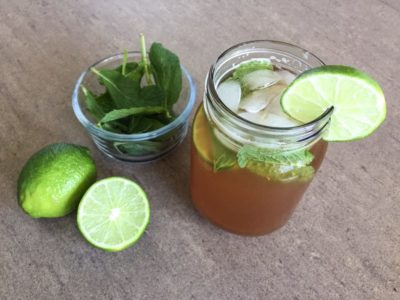 Source: Thewritebalance
This drink is SUPER yummy and refreshing, but what we love most is its amazing benefits!
Green Tea: contains caffeine and the amino acid L-theanine which together have an anti-anxiety effect, as possessed to coffee which is a much less steadier caffeine dose. Green tea is packed full of antioxidants that can help with a slew of problems from aging to blood cancer, and even cancer. Because green tea is calming, your body will also calm down and that means less damage to your insides as well as less inflammation.
Lime: packed full of vitamin C which is needed for cleaning out our bodies from toxins, pollutants, smoke, etc. Lime also keeps your skin looking young thanks to its vitamin C which boosts collagen production.
Mint: eases digestion and calms the stomach, and is a very important part of this drink! Due to its anti-inflammatory properties, it calms the body and cleanses the insides.
Ingredients Needed:
This recipe will make about 8 ounces, which is 1 serving.
1 bag green tea
8 oz water
1/2 small lime, juiced
2-3 mint leaves
ice
Directions:
Prepare green tea as you would normally and steep for about 5 minutes.
While tea is steeping, juice half a lime into a small bowl and add the mint leaves. Muddle the mint leaves into the lime juice to help release its oils.
Once tea has cooled down a little, pour over ice and add the lime juice and mint mix.
Drink at least once a day to help flush out belly fat and keep the insides healthy!
Best drunk in the morning, on an empty stomach!
Like this post? Share and Pin 🙂