If you love clay masks as much as we do, you're going to love this homemade rose clay mask for breakouts! Clay masks are one of THE best masks you can use because they draw out so much dirt and impurities, leaving skin bright, flawless, and blemish-free! Rose clay not only looks beautiful, but also has a slew of other benefits such as removing oils, toxins, and other impurities. Let's check out this homemade rose clay mask!
Homemade Rose Clay Mask Recipe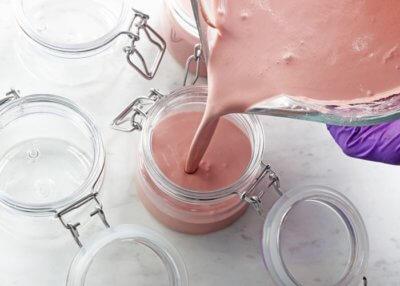 Skin Benefits of Rose Clay:
Purges dirt and impurities
Smooths skin
Prevents acne and breakouts
Cures blemishes
Reduces the appearance of acne scars, dark spots, and sun spots
Brightens dull skin
Reduces the appearance of fine lines, wrinkles, and crow's feet
You'll Need:
2 tbsp rose clay
1 tbsp water
Directions:
In a small wooden or plastic bowl (never use metal bowls or utensils when making clay masks as it can have an adverse reaction) mix all ingredients until well combined.
Apply all over face and neck and let sit for about 10-15 minutes or until mask has completely dried.
Remove with a warm, wet washcloth and rinse off any residue.
Follow up with a homemade moisturizer.
Use this homemade rose clay mask twice a week for soft, flawless, blemish-free skin!
Like this post? Share and Pin 🙂