If you're looking for a cure-all, fix-all type of face mask, this Vaseline and egg white mask truly is for EVERYTHING! And by everything we mean it will treat acne, random breakouts, dull skin, dry skin, oily skin, aging skin, and even reduce the appearance of acne scars, dark spots, and sun spots. Seriously, if there's ONE mask you try this week it should be this Vaseline and egg white face mask – you won't be disappointed! So is Vaseline good for your face? The answer is absolutely yes!
The reason we love this Vaseline face mask is because it's so simple to make and requires the most of basic ingredients: Vaseline, egg white, and a little lime or lemon juice!
What's even better is that after just one use, you'll notice brighter, softer skin, and, when used on a regular basis (2-3 times a week) can cure a multitude of things (see above!). Applying Vaseline on face does something truly magical – it brightens dull skin, softens, and adds a beautiful glow that works for all skin types, even sensitive skin!
Eggs for face problems is another amazing way to rid the skin of dirt, impurities, and blackheads. Raw eggs are packed full of protein and minerals, and when used on a regular basis have the ability to tighten the skin and prevent premature aging.
Vaseline and Egg White Face Mask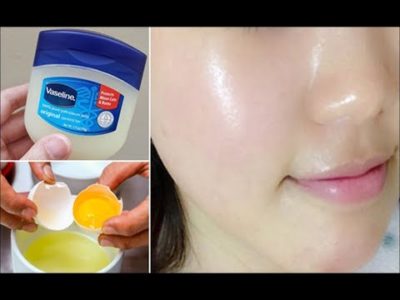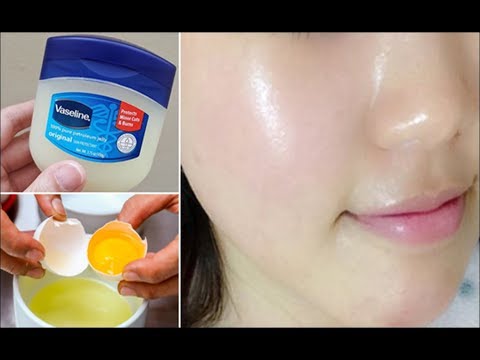 Source: Youtube
Vaseline: also known as petroleum jelly, protects skin (acts as a barrier), and helps to seal in skin's moisture. Also helps skin retain water which makes it a great ingredient to fight wrinkles! Applying Vaseline on face will leave your skin super soft and silky because of its moisturizing properties as well as give it a really beautiful glow.
Eggs: packed with protein, egg whites tighten, aid in regenerating cells, and purging pores. Makes for the perfect skin cleanser as well!
Lemon juice: acts as a natural bleaching agent helping to reduce the appearance of scars, dark spots, and age spots. Also detoxifies skin, cleanses, and acts as a toner.
You'll Need:
1 tbsp Vaseline – if you don't have Vaseline, you can substitute for aloe vera gel
1 egg white
a few drops of freshly squeezed lemon or lime juice (preferably organic if you can!)
Directions:
Separate the egg white from the egg yolk.
Whip up the white just until a little frothy and add the Vaseline and a few drops of lemon juice.
Apply the mask to a cleansed face and neck and leave on for 15 to 20 minutes or until completely dry. Your skin may feel a little tight, but that's completely normal.
Rinse off and pat dry.
Use 2-3 times a week!
Overnight Egg White Face Mask
You can even use this egg  face mask overnight to really purge pores and do a deep cleaning and skin tightening! This Vaseline and egg white mask won't clog pores, and is gentle enough for sensitive skin types. Use on a regular basis to rid the skin of blackheads, breakouts, and prevent dryness and sagging.
Other Amazing Ways to Use Vaseline on The Skin
Another great way to improve the health of your skin, is to put Vaseline on your face before bed. Just a small amount is all you need to hydrate dry skin, and wake up with the most amazing glow you've ever had!
Massage Vaseline into your hands and cuticles before bed and wake up with hydrated, soft cuticles. This will also strengthen the nails and promote growth.
Apply a small amount of Vaseline along the lash line and on your eyebrows to encourage hair growth. Vaseline is packed full of nutrients and vitamins which can prompt faster growth.
Use Vaseline to remove stubborn makeup. It's a cheap, safe alternative to commercial makeup removers and it does an incredible job!
Apply all over body as a moisturizer. Vaseline has incredible healing and hydrating properties, so it makes for a great body lotion. Apply immediately after getting out of the shower for maximum results.
Got an uneven tan? Vaseline can actually help tone skin! Simply apply all over affected areas in slow, circular motions.
Vaseline helps to lock in moisture, so the more often you apply Vaseline to the face, the more hydration you'll get!
Notes:
As with everything, please test a small patch on your arm to make sure you are not allergic to any ingredients. If you feel any discomfort, pain, or see any irritation, please discontinue use. Wash off with lukewarm water and pat dry. Do not use if you have any cuts, scrapes, or open sores. If you have sensitive or dry skin, feel free to leave out the lemon or lime juice.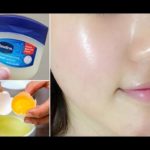 Print Recipe
Vaseline & Egg White Face Mask
This Vaseline and egg white face mask is super easy to make and can fix a slew of skin problems in a pinch!
Ingredients
1

tbsp

Vaseline

1

egg white

2-3

drops

lemon or lime juice

organic
Instructions
In a small bowl, add the egg white and beat well until frothy.

To that, add the Vaseline and lemon juice and stir well.

Apply all over skin or just on certain areas.

Leave on for 10-20 minutes.
Video
Looking for more egg and Vaseline face masks? Check these out!
How to Use Vaseline to Get Rid of Wrinkles
18 Genius Ways to Use Vaseline in Your Beauty Regimen
DIY Egg White Mask for Firmer Skin
DIY Skin Tightening Mask
How to Make an Egg White Mask
DIY Egg Mask for Hair Growth
Homemade Facelift Mask
DIY Blackhead and Facial Hair Remover