Learn how to make your own Smashbox primer water with this easy to follow DIY guide.
Duplicating expensive store bought products in your own home is not only extremely satisfying but also saves you a ton of dough. Not to mention that you're bypassing all those unpronounceable ingredients that are actually oh so bad for your skin! Today, we're going to duplicate the Smashbox Photo Finish Primer Water. It's easy, it's fast, and best of all – super cheap! Smashbox primer water is an amazing makeup setting spray because it goes on very smooth (not oily at all!) and keeps your makeup on all day long.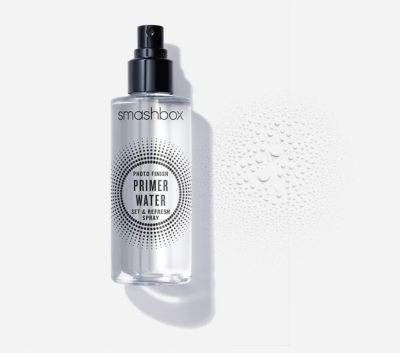 But this DIY primer water version is even better than the store bought one since it has natural ingredients and tons of antioxidant properties so it's great for those with oily and acne prone skin. The real thing will cost you $32 but the at-home version will only cost you $10. Now that's a steal!
Our version has only 4 (natural) ingredients, while the commercial product has all of THESE:
Water (Solvent) Butylene Glycol (Solvent Moisturizer) Caffeine (Fragrance) Magnesium chloride Calcium chloride (Astringent) Sodium sulfate Potassium nitrate (Preservative) Potassium phosphate Polysorbate 80 (Surfactant Emulsifier) Diamond Powder Fragrance Limonene (Solvent Fragrance) Linalool (Fragrance) Citral (Fragrance) Phenoxyethanol (Preservative) Sodium Benzoate (Preservative)
While some of the above ingredients are not all bad, a lot of them can actually be drying to the skin and cause further damage.
DIY Smashbox Primer Water Recipe
Ingredients:
3 tablespoons glycerin – helps to prevent, dry and itchy skin. Also helps with minor irritations and redness. Perfect for those with sensitive skin.
5 tablespoons witch hazel – contains powerful medicinal properties which help to tone the skin, relieve inflammation, fight acne, and protects against skin damage.
7 tablespoons distilled water
3 drops tea tree oil (for acne prone skin) – a powerful essential oil that can help combat bacteria to fight off acne and breakouts.
NOTES:
As always, you can tweak out the formula so that it works with your skin type.
***If you have very dry skin, you can 4 tablespoons of glycerin and 1-2 tablespoons of lavender oil. You can skip the tea tree oil all together.***
***If you have very oily skin, you can add only 1-2 tablespoons of glycerin, and leave out the essential oil***
Benefits of Homemade Smashbox Primer Water:
Contains revitalizing electrolytes, so it hydrates and nourishes the skin.
Preps the skin for makeup application.
Preps and refreshes skin instantly.
Helps makeup stay on for longer.
Tones skin and helps with uneven skin tone.
Prevents acne and excess oil production.
Reawakens skin and cleanses.
Works on all skin types.
Helps shrink pores.
Directions:
Mix all ingredients together and transfer to a clean, disinfected bottle. Spray directly onto cleansed skin before applying makeup. Let dry for a few minutes before makeup application.
Or, use as a makeup setting spray and spray directly over skin after having applied your makeup.
And voila, you're ready to use your homemade Smashbox Primer Water that cost you under $10!
This primer can also be used as a toner! Simply mix all the ingredients and add to a bottle. Shake well before each use, and pour a small amount onto a cotton round. Swipe onto cleansed skin. This will help balance the skin's pH and help control excessive sebum production.
Did you enjoy this post? Why not share the beauty knowledge with others? 🙂