After a few long winter months, your hair takes a beating in the sense that it dries up, splits, and looks a lot less healthier than it did in the summer. One thing I've noticed is that when there is a lack of moisture in the air, my hair gets very dry and brittle, and looks as if it's completely broken. But, after a lot of trial and error, I've come up with the ultimate DIY miracle hair repair. I cannot tell you how this recipe completely changed my hair from dry, brittle, and split, to super shiny, moisturized, and soft within just one application!
DIY Miracle Hair Repair Instructions
So what's the secret to my DIY miracle hair repair? Pure, simple coconut oil! But it's how you use it that yields amazing results! At first, because my hair was so extremely dry and was breaking, I was using this hair repair once a day for a week. Then, I switched to twice a week, and now, after my hair finally feels and looks luscious, I apply it just once a week! So here's how to get amazingly soft, healthy hair again with my DIY Miracle Hair Repair!
You'll Need:
100% organic coconut oil (melted)
A wet, warm towel (choose a light, microfiber one though!)
Apple cider vinegar (optional)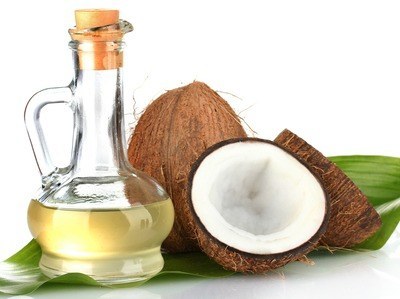 Directions:
You can do this a few different ways depending on your schedule. Because my hair was so wrecked, I decided to leave this on overnight, but you can also just leave the oil on for 20 minutes!
Using melted coconut oil, apply about a tablespoon onto dry, unwashed hair. Massage gently into scalp for a few minutes. This will stimulate hair growth and spread the coconut oil evenly.
Wet a light, microfibre towel using hot water (be careful not to burn your hands!) and wrap it around your hair.
Leave the towel on for as long as you like! If you can't sleep with it on, leave it on for 20 minutes.
Remove the towel and shampoo and condition your hair as you would normally.
This is optional, but I like to rinse my hair with apple cider vinegar as it gets rid of all the residue and leaves my hair very shiny and manageable.
Other Methods to Apply Coconut Oil to Hair:
There are also a few other ways of applying coconut oil that can help repair dry, damaged, and frizzy hair. These methods are quick fixes that can help tame frizz and add shine.
Applying coconut oil to dry hair: for a quick fix to frizz and dry ends, rub a small amount of coconut oil between palms and run through hair. Be sure to only apply from the middle to the ends, and not on the scalp. If coconut oil is applied to dry scalp, it will make hair look oily and weigh it down.
Applying coconut oil to damp hair: to control frizz and give hair shine, apply coconut oil to damp hair, right after towel drying. This method is best for those with fine, thin hair, as applying the oil to damp hair doesn't weigh it down as much as it would on dry hair.
Why This DIY Miracle Hair Repair Treatment Works So Well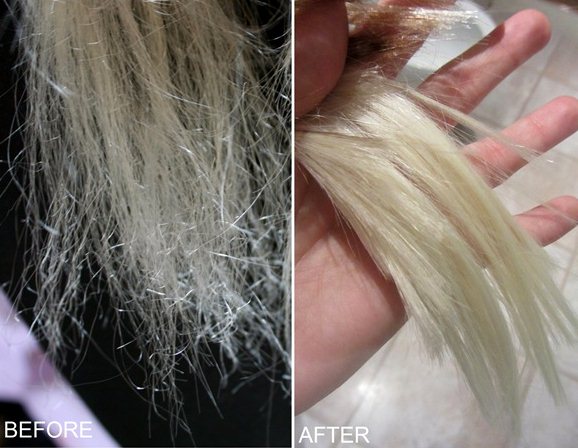 Coconut oil is packed full of healthy fats that penetrate deep into the hair follicles to hydrate, soften, and repair dry, damaged hair. Using coconut oil on a regular basis can completely restore your hair's health.
Helps condition and soften hair
Rich in lauric acid, coconut oil can easily penetrate inside the hair shaft, making it softer and more manageable. Additionally, it also helps reduce protein loss in all hair types. Those with dry, over-processed hair can greatly benefit from coconut oil use. Applying coconut oil to the scalp and ends on a regular basis can reduce damage, enrich and strengthen hair, and add much needed moisture.
Stimulates hair growth
Coconut oil has been used for a long time to strengthen and grow hair. The regular use of coconut oil can promote long, healthy, hair growth. This is because coconut oil is full of healthy vitamins and fatty acids which help to nourish the scalp and remove excess oil build-up at the roots. As hair gets stronger over time and scalp health is regulated, growth starts occurring at a faster pace.
Adds shine
Because it locks in moisture, and also ADDS moisture, coconut oil will give your hair a beautiful, healthy shine. You can apply a very small amount to wet hair before blow drying to protect the strands, or apply when try to tame frizz and add some mega shine. For those with thin, fine hair, we recommend you only apply a teeny tiny amount as not to weight the hair down.
Controls frizz
Coconut oil naturally tames and controls frizzy, unruly hair. The fatty acids in coconut oil hydrate dry, damaged hair, and in turn, controls frizziness and unruly hair. Because of this, coconut oil especially great for those with natural and kinky hair. Coconut oil can be added to dry hair to eliminate frizz and add shine. Only apply a small amount though!
Heals scalp
Those who suffer from a dry, itchy scalp, don't have to anymore! Rubbing a small amount of coconut oil into the scalp 2-3 times a week can be a life saver. Coconut oil can help reduce itchiness, hydrate scalp, stimulate blood flow, and reduce flakes and dandruff.
And there you have it! Follow this DIY Miracle Hair Repair recipe and within a week, your hair will be out of this world!
Beneficial Coconut Oil Ingredients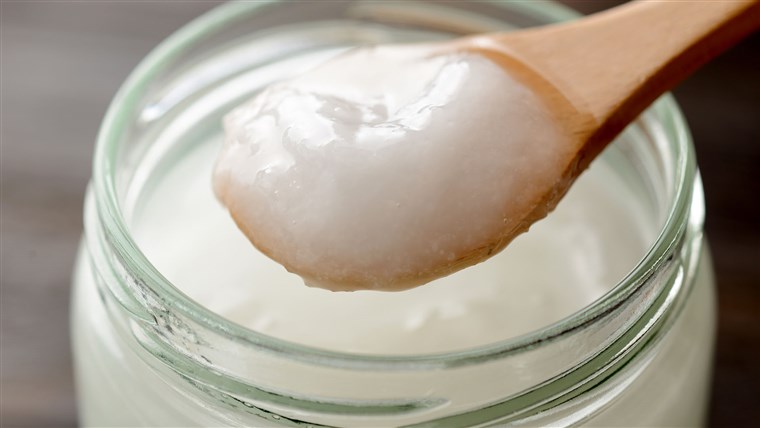 So what exactly does coconut oil have in it that makes it so great? Coconut oil is mainly composed of fatty acids and proteins, and is also packed full of antioxidants.
Rich in medium-chain fatty acids, also referred to as MCFA's, which are caprylic acid, lauric acid, and capric acid. About 60% of all coconut oils are composed of the above three fatty acids, while 90% of the coconut oil fats are composed of healthy saturated fats.
As you can see, coconut oil has a slew of benefits that can completely transform you hair – I know it did mine! But coconut oil isn't just for the hair! See the 20 ways to use coconut oil for your skin.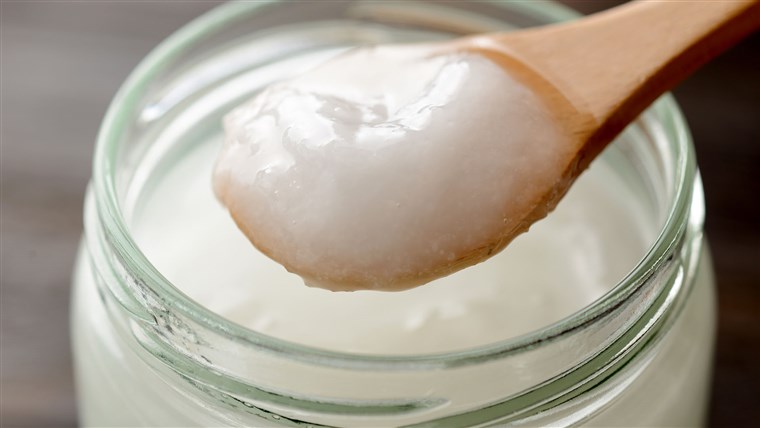 Print Recipe
Coconut Oil Hair Mask
A simple and all natural hair mask that boosts hair growth, hydrates dry hair, and fixes damage.
Ingredients
1

tbsp

coconut oil

organic, cold pressed

1

cup

ACV

organic – optional, for rinsing
Instructions
Apply about a tablespoon (or more depending on the thickness and length of your hair) of melted coconut oil to your scalp and spread throughout.

Massage gently into the scalp in slow, circular motions.

Wet a soft microfiber towel with hot water and wring out.

Wrap the hair in the towel and let sit for at least 20 minutes, or, for better results, overnight.

Rinse out and shampoo and condition as usual.

For added shine, rinse hair with organic apple cider vinegar.
Video