Wanna know how to get the natural, no-makeup look? Natural, barely-there makeup is very in this season, but that still doesn't mean that there is no makeup involved. The art of perfecting a natural, no-makeup look is quite simple actually and doesn't require a lot of work. Not only is it chic and professional but it's a breath of fresh air from the usual done-up look.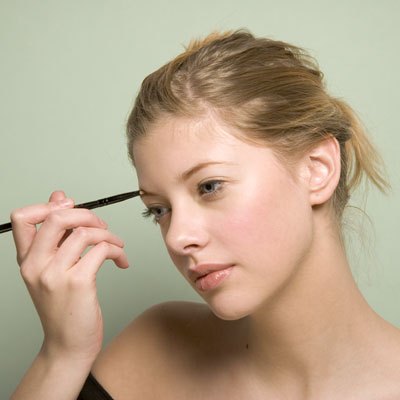 Step 1: Prep
Before layering on your foundation, make sure your face is thoroughly cleansed and moisturized. Look for a moisturizer with an SPF to minimize premature wrinkles and sun damage.
Step 2: Prime
Once your moisturizer has settled in, continue with a foundation primer. This is one of the most important steps in faking a flawless face because not only does it prep the face for foundation but also minimizes the look of pores and gives everything a soft, smooth canvas.
Step 3: Foundation
For a flawless finish, avoid heavy foundations and instead go for a light, sheer foundation. This will ensure enough coverage but also give you a flawless, natural finish.
Step 4: Concealer
If you're suffering from pimples or other pesky little complexion problems, don't forget to use a concealer. Concealers do what their name say: conceal things! So dab a tiny little amount of concealer onto problem areas such as pimples or redness and pat in. To blend things in and make sure your makeup stays put, dust a translucent powder over your entire face.
Step 5: Don't Forget the Brows
Eyebrows are one of the most prominent features and we often overlook them. Make sure you use a brow brush to brush your eyebrows into shape. Then, use a tinted gel or just a regular gel to make them stay in place. Tinted brow gels are great because not only do they help your brow hairs stay in place but they also enhance your brow color.
Step 6: A Touch of Color
To finish off your natural look, dab a little cream blush onto the apples of your cheeks. Make sure you choose a light, rosy color that will give you a natural flush. Finish off with a touch of tinted lip balm and you're all set!