Last Updated on
Even though summer is almost over, that doesn't mean your pedicure has to be! We've selected a few of our favorite pedicure designs we've seen over the summer, and we know you're going to love them! Whether you're going away to some tropical destination or just lounging around the house, these gorgeous pedicure designs are for sure going to attract some attention! After all…why should nails have ALL the fun?
You can replicate any of these toe nail desgins yourself as long as you have a few tools! For the ultimate pedi design, make sure you have:
a few different nail polish colors
clear top coat
a nail design pen or brush
nail stamping kit unless you're an artist
rhinestones
With all of the above you can create some eye catching designs in no time! But if you'd rather NOT get your hands dirty, head to your nearest nail salon right away and request one of the designs below.
12 Gorgeous Pedicure Designs
#1. Connect the Dots Toenails
This toe nail design features a beautiful color combination that's perfect for spring and summer! Connect the dots with red, yellows, blues, and greens for an eye catch pedicure design!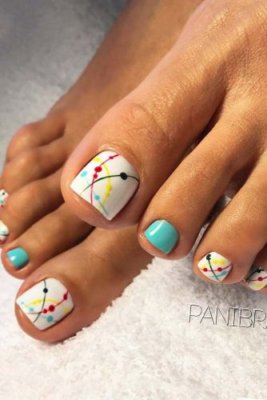 #2. French Toenails
This gold French toe nail design is simple yet classic and sophisticated all in one!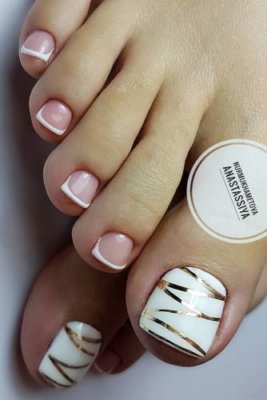 #3. Black and Pink Toenails
This black and pink toe nail design featuring leaves is perfect for the end of summer when fall starts to peek in!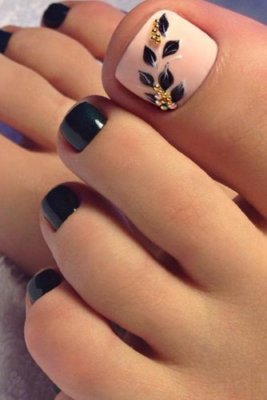 #4. Nude Vintage Toenails
These vintage pedicure designs are sure to take you back a few decades, but that doesn't mean they're not still beautiful! A simple, yet elegant design like this is perfect for a wedding.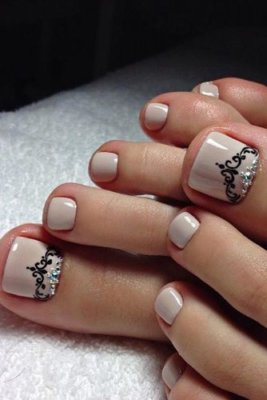 #5. Pink Toenails
These hot pink toenails get an edge with a flower design on the big toe! Ask your local nail salon to replicate this look or get creative and try it yourself!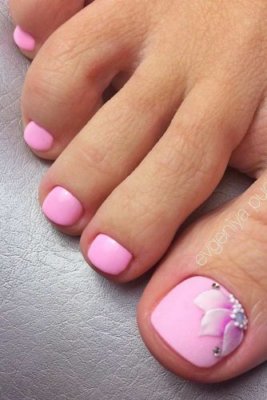 #6. Blue Ombre Toenails
These blue ombre toe nails are the perfect accompaniment to a rock concert or a night out. Top off with some rhinestones and you're good to go!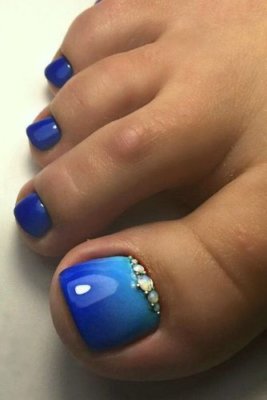 #7. Floral Pedicure
This flower design is beautiful, and although not easy to replicate by yourself, your local nail salon would be more than happy to do so!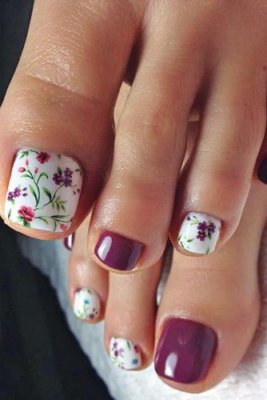 #8. Rhinestone Pedicure
A rhinestone pedicure design is always a gorgeous way to embellish those tootsies! Head to your local dollar store to stock up on fun and unique nail rhinestones.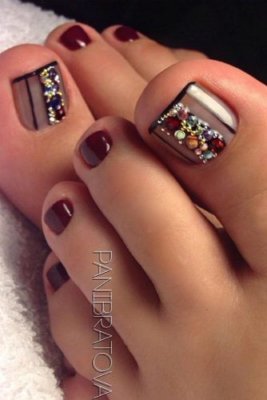 #9. Butterfly Toenails
Spring is a time of renewal, and these butterfly nails are just the thing you need! Use a nail stamp to replicate this look or try your artistic hand at it!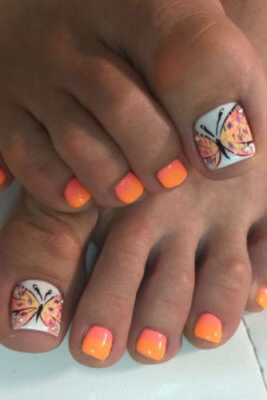 #10. Grey & Pink
Grey and pink go beautifully together for a simple, yet elegant toe nail design!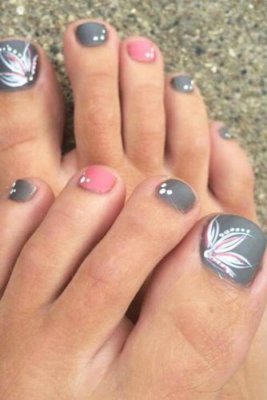 #11. Violets
Violet and white are a striking combo, and this particular design has the added bonus of small little rhinestones that really makes this eye catching!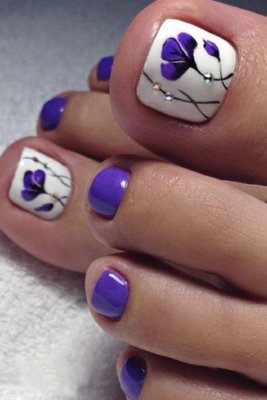 #12. Royal Blue
Feel like royalty with this royal blue nail design! Top it off with a rhinestone bow and you'll be the belle of the ball!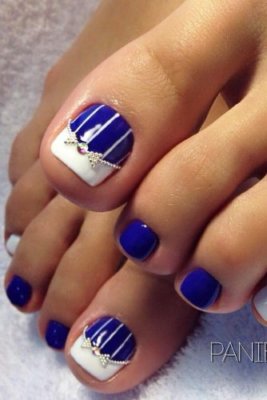 Images Via: Glaminati
Like these pedicure designs? Share, Pin, and Comment Below 🙂