Use one of these 4 simple DIY avocado hair mask recipes to get full, strong, and healthy hair in a pinch!
Avocado is one of the most amazing ingredients you can use on your hair. Avocados contain fat and proteins which penetrate the hair shaft to hydrate, moisturize, repair damaged hair, and fix split ends.
This amazing fruit is also rich in vitamins and minerals and because it contains so much fat, the avocado can repair even the driest and most damaged of hair. Today we've compiled 4 different avocado hair masks so you can choose which one to use, or try them all! These avocado hair masks are for anyone who suffers from dry, over-processed, over-treated, and damaged hair. Within just one use, you'll notice softer, shinier, and more manageable hair!
Fun Fact: Did you know that the avocado is in fact a berry? And that berries like strawberries and blueberries are actually NOT berries? Mind=blown!
Benefits of an Avocado Hair Mask
Rich in amino acids, avocado helps to heal and soothe a dry, itchy scalp.
Promotes healthy growth and strengthens hair.
High in protein which helps to strengthen hair.
Deeply hydrating and moisturizing.
Prevents dryness.
Fixes damaged, breaking hair.
Prevents split ends.
Avocado Hair Mask Recipes:
#1. Avocado Banana Mask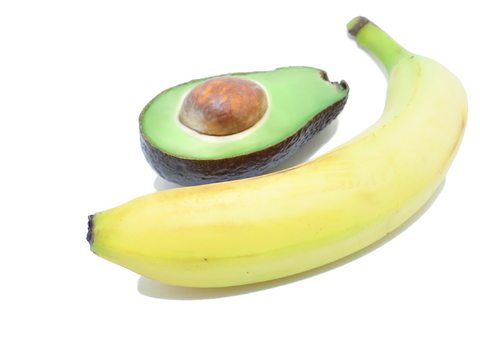 This banana & avocado hair mask is perfect for anyone with lackluster and dry hair, especially after an entire day of sitting in the sun! Bananas are packed full of potassium, minerals, and vitamins which help to fix a dry scalp, improve shine, and control dandruff. This hair mask will bring back health to the scalp and hair after just one use!
Mash up half a ripe avocado with 1 ripe banana.
Add in 1 tbsp olive oil and a few drops essential oil (optional).
Apply mask to damp hair and massage gently through hair.
Leave on for 15-20 minutes and rinse out. Style as usual.
#2. Honey & Avocado Mask for Dandruff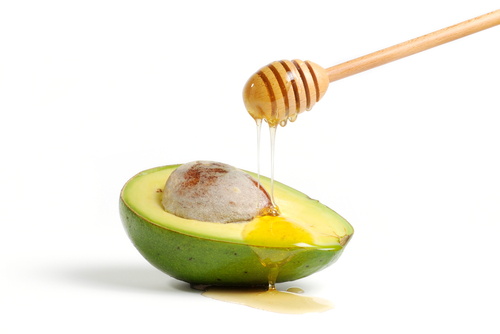 If you suffer from dandruff and a dry scalp, this honey and avocado hair mask is right up your alley! Honey is a natural emollient which means it will help to seal in moisture. It's also a natural antioxidant which will help to keep the hair healthy, strengthen hair follicles, and prevent hair loss.
Mash half an avocado until it forms a smooth paste.
Add 2 tbsp of olive oil and 2 tbsp of honey and stir well. If possible, try using organic, raw honey.
Apply to damp hair and spread evenly throughout hair making sure to saturate ends.
Leave on for 30-45 minutes and rinse out.
#3. Avocado & Olive Oil Mask for Extra Dry Hair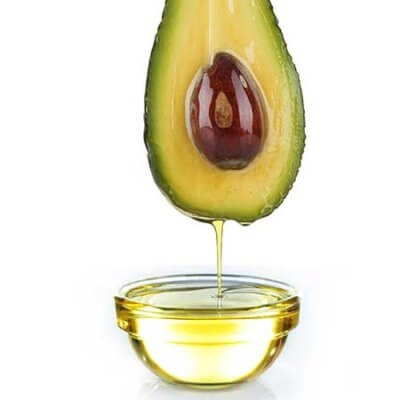 For those with super dry hair, this avocado and olive oil hair mask is just the thing your hair needs! Extra virgin olive oil (EVO) also helps to prevent dandruff and at the same time will moisturize the scalp. Olive oil also helps to strength the hair follicle from root to tip!
Mash up an avocado until it becomes smooth.
Mix in 1/4 cup rolled or steel-cut oats, 1 cup of milk, and 1/4 cup olive oil.
Stir all ingredients until they form a smooth paste.
Apply to dry hair, starting at the ends and working your way down.
Leave on for 30 minutes and rinse out. Style as usual.
#4. Egg Yolk & Avocado Mask for Brittle, Breaking Hair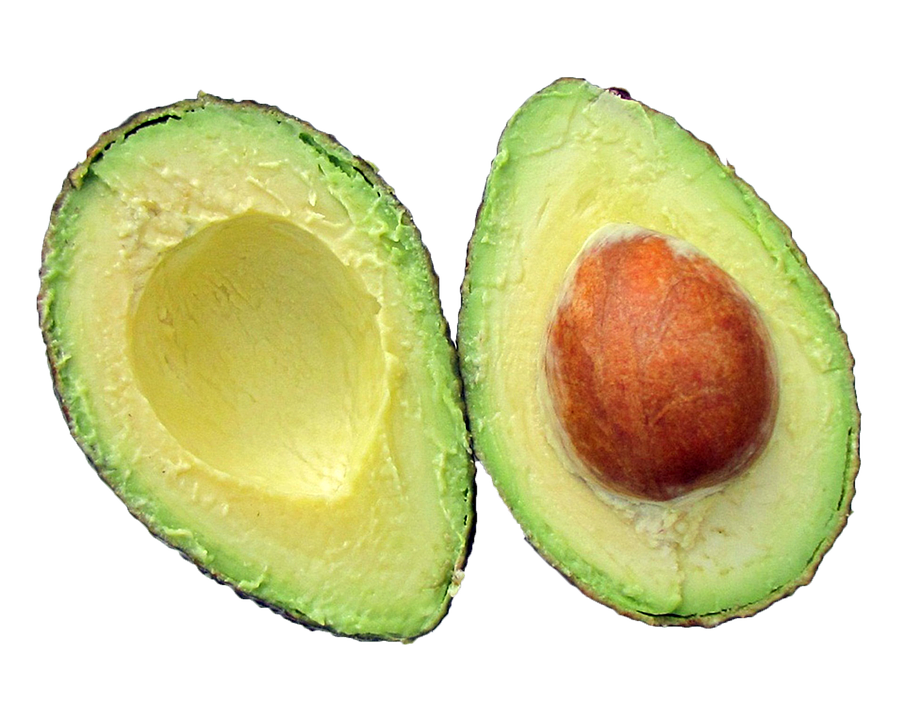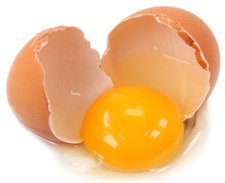 For those with fine, brittle and breaking hair, this egg yolk and avocado hair mask will be your go-to mask! Egg yolks are chock full of proteins which means they can help strengthen the hair, especially when used on a regular basis! Hair strands will become stronger after just 2 weeks of use and will therefore encourage hair growth. This egg yolk and avocado mask is one of our favorites because it will also leave your hair super soft and shiny after just one use!
Mash half an avocado until it is smooth.
Add in an egg yolk and mix until it has dispersed and the mixture is homogeneous.
Apply the mask to damp hair and massage gently starting at the scalp and making sure to saturate the ends.
Cover hair with a shower cap and leave on for 30 minutes.
Rinse out with warm water and shampoo and condition as usual.
Use these avocado hair mask recipes as often as possible for best results! We recommend about 2-3 times a week if possible, but if not, once a week is certainly plenty! While avocado is amazing at treating damaged, breaking hair, there are also a lot of other things you can do to help speed up healing!
Limit the use of heated tools. Take a break from your blowdrier and flat iron as they can wreak havoc, especially on thin hair.
Don't wash your hair every day. Washing your hair every day can strip it of its natural oils which can prevent growth and strength. Instead, try washing your hair every other day or every third day.
Don't apply too many commercial products as they're laden with harsh chemicals which can break down the natural fibers of your hair and in turn weaken and break it.
Be gentle when brushing. Use a wide tooth comb to brush out wet hair and always brush from the top to the top. Brushing carefully will ensure that you're not pulling/breaking the hair.
Don't tighten that pony too much! Sporting a tight ponytail all the time can cause some serious damage to your hair.
Get regular trims. Trimming off your split ends once every 3 months is crucial for healthy hair as it gets rid of the unhealthy hair.
If you like this post, don't forget to share 🙂