These toe nail designs will give you some major inspiration and help you put your best foot forward this summer! Summer's here, and that means it's time for the obligatory bright, colorful pedicure! Ok, so it's not obligatory, but what beauty lover doesn't love a good pedi? We know we do! This summer, deck those toes out in the brightest of colors and the funkiest of designs. We're talking nail decals, pretty colorful patterns, and fruit designs. Check out these summer toe nail designs and get inspired to create your very own, unique pedicure! And hey, doing your toe nails is SO much easier than doing your nails, am I right? Let's get to painting!
Don't have the time or the artistic touch to pull these designs off? Have a friend do your toe nails for you, or, head to your local nail salon and show them your favorite nail art designs on this page! So put on your flip flops, grab your polishes, and get creative!
Summer Toe Nail Designs
#1. Malibu Sunset
This is the perfect pedicure for those looking to go the tropical route! Perfect for a Caribbean vacation, the Malibu sunset toe nail art design has a beautiful accent nail comprised of sunset colors and shadowed palm trees. Get creative with this design and use different colors, or copy it exactly as is!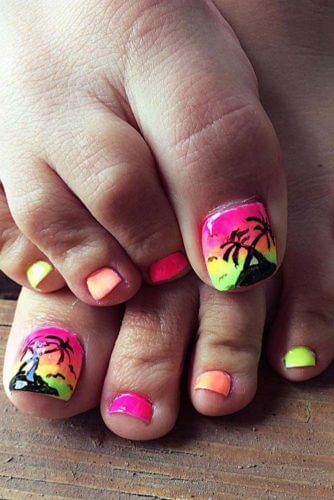 #2. Swirly Blue
This funky summer toe nail art will create a splash! Perfect for lounging around the pool or swimming in the deep blue seas, this design was made for those who love the color blue! To recreate this, start off with a base coat, wait to dry, and apply your favorite blue nail polish. For the accent nail, apply a base coat, wait to dry, and follow up with a white nail polish. Then, let a few drops of blue polish fall onto the accent nail. Use a toothpick to create swirls and voila!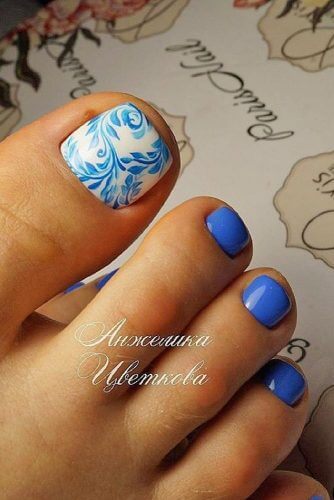 #3. Princess
For the princess in you, this toe nail design is begging to be re-created! With a soft and classic beige color and rhinestone accents, this design just screams special occasion! To pull off this classic nail design, use 3 coats of your favorite nude nail polish and top the big toe off with a princess-style decal. Add some pretty rhinestones and you're set for the crown!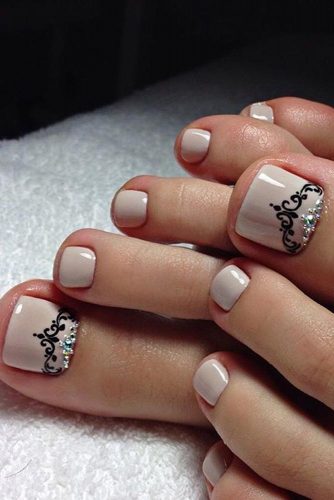 #4. Pretty in Pink
This pink and white nail design is simple yes oh-so feminine and pretty! Use a nail stamp kit to paint your toe to achieve this summer toenail art! For a pop of sparkle, apply a thin, barely-there layer of glitter nail polish or use hot pink nail polish.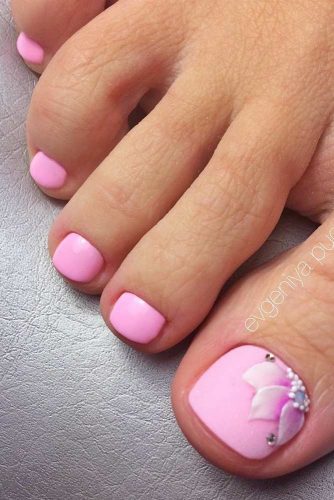 #5. Fruity
This realistic summer toenail design has got to be one of our favorites because it's just so damn perfect! Unfortunately, pulling off this design may require some serious painting skills, so we suggest you show this pic to your nail girl stat!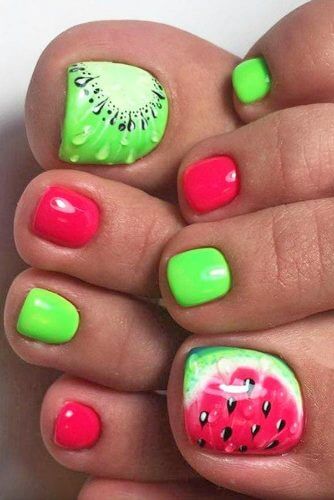 #6. Black and Silver
Just because it's summer, doesn't mean that black and silver have fallen off the face of the earth. This contemporary nail art design is super easy to achieve and anyone can do it! Use really thin strips of tape to achieve the French tip grid design you see below! Black and white and silver never goes out of style!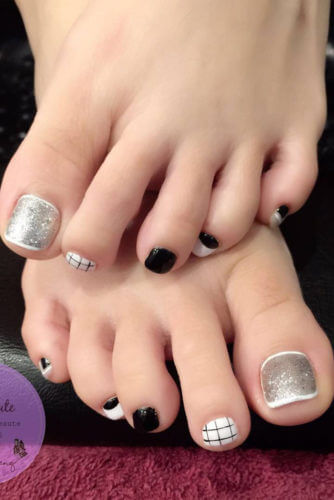 #7. Pastels
Pastels are so feminine and look beautiful, especially in the summer. This is an especially great toe nail design for Easter, but any time of the year will do! Use tape to create the accent on the big toe, and add a splash of sparkle!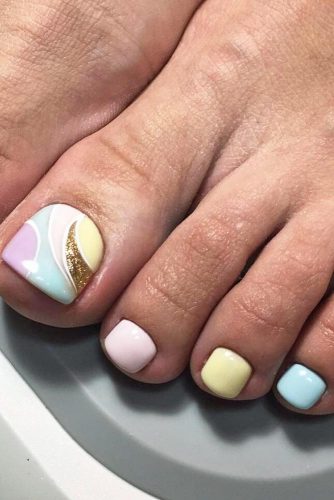 #8. Colorful
This boho-chic inspired nail art has us swooning! It may look complicated to replicate, but it's actually oh-so-simple! Simply dip a toothpick into nail polish to create the dotted lines and you're ready to hit the beach! Not quite ready for such a bright look? Pick any color as the base color, and paint some polka dots – yellow polka dot bikini, anyone?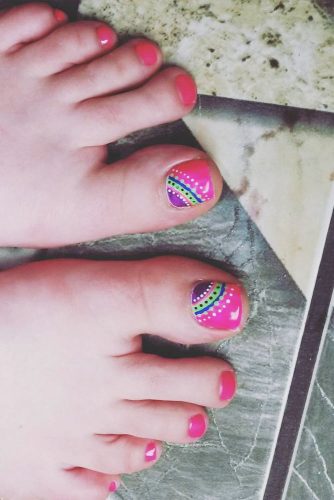 #9. Purple Flowers
Nail stamps are needed for this sweet and sophisticated look, but don't let that stop you! You pull this off, and I'm pretty sure you win toe nail design of the year award! This flower design is perfect for spring and summer. A slight exaggeration, but this design just screams class and sophistication like none other!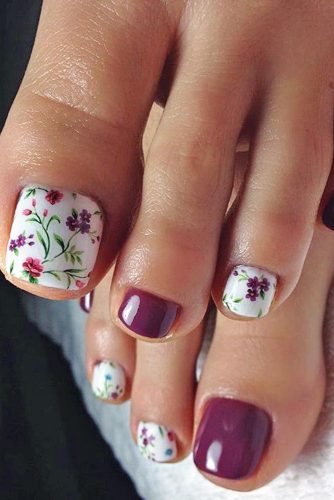 #10. Black and Gold
Bring out the rockstar in you, with this black and gold design that's perfect for summer concerts, glamping, and festivals. This studded design would look amazing in some chunky heels!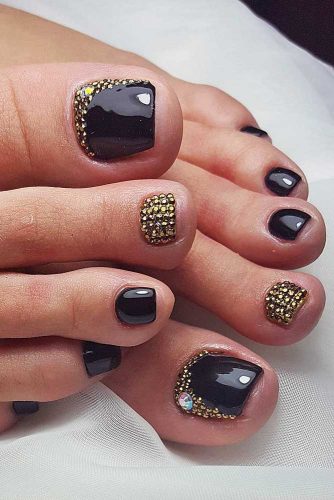 #11. Sea Shells
You don't have to sell sea shells by the sea shore to rock this sea shell toe nail design! That was quite the mouthful, but this design is begging to be taken to the beach this summer and there is no better way to channel your inner mermaid than with this adorable design! Get creative with this particular one and think of the colors of the ocean and the sand when recreating this design.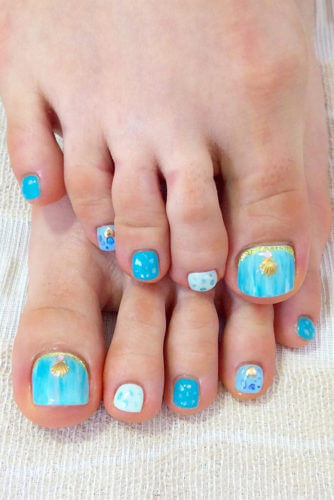 #12. Squared
This pretty pastel design is anything but a square! A contemporary design, this squared look is the perfect summer toenail design and is fairly easy to recreate all by yourself!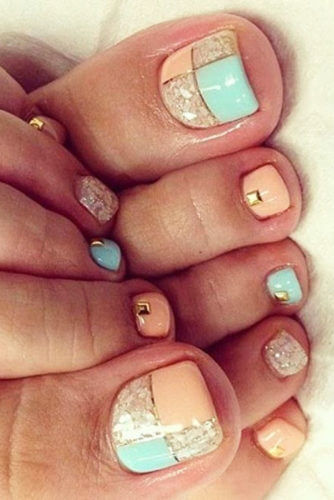 #13. Classic Red
A classic red pedicure never goes out of style, but that doesn't mean you can't add a few accouterments to the party. Pretty little rhinestones and toenail rings only accentuate a fire engine red polish!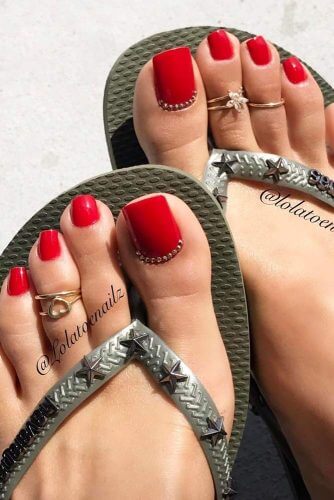 #14. Floral
Keep it sweet and simple with this beautiful floral design! We love the muted colors of this toenail design, as well as its simplicity – it's not overly bright or colorful! Show this toenail picture to your nail girl to recreate the look.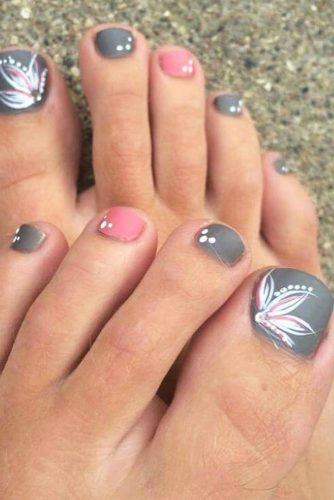 #15. Summer Butterflies
Who doesn't love a good butterfly accent nail? We know we do! This bright and cheery orange color is perfect for summer and the butterfly it accompanies isn't so bad! Ask a friend to help you recreate this design or give it a go yourself! In any case, you can easily get creative with this one and choose different colors!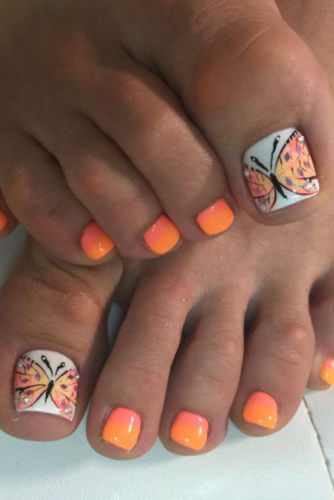 Like this post? Share, Pin, and Comment Below 🙂
Images Via Glaminati