It's a great day for my eyebrows- my Anastasia eyebrow kit has finally arrived and I couldn't be more excited! For those of you that haven't heard of Anastasia, you're in for a treat! Anastasia is the world's most renown eyebrow expert and has been for some time now. She is Hollywood's favorite eyebrow specialist,but you don't need to travel far to get those perfect eyebrows right at home.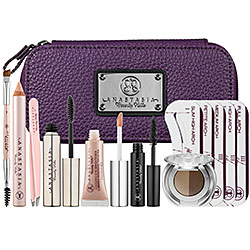 Anastasia Eyebrow Kit Review
Introducing…the ultimate brow makeover-Anastasia' Kit for Perfect Brows and Eyes. This kit is a God-sent perfection that has transformed my eyebrows from barely there to full, glamorous brows. The Anastatsia eyebrow kit comes in a cute, deep purple pouch and contains 9 essential tools for your brows:
What Does it Come With?
5 brow stencils to suit all brow shapes and sizes
Brow powder duo
Mini lash lifting mascara
Cooling eye brightener
Precision tweezers
Clear brow gel
Brow highlighter
Mini duo brush
DVD and instruction guide
Basically, this kit is your ultimate brow salon in the comfort of your own home. My only regret? That I didn't get this sooner!
The Anastasia Eyebrow Kit basically comes with everything and anything you need to form and maintain the perfect brow. The kit comes with 5 stencils to suit your every eyebrow shape. All you have to do is find the one that best suits your natural brow shape, place it over your brow, and use the brow powder duo to fill in the gaps. Remove the stencil, and you'll be downright shocked!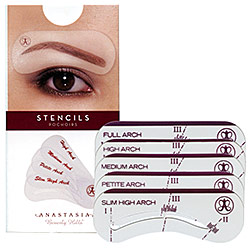 The kit also comes with the best tweezers I have ever tried, so after you've removed the stencil, just tweeze around the outer area. After tweezing, apply the cooling eye gel to the areas you've tweezed to reduce redness and give your eyes a sultry, dewy look. Run the clear brow gel over the brows in short, upward strokes and finish with the brow highlighter which you'll apply right underneath your brows (on the brow bone).
Swipe on a couple of coats of Anastasia's mascara, and you're looking fab!
Why You Need It!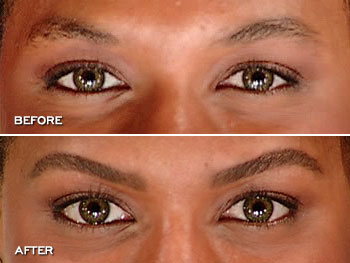 You know those perfect, beautiful looking brows that so many celebs are "blessed" with? Well, it's no blessing, those brows are perfectly shaped and filled in, and now yours can be too! I cannot tell you what a huge difference this kit has made in my life. I never gave much thought to my eyebrows just because they never really grew, were very thin, and so I couldn't do much with them, but after using this kit, I can't even imagine what I would do without it!
So if you're not naturally blessed with full, perfectly-shaped brows, the Anastasia brow kit might be just what you're looking for! So how much does it cost you ask? You can get the Anastasia brow kit for $75 (US) from Sephora, which is actually a $171 value, but believe me, it's worth every penny! There are also 4 different brow duos available so you can choose your perfect brow shade.  And what's more is that this kit will actually last you a long, long time, because even when you run out of the brow powder, you can just replace it with a cheap, drugstore brand and use the stencils provided.
I give this eyebrow kit a 10/10 because…
My eyebrows have never looked better
The price is fair for what you get
It takes only a few minutes to apply
They last all day long
And…I just can't live without it!