Finally, someone thought to make eyeshadow designed to match your exact eye color in the form of CoverGirl Exact Eyelights which come in 4 different shades for blue eyes, green eyes, brown eyes, and hazel eyes. What's even better is that these eyeshadow compacts come complete with instructions on how and where to apply every color so that your eyes look divine in any light. The palettes also come with an extra brush that you can use for the allover color. CoverGirl Exact Eyelights are perfect for subtle and beginner eyemakeup applications…it just takes the guesswork of where and how to apply each color – perfect!
CoverGirl Exact Eyelights: Your Best Friend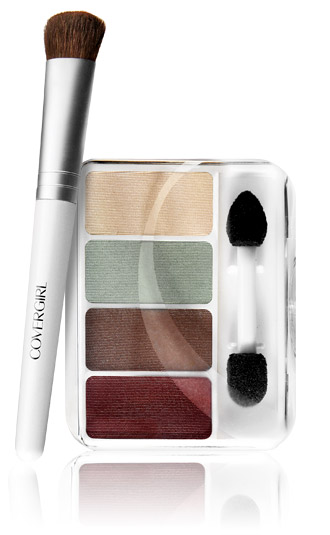 CoverGirl Exact Eyelights for Brown Eyes
I picked this one up even though my eyes are hazel…I just liked the colors better. The palette is comprised of 4 different colors: a very light beige for all over color, gold, metallic gray and black for definition. You can even pick up the Exact Eyelights Mascara and Eyeliner for brown eyes to really emphasize your color.
CoverGirl Exact Eyelights for Blue Eyes
These colors are absolutely gorgeous and they bring out the best in blue eyes. Complement your blue peepers with light beige, peach/champagne, green, and blue. Also don't forget to pick up your matching eyeliner and mascara to really bring out that color.
CoverGirl Exact Eyelights for Green Eyes
The green eye palette features beautiful plum and purple shades which are designed to complement green eyes, whether they're dark green or light green, your eyes will surely pop with these hues. Start off with a light rosy pink and finish with a dark plum for bright, defined eyes.
CoverGirl Exact Eyelights for Hazel Eyes
If you have hazel eyes like me, you can either go for this color palette or the brown one, so it just depends on your preference. This palette is made up of browns and greens to pick up the brown and green specks that flicker in your eyes.
If you liked this post, don't forget to share!