In honor of the upcoming holidays, I thought I'd give a little product review on Gosh Long Lasting Eyeliner Pen since they come in a variety of sparkling colors! I was pretty excited when I saw these liquid eyeliners – they come in blue, green, purple, and a few other colors that looked amazing when I tried them on my hand.
Gosh Long Lasting Eyeliner Pen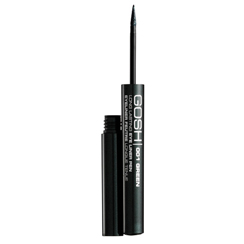 The thing that really caught my eye was their sparkliness, so I thought they would be perfect for the holiday. I picked up a sparkly green shade that looked just amazing, and also just a regular black shade. At CDN $15 a pop, it wasn't really a steal, but also wasn't breaking the bank.
Well I'm sorry to tell you that I was extremely disappointed. Long lasting? Not a chance! For a liquid eyeliner pen, it should have lasted much much longer. But the thing is that the eyeliner didn't just disappear like others do, it did something much worse: it chipped and flaked!
So within 3-4 hours, I was left with empty spots of eyeliner on my waterline, which looked like some sort of Halloween getup. Also, I would start feeling little flakes fall on my face throughout the day – which got me even angrier.
What's worse is that I had to apply two layers since the first layer was so thin and sometimes barely visible.
So would I recommend this product to anyone? N.O! Definitely not. Save your money and instead head to your local MAC counter…where you know you can at least count on their products!