Keep your tan a little longer this season by using Jergens Natural Glow to prolong that beautiful, glowing look you love. Why Jergens you ask? Simply because I have tested several self-tanners, and this one…came out on top!
Jergens Natural Glow is a fairly cheap self-tanner (I got mine for $7.99 at the drugstore…not the spray one though!). I had a few choices to choose from, but they all seemed pretty expensive and when you think about the fact that you have to apply it all over you body every single night, well…that can get expensive and you could find yourself going through a whole bottle in a week or two.
Anyways, let's start off with the smell. A lot of self-tanners have that really strong, powerful self-tanner smell that I cannot stand, but Jergens Natural Glow is actually pretty tame and doesn't have a strong odor. I've been using it for about a week now and the difference has been astounding. I have a really beautiful gold/tan color going on and the best part of it…no streaks!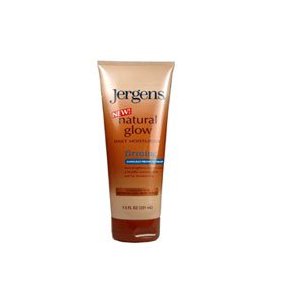 You have to remember when applying self-tanner that there are some extremely important points you have to follow. The first one being exfoliating. You must exfoliate every part of the body that you're going to apply the self-tanner on…otherwise, you'll end up with streaks everywhere. Second, make sure to blend it in as well as possible and not over-apply. Third, make sure you give it a few minutes to dry. Jergens Natural Glow dries in about 5 minutes, so I think applying it right before bed is the perfect time!
All in all, I really like Jergens Natural Glow. It's cheap, it's effective, it doesn't smell, and it just plain works! Have you guys tried it? Let me know what you think!