Are you a big fan of concealing? If so, Benefit Confessions of a Concealaholic is just what you're looking for. With its adorable, girly-looking compact case, and numerous concealers, this product definitely caught my eye. I was also sold on the fact that it has a mirror inside, which makes it perfect for travel. So was it worth the $44 (CDN)? Read on!
Benefit  Confessions of a Conealaholic Review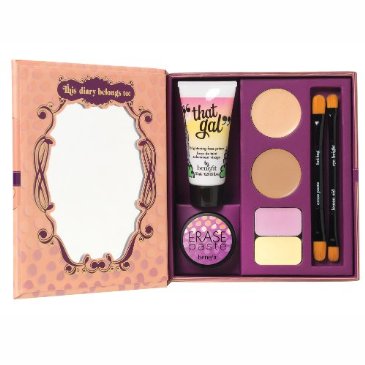 First off, here is what the compact kit contains:
"That Gal" -brightening face primer
"Erase Paste"- under-eye brightener (but also works for rest of the face)
"Boi-ing"- industrial strength concealer in 2 shades
"Lemon Aid" – a color correcting lid primer
"Eye Bright" – instant eye brightener
2 concealer application brushes
How-to booklet
PROS:
I loved the kit right off the bat just because it looked so adorable, and I knew it would be perfect for traveling.
There are actually 2 different concealer hues so that you can mix them to form the right shade.
The "Boi-ing" concealer is absolutely amazing. Originally, I just fell in love with the packaging (I know, I'm a sucker for those things), but after putting it on, I couldn't believe how well it worked. It covered up any redness I had, and literally made it look as if there was nothing there. A++ for this concealer!
The "Erase Paste" was also a big hit with me. My under eye circles are pretty bad, but the erase paste seem to do just that…erase them. I loved how creamy and rich the texture of the paste was and it  blended very easily, covering any dark spots. Note: you can also use erase paste on the rest of your face, especially on more troubling spots such as pimples.
"That Gal" brightening face primer has a really pretty glow, especially when worn alone. It's supposed to be a primer, which means it goes on before you apply your foundation, but I found that once I did put on my foundation, you couldn't really see much. So for all of you ladies with lovely skin, the face primer is a must!
This kit is great for anyone that wants to sample some of Benefit's best products, without having to buy the full product. (Which, if you were to purchase all the products in the kit would cost you over $100!)
CONS:
Don't throw the kit in your bag, it will open, and products might just spill all over. (I know this isn't really a con, but it was for me, since I lug everything around in my ginormous bag haha).
"Lemon Aid" lid brightener and primer, as well as "Eye Bright" didn't do much for me. They both did make my eyes look a little bigger and brighter but within 30-45 minutes, they completely disappeared, so I just stopped using them.
The 2 brushes that came with the kit weren't very useful, just because it was very hard to blend the product, so I just ended up using my fingers which went a lot better. I'm not a fan of using brushes that come in kits or eyeshadows, so I usually just stick to my MAC brushes or use my fingers for better blending.
Overall, I did enjoy Confessions of a Concealaholic, not only because of the packaging, but for the simple fact that the concealers are really really good. I would definitely recommend this to anyone that has been wanting to try some of Benefit's products as well as anyone who needs heavy duty concealing.
Confessions of a Concealaholic gets a B+ from me!