If you love scrubs, and anything organic, you're going to absolutely love SimplyScrub Scrubs – an organic lover's dream! Here at StyleTips, we're ALL for natural, homemade, organic products that don't irritate the skin and these scrubs are IT…except you don't actually have to make them! Formulated with all natural, organic ingredients that you can pronounce AND understand, SimplyScrub scrubs are taking the scrub world by storm with some super cool, albeit unusual scrub scents such as soursop and rose!
SimplyScrub Scrubs – A Breakdown
Beacause we're SO scrub obsessed, this eco-friendly company was kind enough to send us some of their scrubs so that we could test them for you and let you know what we think.
A Note:
We are honest and frank when it comes to reviewing products, so you can rest assured that we will NEVER "talk up" a product unless it deserves it! 
We were lucky enough to try all four of their scrubs:
Rose Scrub
Soursop Scrub
Chocolate Scrub
Coffee Scrub
#1. Rose Scrub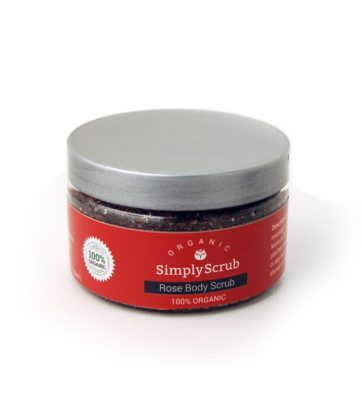 Upon opening the jar containing the rose scrub, our noses filled with some serious joy! The powerful yet very delicate scent or roses wafted up and invited us to relax, rejoice, and renew our skin!
Made with all organic ingredients, the rose scrub contains rose bud petals, avocado oil, sweet almond oil, Shea butter, brown sugar, jojoba oil, tea tree oil, coconut oil, and vitamin E. All  of these ingredients combined make for a super duper scrub that will make your skin feel extra luxurious, incredibly soft, and moisturized.
In fact, these scrubs are packed with SO many good-for-your-skin oils that there really is no need for lotion afterwards!
The only downside we found with this scrub is because it contains so many rose bud petals, it can be a little hard to apply to the skin as it forms clumps.
#2. Soursop Scrub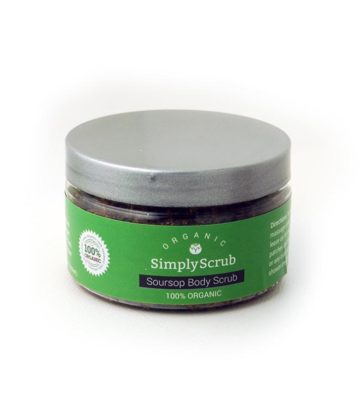 We were super excited to try to soursop scrub as it's a very exotic fruit that isn't regularly found in supermarkets. And we were not disappointed!
The smell of this scrub will instantly wake you up as it contains mint leaves and tea tree oil, so it's the perfect morning scrub. Made with all organic ingredients including soursop leaves, coconut oil, dead sea mineral salt, tea tree oil, brown sugar, jojoba oil, vitamin e, green tea, Shea butter, mint leaves, and grape seed oil.
This soursop scrub was definitely at the top of our list because it exfoliated so incredibly well! Must have been that dead sea mineral salt!
The downside is that we couldn't really smell the soursop at all, just the mint leaves and tea tree oil, but the soursop fruit does have a very faint scent, so that could be the reason!
#3. Chocolate Scrub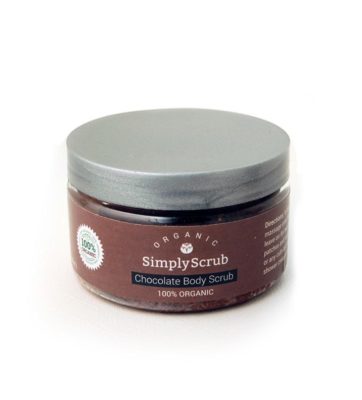 If you're a sweets or chocolate lover, you're going to fall in love with this scrub – we're not kidding. The second you open it up, the intoxicant scent of chocolate hits you right in the face!
Made with organic cacao nibs, coconut oil, cocoa butter, shea butter, brown sugar, jojoba oil, honeycomb, vitamin E, and sweet almond oil, this scrub will leave your skin super soft and hydrated!
This scrub goes onto the skin very smoothly and will leave skin moisturized all day long!
#4. Coffee Scrub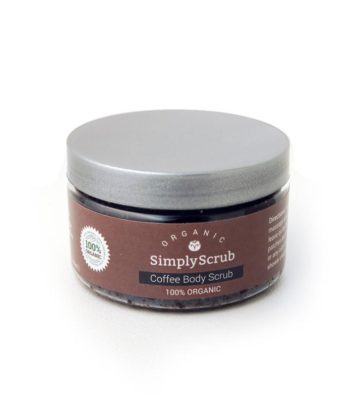 We've made SO many coffee scrubs here, that we were super stoked when we received one that we DIDN'T have to make! The perfect morning scrub, this coffee scrub will exfoliate, wake you up, and energize so you can get your day started the right way!
Made with organic coffee beans, coconut oil, dead sea mineral salt, tea tree oil, brown sugar, jojoba oil, grape seed oil, shea butter, honeycomb, and organic vitamin E.
So if you're looking to try out some new scrubs that are all natural and organic, check out SimplyScrub, and treat yourself to some indulgent scrubs!
They also have gift packs, so if you're looking for something special for a loved one or a friend who loves beauty products, look no further!
Like this post? Share and Pin 🙂