Wrinkles, fine lines, and crows feet are all part of aging skin, and although there is no way to prevent them from showing up, you CAN slow them down with this homemade natural wrinkle cream. Made with natural ingredients such as shea butter and essential oils, this homemade natural wrinkle cream goes deep into the skin to plump up wrinkles and fine lines, as well as slowing down the signs of aging.
Homemade Natural Wrinkle Cream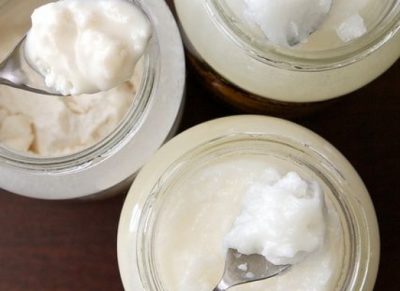 You'll Need:
Directions:
In a double boiler, melt the shea butter and coconut oil.
Pour the melted mixture into a big bowl and let harden in the fridge for about 30 minutes.
Take out of the fridge and whip the mixture using a hand mixer.
Slowly add the rest of the oils while whipping. Whip until mixture becomes fluffy.
Scoop into a clean, airtight jar or container.
Use at night on clean skin before bed by applying a dime-sized amount.
Massage gently into skin using slow, circular motions.
Benefits of Homemade Natural Wrinkle Cream:
Erases crows feet and fine lines
Plumps up skin
Rejuvenates tired, dull skin
Hydrates dry skin
Heals and repairs
Diminishes scars and dark spots
Like this post? Share and Pin 🙂