This DIY lavender lemon scrub will quickly become one of your all-time favorite scrubs because of how simple it is to make AND because its heavenly fresh scent! So if you're looking for the best morning pick-me-up, look no further than this DIY lavender lemon scrub! The scent of lemons instantly wakes you up while lavender relaxes all of your sense so you can start your day off right!
DIY Lavender Lemon Scrub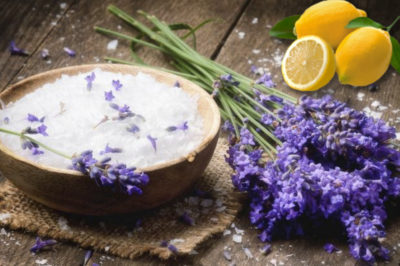 Ingredients:
Directions:
In a microwave safe bowl, melt the coconut oil in 5 second increments until completely melted.
To the melted coconut oil, add the Epsom salts, lavender essential oil, and lemon essential oil.
Stir until well combined.
Scoop mixture into a clean, airtight jar or container.
Use in the shower on wet skin, by scooping out a small amount and rubbing onto skin in slow, circular motions.
Start at the feet and work your way up to the chest, rubbing vigorously onto rough areas such as elbows, knees, and shoulders.
Rinse off and pat dry.
Follow up with a homemade moisturizer.
Keep in a cool, dry place, trying not to get any water into the scrub so that it can keep for months!
Like this post? Pin and share 🙂