Last Updated on
When it comes to exfoliating, your legs are one of the most important aspects of that process. Especially now during the summer, a set of silky smooth legs is something you'll definitely want! And with all of the sun you'll be getting, the constant shaving, and the chemicals in the pool, your skin is taking a beating. So how to exfoliate your legs the proper way? Well there are a few things you need to know and understand before you even begin, so let's get started!
How to Exfoliate Your Legs
When was the last time you exfoliated your legs? If the answer is never, we need to get you hooked now. Dead skin cells accumulate on your skin if you don't get rid of them which in turn causes ingrown hairs and flaky skin. If you already exfoliate, then you know the important of keeping your skin "new" and soft. Removing those dead skin cells reveals newer, healthier skin that's been trapped underneath.
So how often should you exfoliate your legs or any other body part for that matter? Some people say twice a week, but I am a firm believer of the once a week exfoliation routine. Once a week is more than enough to keep your skin healthy and soft, and keep flakiness and ingrown hairs at bay.
Thirdly, you'll need a body scrub to exfoliate with. You can buy one from your local store (they sell them pretty much everywhere!), or you can make your own which is so much cheaper and better for you. Did I mention you probably already have all the ingredients needed to make your own body scrub? Click on the blue links to check out a couple of my absolute favorite body scrubs! 
Now that you know the importance of exfoliating, how often you should do it, and what kind of equipment you need, it's time to get started! If you need to shave your legs, make sure you do that AFTER you exfoliate and not before – your skin will be too sensitive to scrub after a fresh shave!
First, wash your legs as you normally would (loofah, soap, whatever you use is fine!), just make sure your skin is wet before exfoliating. This is how to exfoliate your legs the proper way: grab a quarter sized amount of scrub and apply it to your knee (the roughest part of your leg). Then, in gentle, circular motions start spreading the scrub over your entire leg. You'll feel the little granules working their way across your skin, removing all that nasty dead skin. It's an amazing feeling if you've never done it before! Make sure you don't rub too hard – that's what the granules are for! The circular motion will remove the dead skin cells gently and efficiently. Go up and down your legs until you feel they are soft (it should only take a minute!).
Then, rinse off and go ahead and shave if you want. Pat your legs dry and apply a moisturizer or coconut oil for super soft, silky, touchable legs.
Do this once a week, every week, and your legs will feel the softest you've ever felt them.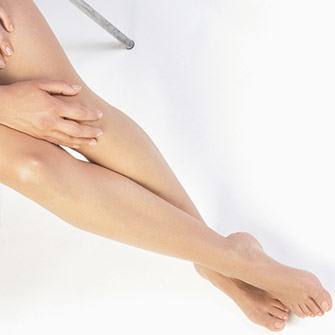 So now that you know how to exfoliate your legs, give it a try and share the knowledge with your friends 🙂