Ever heard about Vaseline for your skin? In fact, Vaseline is used in so many ways on the skin but the question always is, is Vaseline good for your face? Today we will answer your question and tell you all about Vaseline for your face!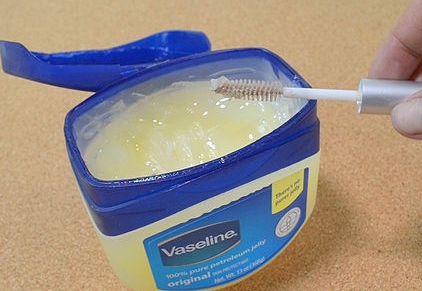 Vaseline, also called petrolatum or petroleum jelly, is a soft mixture of natural mineral oils and waxes called hydrocarbons. Vaseline is obtained by purifying petroleum to remove contaminants and odors and modify the color. This amazing jelly has been used for decades in many different products, including as a beauty product.
Is Vaseline Good for Your Face?
The answer to this question is absolutely yes!! Applying Vaseline to the face does something truly magical. Vaseline as a moisturizer brightens dull skin, softens, and adds a beautiful glow that works for all skin types, even sensitive skin! However, always make sure to purchase a good type of Vaseline, since some bad quality Vaseline can irritate your skin especially if you have sensitive skin.
Vaseline protects skin (acts as a barrier), and helps to seal in skin's moisture. Also helps skin retain water which makes it a great ingredient to fight wrinkles! Applying Vaseline on the face will leave your skin super soft and silky because of its moisturizing properties as well as give it a really beautiful glow. There are many other uses for Vaseline, so keep reading to find out more about what this amazing jelly can do to your skin.
12 Amazing Uses and Benefits of Vaseline for the Skin
#1. Apply On your Face Before Bed
Another great way to improve the health of your skin is to put Vaseline on your face before bed. Just a small amount is all you need to hydrate dry skin and wake up with the most amazing glow you've ever had!
#2. Relieve Dry Skin
Applying petroleum jelly to dry skin can relive it, including your lips and eyelids. Dry skin can easily itch, flake and sometimes even bleed. Applying an ointment like Vaseline on your eyelids when they get irritated, will add moisturize and protection. It's always best to use petroleum jelly on damp skin.
#3. Rehydrate Nails
Massage Vaseline into your hands and cuticles before bed and wake up with hydrated, soft cuticles. This will also strengthen the nails and promote growth.
#4. Treat Diaper Rash
Vaseline comes in handy when your little one is suffering from diaper rash. Apply Vaseline during each diaper change to calm the irritated skin of your baby and prevent it from happening again. Apply regularly and you should see the rash clear in about 3-4 days.
#5. Encourage Hair Growth
Apply a small amount of Vaseline along the lash line and on your eyebrows to encourage hair growth. Vaseline is packed full of nutrients and vitamins which can prompt faster growth.
#6. Prevent Chafing
Chaffing happens when the skin rubs against clothing or another body part and irritates the skin. This happens often with people with dry skin or eczema. Apply Vaseline to areas prone to chafing to treat it and prevent it.
#7. Heal Injured Skin
Petroleum jelly is amazing to keep minor wounds like scratches, cuts, and scrapes moist. Vaseline help prevents minor wounds from drying out and forming a scab. This also help prevent a scar from getting deep, itchy or too large.
#8. Remove Makeup
Use Vaseline to remove stubborn makeup like eye makeup. It's a cheap, safe alternative to commercial makeup removers and it does an incredible job!
#9. Cure Calluses
Calluses are hard to get rid of, especially in cold, dry weather. That's why Vaseline is now your friend! Slather on some petroleum jelly, and put on socks before bed to dissolve tough calluses overnight. And voila, your feet will be silky soft in the morning!
#10. Prevent Peeling
When skin is so dry it can peel, this can be really irritating. Use petroleum jelly to soothe peeled skin and help it heal. You can also use it during cold weather to treat irritated eyelids and dry, chapped lids.
#11. Lip Exfoliator
You can use vaseline to make a lip exfoliator which will add a layer of moisture to dry, chapped lip. Follow the recipe below to naturally exfoliate your lips.
DIY Lip Exfoliator:
You 'll need:
1 tbs white sugar
A few drops of Vaseline
How to:
Mix 1 tsp white sugar and a few drops of Vaseline until it forms a paste-like consistency. Rub onto your lips a few times a week to get rid of dead skin cells and reveal super soft lips. Apply a little bit of Vaseline on your lips after exfoliating.
#12. Moisturize your Skin
Apply all over body as a moisturizer. Vaseline has incredible healing and hydrating properties, so it makes for a great body lotion. Apply immediately after getting out of the shower for maximum results.
You can also use Vaseline to create many DIY recipes to moisturize the skin and treat other concerns. Check the recipes below!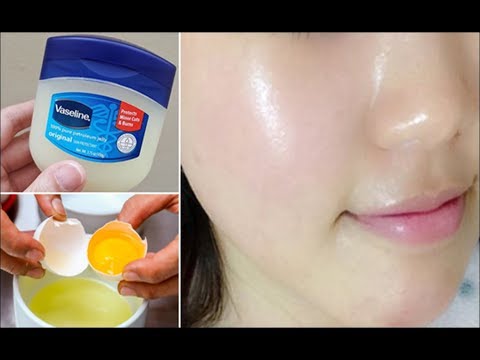 Overnight DIY Face Mask:
You'll Need:
1 tbsp Vaseline
1 egg white
a few drops of freshly squeezed lemon or lime juice (preferably organic if you can!)
How to:
Separate the egg white from the egg yolk.
Whip up the white just until a little frothy and add the Vaseline and a few drops of lemon juice.
Apply to a cleansed face and neck and leave on overnight. Your skin may feel a little tight, but that's completely normal.
Rinse off and pat dry.
Use 2-3 times a week!
Fine Lines and Wrinkle Remover:
You'll need:
How to:
Mix a small amount of Vaseline and coconut oil to create a smooth paste.
Apply a tiny amount (a little goes a long way) around the eyes, mouth, and forehead.
Don't rub it in, but rather dab the mix onto your skin, using your fingers as if you were lightly tapping.
Use this method every night before bed to lock in moisture, and you will start to see results within a month's time.
Your fine lines will start to get filled in, your wrinkles will be less apparent, and skin will look youthful and glowing.
Notes:
If you've never used Vaseline for your face before, make sure to test a small patch of skin to avoid an allergic reaction.
If you have a skin condition, talk to a board certified dermatologist to see if you should use Vaseline.
Those with oily skin and acne prone skin should not use Vaseline as it can cause breakouts and trap oil in.