Feel like you're not getting enough sleep? Same here! We hear you loud and clear! Not enough sleep, stress, poor eating habits, and not enough exercise can all contribute to dull, tired skin, and swollen, puffy, tired looking eyes. We may not be able to get more hours in the day for sleep and exercise, but we CAN make those peepers look a little less tired with this uplifting eye cream. Made entirely of natural ingredients, this eye cream recipe is perfect for anyone and for every skin type. Whether you're young or old, this eye cream recipe will work for you! Try it out and you'll see – you have nothing to loose!
Uplifting Eye Cream Recipe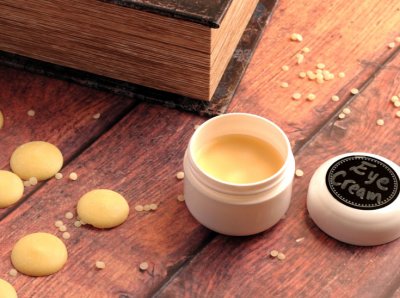 You'll Need:
4 tsp avocado oil
2 tsp calendula oil
2 tsp rosehip oil
1/2 tsp cornstarch
2 tsp melted beeswax
1 vitamin E capsule
3 drops lemon essential oil
Directions:
In a double boiler, add all of the ingredients except for the vitamin E and essential oils.
Use a whisk to stir gently, making sure to incorporate all ingredients together.
Remove from heat, and stir in the vitamin E and essential oil.
Pour your mixture into a clean jar or small pot and allow to harden.
Once hardened, you can close the jar or pot.
How to Use the Uplifting Eye Cream:
Using clean fingers, apply underneath the eye area as well as on the eye lids every night before bed.
The oils will seep into skin, plumping it up, and encouraging blood flow.
Cells will get repaired, and within a few days, you'll notice less tired looking eyes, no more puffiness, and even less fine lines.
Use every night for at least one month, and you'll see incredible results especially with wrinkles and fine lines.
If you like this post, don't forget to share 🙂