Blackheads peel off masks have been all the rage these past couple of years, and so we were wondering if it's possible to make it ourselves! The answer? Of course it is! Save money and make your own DIY blackhead peel off mask with this easy peasy recipe. This recipe also contains 100% all natural ingredients, so you know what you're putting on your skin is good for it!
So why use a peel off mask in the first place? For one, it cleanses the skin and gets rid of dead skin cells very easily, but most importantly, it actually removes blackheads, whiteheads, and facial hair and who doesn't want that?!
This DIY peel is particularly great for acne prone skin and oily skin alike, but will work great on all skin types. If you have very sensitive or irritated skin though, we would recommend against using this mask.
DIY Blackhead Peel Off Mask Recipe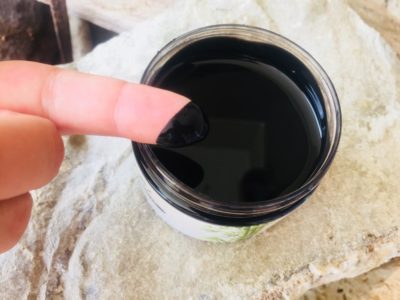 The Ingredients:
Activated Charcoal draws out toxins and build up from the skin, allowing the rest of the ingredients to really penetrate the skin and do their thing! This is because activated charcoal physically binds to dirt, impurities, and toxins, and helps pull them out from the pores. This in turn helps to make the pores smaller, and less visible. A charcoal peel is always a great way to go when you want a deep clean and detox!
Bentonite clay draws out impurities, but also tightens and tones the skin. Additionally, bentonite clay also helps to heal the skin and reduces inflammation. It's a great ingredient to use in any face mask because it helps reduce redness and scarring, especially those left behind by acne. Learn more about the different types of clay and how they can benefit your skin type!
Gelatin nourishes the skin and also helps to remove dirt, bacteria, and impurities. This is the key ingredient that makes this mask peel off. Gelatin is also very rich in protein and has a unique amino acid complex that can help with skin health. It is known to help prevent premature aging.
Tea tree essential oil soothes the skin and helps prevent future breakouts. It has antimicrobial and antibacterial properties, and is often found in many acne products. Helps to even out skin tone, reduce redness, and also helps erase acne scars, dark spots, age spots, and sun spots.
You'll Need:
1 capsule activated charcoal (1/4 tsp)
1/4 tsp bentonite clay
1 tsp clear, non-flavored gelatin
1-2 drops tea tree essential oil
2 tsp boiling water
Directions: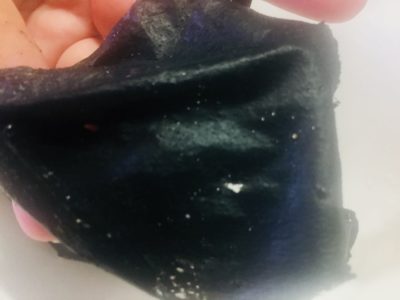 Before you begin, make sure you face is clear of any makeup. Cleanse using a foaming cleanser and pat dry.
In a small bowl, add the activated charcoal powder, bentonite clay, and gelatin.
To that bowl, add boiling water and use a wooden or plastic spoon (remember to never use metal when working with bentonite clay as it can diminish its properties!) to stir the ingredients together.
Add the tea tree oil and stir once more.
Use a mask brush to apply the mask to your face, making sure to avoid the eye area and the eyebrows.
The mask can dry up quickly, so be fast when you're putting it on!
If the mask does dry up in the bowl, add 1/2 tsp to 1 tsp of boiling hot water and stir.
Allow the mask to dry completely, usually 20-30 minutes.
Peel off the mask beginning at the bottom of your face and moving upwards.
If at any point you find it too painful, simply stop and remove the mask with a wet washcloth.
Once you've removed the entire mask, you'll see some pretty amazing things on there – blackheads, whiteheads, hairs, dirt, oh my!
If there is any leftover mask, remove it with a washcloth.
Use a rosewater toner and follow up with a moisturizer.
Use this DIY blackhead peel off mask as often as needed, but once a week should suffice!
Like this post? Share and Pin 🙂