Say goodbye to dirt, impurities, and blackheads with this DIY dirt busting face mask! This face mask is seriously the next best thing since sliced bread because it will kick impurities' butts! Made with all natural, powerful ingredients that pull dirt and gunk from your skin, this DIY dirt busting face mask will leave skin silky soft and glowing!
This mask is even great for sensitive skin because it does not irritate, but it still gently exfoliates.
DIY Dirt Busting Face Mask Recipe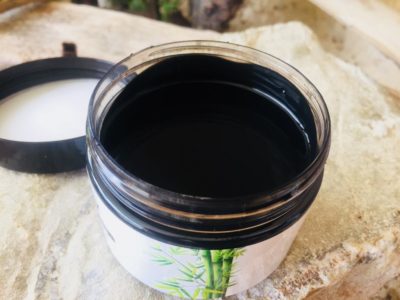 This recipe uses the following ingredients:
Bentonite clay absorbs dirt, impurities, and toxins, while adding healthy minerals to the skin.
Activated Charcoal
Activated charcoal, like bentonite clay, also helps remove dirt, impurities, and toxins.
Aloe Vera
Aloe vera soothes and heals the skin, leaving it super soft and glowing.
Shea Butter
Shea butter is a non-comedogenic natural moisturizer that's loaded with tons of good vitamins for your skin!
Chamomile Tea
Packed full of antioxidants, chamomile tea soothes and hydrates the skin.
Eucalyptus Oil
Helps reduce redness and inflammation
Peppermint Oil
Peppermint oil is antiseptic and antibacterial and also leaves a cool, refreshing scent!
You'll Need:
2 tbsp bentonite clay
3 capsules activated charcoal
3-4 tsps aloe vera gel
1-2 tsp shea butter
1.5 oz chamomile tea
1 drop peppermint essential oil
1 drop eucalyptus essential oil
Directions: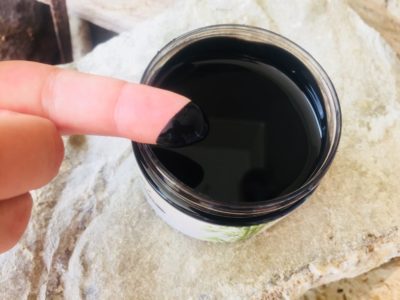 Start off by brewing the chamomile tea.
In the meantime, melt the shea butter in a double boiler.
Once the shea butter has melted, mix in with the brewed chamomile tea.
In a separate bowl, mix the charcoal and bentonite.
Once mixed, add to the shea butter and tea mixture and stir.
Stir in the aloe vera and essential oils and mix well.
Store in a clean, airtight container.
Apply the mask to cleansed skin and leave on for 15 minutes.
Rinse off with lukewarm water and pat dry.
Use once or twice a week for soft, clean skin!
Like this post? Share and Pin 🙂