Ever have a special event where you want to look absolutely perfect? This DIY matcha mask will ensure that you show up with fresh, glowing skin every single time. The matcha mask is the ultimate glowing skin mask, and we love to use it every time before an outing as it leaves our faces incredibly beautiful! Made with all natural ingredients, the DIY matcha mask is easy to make and you only need a few ingredients!
DIY Matcha Mask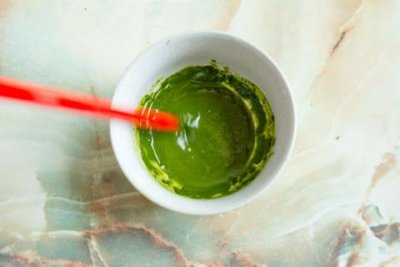 You'll Need:
1 tsp matcha
1 tsp chlorella
Water
Directions:
In a small bowl, add the matcha and chlorella.
Add just enough water to create a smooth paste.
Apply all over face and neck and leave on for 10-15 minutes.
Rinse off, pat dry, and apply a light toner.
Repeat twice a week.
Benefits of the DIY Matcha Mask:
Matcha is a natural antioxidant and cleanser. It will remove dirt and toxins directly from the skin, leaving it uber clean!
Chlorella is charcoal powder's big sister, as it cleanses and detoxifies better than charcoal. Check out this chlorella face mask to learn more!
These two ingredients, combined, make for the ultimate GLOWING face mask which will leave your skin sparkling!
Use twice a week, or before a big event!
If you like this post, don't forget to share 🙂