Onion and honey for hair growth?! You bet! Don't believe us? Try it for yourself! This onion and honey hair treatment will target fine, thin hair and give it strength and length when used on a regular basis.
For most of us with thin, breaking, barely growing hair, we're always on the lookout for new hair growth treatments that will thicken and make our hair grow. Fortunately, there are LOTS of different DIY hair growth treatments that actually DO work, you just have to see what works for you! This onion honey for hair growth treatment is one of the oldest and most traditional hair growth methods that has been used for hundreds of years.
The reason for this is because it works! It may not smell too pleasant, but with a little persistence (by that, we mean use it consistently!) the onion and honey for hair growth treatment really works to thicken strands and amp up hair growth!
Onion and Honey For Hair Growth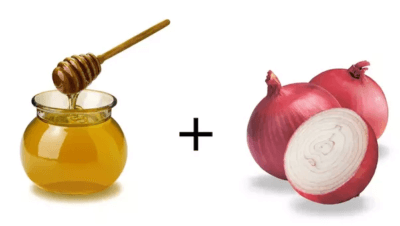 Why The Treatment Works:
Honey is a natural cleanser and gently gets rid of dirt and toxins, but what honey is really great at is cleansing the scalp. Because of its natural anti-fungal and anti-bacterial properties, honey gets deep into the scalp to treat any condition that may prevent hair growth.
You probably don't even know that your scalp has any issues (it's not something that's really visible), but one of the main reasons why our hair doesn't grow is because of a scalp that's been left untreated. Honey works hard to get rid of any bacteria, fungus, and dirt that may reside within the scalp to give your hair a fresh start and a chance for it to actually grow!
Onion juice has actually been used for hundreds of years to help in hair growth. Onion juice boosts circulation in the way that it increases the blood supply to the hair follicles which in turn leads to faster, healthier hair growth. It has also been scientifically proven to prevent hair loss! Sure, the smell may not be pleasant, but if you're in serious need of some hair growth, this treatment may do wonders for you!
This home remedy can be used as often as needed, but we do recommend you use it on a regular basis (at least twice a week) for best results. Also, when applying the onion and honey hair mask, be sure to gently massage into the scalp for several minutes. This will improve blood circulation to the scalp, which in turn will encourage faster and healthier hair growth.
When massaging, do so in slow, circular motions. This will also exfoliate the scalp, getting rid of dead skin cells, and making way for healthier growth without any impediments.
Benefits of Onion and Honey for Hair Growth
Promotes hair growth
Strengthens hair follicles
Prevents scalp infections
Contributes to hair growth and thickening of hair
Prevents hair loss
Prevents dandruff
Fixes scalp problems
Stops hair thinning
Improves blood circulation to the scalp, resulting in faster hair growth
Can help remedy bald patches
You'll Need:
1-2 tsp raw, organic honey
the juice of a small-medium size onion, preferably organic
* If you don't have a juicer, simply add the onion to a food processor or blender and strain out the juice.
Directions:
In a small bowl, mix honey with onion juice.
Apply to dry, unwashed hair, concentrating on the scalp.
Apply all over hair, including hair roots and ends, and leave on overnight. Slip on a shower cap and enjoy a good night's rest!
In the morning, wash out as you normally would using a mild shampoo, and apply a few drops of lavender essential oil to your shampoo to mask the smell of the onion.
Repeat two to three times a week for at least a month and you should start seeing results!
If you like this post, don't forget to share 🙂