Last Updated on
If you love making your own beauty products at home, you've undoubtedly made your own body scrubs. Making your own scrubs is incredibly easy, satisfying, and will save you a ton of money in the long run. Today we'll show you how to make sugar scrubs at home using any type of combination you wish. All you need is sugar, oil, and your favorite essential oil to make some amazing and easy concoctions! These sugar scrubs are 100% natural and are great at sloughing off dead skin cells and revealing beautiful soft skin.
How to Make Sugar Scrubs
Before you start making any sort of sugar scrubs, it's important to remember the ratio. From there on, you can pretty much mix any type of essential oil and concoct your own, unique scent. Homemade sugar scrubs consist of 80% sugar and 20% oil. For most recipes, I use 1 cup of brown or white sugar and 1/4 cup of coconut oil, almond oil, or olive oil. Alternatively, any other type of oil will also work if you don't have either of the three.
So with that 80-20 ration in mind, now we can go ahead and make some great sugar scrub combinations!
Orange Sugar Scrub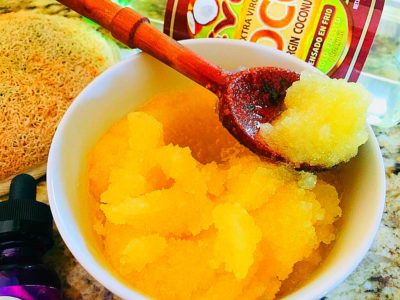 This orange sugar scrub is great for mornings as the orange is super energizing and will wake up all of your senses! Mix 1 cup brown sugar, with 1/4 cup coconut oil and 7-8 drops orange essential oil.
Cucumber Mint Sugar Scrub
This cucumber mint sugar scrub is extremely refreshing and perfect for hot summers. Mix 1 cup white sugar, 1/4 cup coconut oil, 5 drops peppermint essential oil, and 4 drops of cucumber essential oil.
Vanilla Lavender Sugar Scrub
A soothing scrub that will calm all your senses! Perfect scrub for before bed! Mix 1 cup white sugar, 1/4 cup coconut oil, 1 tsp pure vanilla extract, and 5 drops lavender essential oil.
Honey and Brown Sugar Scrub
A deliciously sweet and decadent sugar scrub that's perfect for cooler days. Mix 1 cup brown sugar, 1/4 cup coconut oil, 1 tsp pure vanilla extract, and 1 tsp honey.
Use the above scrubs 2-3 times a week in the shower. Grab a small amount with your hand, and rub against skin in slow, circular motions. The sugar will remove dead skin cells, revealing soft, bump free skin. The oil will hydrate dry skin, and the essential oils will give your skin a beautiful glow.
If you like this post, don't forget to share 🙂