Firming body butters can cost a pretty penny, and no one likes to buy things that will break the bank! This homemade firming body butter is SO cheap to make you'll wish you would have stumbled upon it sooner! Although it costs only a few dollars to make, it is extremely effective in firming skin, reducing the appearance of scars and cellulite, and smoothing skin. Use it as often as you like, but we recommend you rub it on every night before bed – this way, the body butter can penetrate the skin while you're sleeping!
Homemade Firming Body Butter Recipe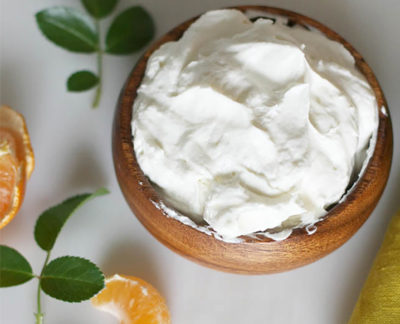 Ingredients:
Directions:
In a microwave safe bowl or on a double boiler, melt the coconut oil and cocoa butter together.
Once melted, stir, and pour into a mixing bowl and place in the refrigerator for 30-45 to cool and set but not harden!
Take out of the fridge and add in essential oils or coffee oil. Stir well until combined.
Use a hand mixer to whip the mixture for about 10 minutes or until stiff peaks form.
Transfer to a clean, airtight jar or container.
Slowly in circular motions massage into skin, focusing on loose and cellulite-prone areas such as thighs and stomach.
Use every night before bed as well as after every shower or bath!
You should notice firmer, smoother skin after a week's use!
Like this post? Share and Pin 🙂