Activated charcoal has literally blown up in the beauty world due to its amazing detoxifying properties, but charcoal face masks isn't its only purpose! By now, you've probably heard or seen people using charcoal toothpaste. But does it actually work, and if so, where can you buy it and how much will it cost you? The answers to those questions are pretty simple: yes, it TOTALLY does it work, NO need to buy it (because you'll be making it right NOW!), and it will cost you pennies! So let's dive in and learn how to make charcoal toothpaste and get those whites squeaky and pearly once again!
How to Make Charcoal Toothpaste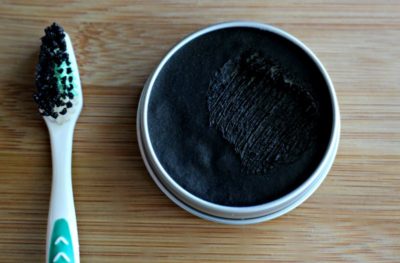 So why even make your own toothpaste in the first place, you ask? Well as you probably already know, commercial toothpaste is packed full of harmful ingredients that have only recently been proven to be cancerous. So why are we still putting cancer-ridden products into our bodies?
According to most desists, we don't even really need toothpaste – we could actually just brush our teeth with a little bit of water and baking soda and voila!
But this charcoal toothpaste recipe is WAY better than just baking soda, and a billion times healthier than commercial toothpaste. It detoxifies the mouth, leaving you with fresh breath, kills and prevents bacteria, cleanses, and whitens, ALL at the same time.
So what are you waiting for?!
Ingredients:
Directions:
Mix all dry ingredients together until well combined.
Slowly pour in the water and mix slowly until a toothpaste-like consistency has formed. Use a wooden or plastic spoon to stir, and be sure clay does not come into contact with metal.
Add in the peppermint essential oil and stir again.
Store in a clean, airtight jar.
Should last for 10-15 days, depending on the number of people in your household and the amount of times you brush per day!
If you like this post, don't forget to share 🙂