Having naturally full, pouty lips is a blessing for those who have them, but for those who don't it can be an easy process. Follow these tips on how to get pouty lips in just minutes!
The first step in achieving a full pout, is knowing what you have to work with! Don't expect to go from thin lips to fuller lips a la Angeline Jolie, but rather accentuate what you already have! Some people have a fuller upper lip, while others have a fuller lower lip. Whichever the case is for you, a natural lip look IS the way to go, so be sure to stay away from overly-dramatic lip looks.
How to Get Pouty Lips – a DIY Guide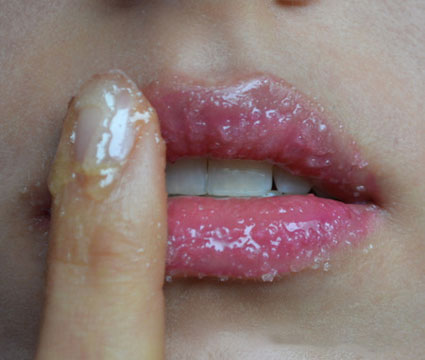 Step 1: Exfoliate
Before you start doing anything at all, the most important step is exfoliating your lips. Try this DIY Lush lip scrub that's super easy to make and will help get rid of dead skin cells which can actually dry out lips. Exfoliating your lips once a week or even just twice a month will ensure that your lipstick goes on much more smoothly!
Step 2: Hydrate
Immediately after exfoliating, you should apply a good quality or homemade lip balm. This is important to seal in moisture and prevent chapped and dry lips. There really is nothing worse than applying lipstick on top of chapped lips!
Step 3: Grab Your Tools!
All you need is a neutral colored lip pencil, some lipstick (color of your choice) and neutral lip gloss. For best results, you should use a lip scrub once a week to get your lips to be as soft as possible. Follow up with a moisturizing lip balm. Be sure to choose good quality pencils and lipsticks as this can make a huge difference!
Step 4: Trace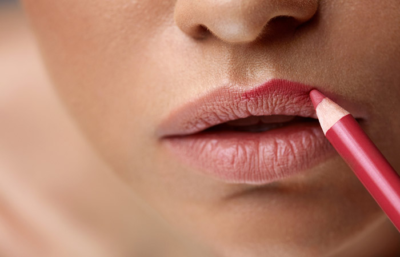 Take out your neutral lip liner and trace along the middle top part of your lip (the cupid bow), as well as the bottom middle part. This will give the illusion of fuller lips. Dot your lipstick onto your lips to get a stained lips look. Pat it with your fingertips.
Step 5: Gloss
Use a lip plumping gloss (lip plumpers contain capsicum or peppermint oil to plump the lips) or just a regular lip gloss. Apply a small amount of gloss to the middle of the bottom lip and the middle of your top lip, right under the cupid bow. Smack your lips together ever so lightly.
Step 5: Highlight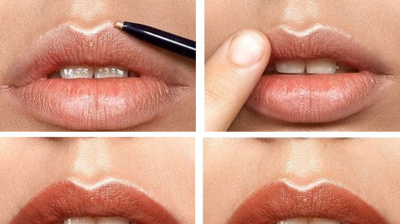 To give the illusion of big lips, dot a little bit of highlighter or a white eyeshadow right on your cupid bow. This will make lips seem larger.
NOTES:
Before using any lip plumpers, make sure to test on a small patch of skin to make sure there are no adverse side effects!
Play around with different shades of lipstick to see which shades match your skin tone. As a rule of thumb, those with lighter skin should stick to lighter shades, while those with darker skin benefit from darker shades.
Like this post? Share, Pin, and Comment Below 🙂